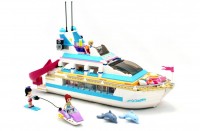 A long time ago in an investing world far, far away from 2016, a Lego Friends kit set the world afire. This is the story, as told by me, with mostly conjecture and wild assumptions. I've linked the data I perused.
Buy me now: Amazon
The Boom
The forums were surprisingly quiet in the official 41015 thread, but I do recall most of the chatter in the Daily Deals thread and the What Set Did You Sell Today thread. Camelcamelcamel.com shows the Christmas of 2013 as a sharp, powerful thrust upwards, peaking at $139.99. For a set that debuted less than four months prior to that spike, it represented a dream scenario for the QFLL in all of us. It was hot. Like Hansel-type hot (Zoolander references are cool again, right?). I believe some forum members posted nabbing Cruisers in store and listing them on the way to their car, only to find they had sold by the time they got home. Other forum members might recall some guy(s) boasting about flipping these in the parking lots, too. Canadians did better (I didn't look at other markets but smaller markets likely also had better flip opportunities) with the set peaking at $220+ CAD on Amazon.ca in December 2013, but I'm sure the US market moved a heck of a lot more volume. Cool set, Friends was hot and in the news and demand outstripped supply, which made for easy money for some.
The Bust
Since that first fated Christmas, two more visits from St. Nicholas have come and gone, and, while the DC isn't available from Shop at Home, it is still lingeringly available at some retailers in Canada and at major retailers in the US (and on sale from Amazon.com!). For those that purchased at or near MSRP, hoping for a repeat of 2013, profits were hard if not impossible to realize. In the Canadian market, the numbers were slightly better, with sales around $120 (CAD) for both holiday seasons but the largest market, the US, largely traded at or even under MSRP during prime selling season. I'm sure there will be a couple forum members who managed to make the best out of this situation (clearance finds, local flips for cash or other success stories), but I think it is fair to say that for most casual investors, a sure-thing super-hot 2013 item has been decidedly uncool for the last couple of years. Like arctic uncool.
The Sleeper
Some folks still aren't huge on Lego Friends, and I've heard some of the reasons why, but the 33.17 CAGR (as of Feb, 2016) is absolutely mind-blowing. I don't know how you can argue with a theme doing so well. At all. Sure, you still shouldn't go out and buy any/every Friends set and expect it to do well, but it seems with some careful research and planning that money can (and is) being made with the pink bricks.
With fantasy baseball season coming up, I'll use baseball analogies. So, the DC was the hot prospect who had a great rookie year, only to have a (double) sophomore slump. This is where a lot of drafters look for sleepers. The reasoning is the player (or set) clearly had some raw talent or potential to do well. External factors and the grind of a couple years limited overall growth, but that just means the player is primed to breakout and enter their prime (usually around 27 years old) and have a career year that then lets said player command a big free agent deal and live happily ever after. People liked/loved the Cruiser before. It is a boat. It is a nice box and looks cool. The Grand Hotel gave the whole Friends line a lot more credibility (at least in my eyes) as well as raising what I'll call the 'price ceiling' of the line. What I mean is that having larger/more expensive sets that do well might add to the perceived value of other Friends sets giving them more secondary market growth potential. Maybe. At least I believe it, even if I haven't convinced you. I am reasonably confident that by Christmas 2016, the Dolphin Cruiser will begin to show some solid gains (at least $150 CAD on amazon.ca in my mind) and could easily be 2x MSRP by 2017 (or better). Or perhaps I'm delusional – only time will tell!
1