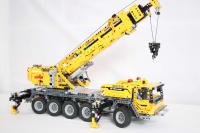 LEGO Technic sets are an overlooked commodity in the LEGO investing world.  Many Technic sets appreciate very, very well after retirement, yet many investors will ignore these sets.  I just built my first Technic set a couple of weeks ago and I have to say, I am hooked. Loving Star Wars, I have always been a big fan of vehicles, but Technic sets take it to the next level. All the parts move, lots of sets can run with motors in them, and most are extremely challenging to build. I can not wait to build more Technic sets and add to my collection.
The great thing about Technic in the investing world is that it is a fairly untapped market. First off, most investors don't pay a ton of attention to Technic. It does not have as many fans as other licensed themes and is only sold at the Lego store and Toys R Us in the US, meaning few discounts. Amazon UK has been the lone saving grace for us. However, there are certain Technic sets that perform extremely well. Take a look:
Not bad huh? What this means is that if you pay attention, you can find some serious winners in a theme with a lot less competition! Here are the sets I will be seriously looking into next year.
Note: I am assuming with this that all the 2012 sets will be done shortly besides the 9398 crawler (you will see it below). I think a good majority of them are winners and have multiples of each, but for those reasons I will not be targeting them).
I would also suggest anyone who hasn't to read part 1 and part 2 of Quac's Technic EC blogs. I have them bookmarked and use the charts to judge sets constantly. Quac's knows his Technic.
42000 Grand Prix Racer
Target Level: High
There is really nothing you can say about this set that is not said when you see it in person. It is AMAZING. Its about 2 feet long and looks so smooth and solid on the outside. I really think from 5 feet away it looks like a model car. It has tons of pieces and is a very fair price-point of $130. Even more awesome, you can inser thte motor functions into this baby and really let her rip (well as much as they will without mods).  The set also allows the hood to pop up exposing the sections where the engine would be.
As far as an investment, this one has the >100$ MSRP. Quac's mentioned in his article as well that the sets above $100 do quite a bit better in the Technic world. Technic loves like huge sets with lots of cool parts and intricacies. In my eyes, this set fits that mold perfectly. Quac's warned that cars have not had a seriously high ROI, but I think this will be one exception. Racing is huge in the US and in parts of Europe, and though this is not a NASCAR vehicle, I think it will be something that appeals to that crowd quite a bit. Watch out on Amazon UK - if this one hits 70$ again, DO NOT flip it. This set will appreciate nicely in the long run and honestly there is no reason you shouldn't pop one open to build it. If you have to settle for Toys R Us, I still think you can find a way to grab some around $100, which is still a winning price in my eyes.
Target Price: $90
Target Sale Price: $250
42004 Backhoe Loader
Target Level: medium
This was my first Technic set I ever built, and I think its awesome. There have been quite a few backhoe loaders in the Technic port folio, but not too many at this smaller price point. Despite how cheap it is at just $25 retail, this set is awesome. Every part of it moves, it has a bucket at both ends and is really solid. The wheels on this set are really sturdy as well and it rolls really smoothly. I think the set is a killer representation of a bigger vehicle.
I keep this set on my desk at work and get a lot of comments on it. It is something that I could see being a perfect gift for Technic fans, and just fans of construction vehicles. In the past, construction equipment has done extremely well and I think this set will be right along by it. Amazon UK is probably not the best place to find this set since it is cheaper and shipping and the price conversion might make it too expensive, but I think this is a safe bet at even $25. This past Christmas, it rose past $35 even though it was in stock at Toysrus.com and Lego Shop @ Home.
Target Price: $20
Target Sale Price: $50
42006 Excavator
Target level: High
This set is an obvious winner to me. The last two Excavators, back in 2010, both have grown nicely since retirement and I don't see why this one shouldn't follow that trend.
I think this set is perfect for a mid range set in between these last two, but even more awesome because of the end piece. The other two have a normal excavating bucket, but this set has a 4 Pronged grabber. FOr the Technic fans that are getting tired of the same old Construction equipment, they now have something different to add to their collection. The extending arm is really solid for a smaller set and the tracks just make it even better. It also is one of the cheaper sets to take the power functions set, making it perfect for people who don't want to buy a $300 Motorized Excavator. I think this set has a good chance to maybe outperform the last two because of where it is at price-wise and value-wise, so I will not be caught without a stash of these.
Target Price: 60$
Target Sale Price: $200
42007 Moto Cross Bike
Target Level: High
This set is just awesome. Technic fans love Motorcycles, as referenced below, and this one is the cream of the crop for me. When you look at this set, it doesn't even look like Lego pieces - its so well put together and smooth. Whats even more cool is that it matches up with the 9392 Quad which will be good for the people who like collecting the smaller sets. Though this is a smaller set, and those traditionally haven't done as well, I think this one will be the exception. This is another intracate smaller set that works perfect as a gift or a desk display piece as  well as being a toy.
On top of all this, Motocross itself has a lot of fans who love models and toys depicting the sport. I used to really love model cars and hot wheels and Motocross stuff was always extremely popular. Any Motocross fan would love to have this set. I think the only downside of this set is the MSRP. This one is a little more expensive at $40, meaning for it to double and triple, you are getting up in the territory where people might expect a bigger set. For that reason, to be safe, I would try to get this one at a little bigger discount than the others on this list. At the same time, it is right in play if Amazon UK has a nice sale.
I am hedging my bet that this one is going to be a huge gainer for such a small set though and could be the best of all the ones listed here. Definitely don't get caught with a few of these... or more!
Target Price: $30
Target Sale Price: $100
42009 Mobile Crane MK II
Target Level: As High as my wallet will let me
Do you want to see a set that is a homerun pretty much hands down? Look no further. This set is going to absolutely soar. It is insanely detailed, absolutely massive, has power functions and is one of the most challenging sets Lego has ever put out. One of my friends at work picked up this set and it is just incredibly impressive. Every detail of the crane is perfectly done. It had 5 booklets with him and took him about 27 hours to put together. It is about 3 feet long! Just has something for everyone.
Lets take a look at the comparison between this crane and the last one that came out in 2010 and retired in 2012:
| Name | Mobile Crane 8053 | Mobile Crane MK II 42009 |
| --- | --- | --- |
| Pieces | 1289 | 2606 |
| Retail | $99.99 | $219.99 |
| CAGR | 25.43 | ??? |
| Highest Price | 278.50 | ??? |
Um... Yeah, we have a winner. The first crane had almost tripled in price in less than two years being retired when this one came out. Obviously this one has hurt the price of the first one because it is so much better. Why would you pay $300 for that one when you could pay $220 for this one? Either way, it shows us what this set will undoubtedly do (if you think that "undoubtedly" is a strong word, I refer you to Quac's part 2 of his Technic article for some number crunching on the set). This set may be the best one ever and may even outdo the 41999 Crawler in the end.
The fact that this set is huge is a big plus as well. As I mentioned before, the larger the set, the better it has done historically in the Technic line. This is one of the biggest there has ever been. There is no reason it shouldn't be one of the biggest gainers of all time either. Even if they make another one, I doubt it will be bigger than this one. And history says you will get plenty of ROI out of it before that happens.
Target Price: Any discount
Sale Price: $550
So there you are. Any omissions you see? Any problems with the sets I have mentioned?