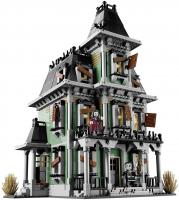 I think there are many types of investors and many types of investing strategies that those investors use. We all look at different sets in different ways and I think that 80% of Lego sets or more have an investor somewhere that believes in them. If you have read any of my stuff, you know I am one of the more safe investors out there – I don't invest thousands and thousands of dollars so I try not to reach with any of my buys. Yes, I may not cash in on sets like the Zombies, but I am more interested in as close to guaranteed growth as possible. Because of this I wanted to really take a look at a set that I think is possibly the most safe investment out there, even at retail price: The Monster Fighter's Haunted House 10228. The Monster Fighters theme is one that was met with a little skepticism at first. I think most people thought there was definitely a market out there for Halloween themed sets, but in looking at the lineup, some of us wondered how well these would take off since there really isn't a central story behind everything. However, after the resultant popularity of the sets and the fact that The Zombies 9465 is sitting at somewhere near 1 Billion percent CAGR, that has been put to rest. There is obvious growth potential in the secondary market for this theme. When I first looked at the them, I honestly wondered about several of the sets. I had seen them all in Walmart and had thought they were kind of cool looking, but nothing really stood out. The Vampyre Castle set was somewhat tempting, but again, I didn't have that familiar theme or factor that really pulls me towards any of the sets like Star Wars and Lord of the Rings. I had heard there was another set in the theme – one that was Hard to Find. These were coming out right when I was just getting to into Legos, so I didn't understand much about Hard to Find items and how scarce they are. I happened to go to Disney World shortly thereafter and had a chance to see this set in a display case. I was amazed. I am absolutely not a Halloween fan. I don't mind the culture of it, but I hate dressing up and I am not really into giving out candy and going to parties. I think haunted houses are aright, but nothing that I see and have to go in. But this set just floored me when I saw it. The incredible detail and the fact that the set just shines when it is displayed. Your eyes are absolutely drawn to it. I went back after this and shortly later found Brickpicker. I started to research other's feelings on the Haunted House and have really studied the history of secondary investment winners. Now, looking at this set compared with everything else out there right now, I can't see a set that will come close to matching it in growth potential. Yes, the Zombies will continue to grow, but as a smaller set, it most likely has a ceiling. This set doesn't have much of one in my opinion. So, I decided to do an in depth article about the set and go as deep as we can to really look at its investment potential. A note before hand: I would love to do a picture review/build of this set, but I only have a few at this time and I have not broken any open to build. I may soon though. First off, let's look at everything the set offers according to Lego: The crooked Haunted House is home to the scariest ghosts and monsters. Tremble in fear as you open the gate, go weak at the knees as you step onto the porch and gasp in horror at the fireplace, kitchen, office, folding staircase, bedroom, potion room, music room and collection of other creepy objects. Dare you enter the Haunted House?!
Add to your LEGO® Monster Fighters Collection with the first official LEGO® Haunted House!
Includes 6 minifigures: 2 glow-in-the-dark ghosts, Vampyre, Vampyre's Bride, Zombie chef and butler
Features unique 'crooked' design featuring boarded up windows and working front gate.
Haunted House opens to reveal detailed interior with 3 floors.
First floor features fireplace that swings open and displays a ship in a bottle on the mantle.
Cook up a ghoulish meal with the Zombie chef in the kitchen complete with old-style stove, jars and table!
Write letters from the Vampyre's haunted office!
Pull the lever hidden in the chimney to release the drop down staircase and access the top floor!
Top floor features gramophone, records and newspaper LEGO® elements.
Customize the Haunted House with new stickers for wall hangings, spider webs and curtains!
Measures 15.4" (39cm) high, 9.4" (24cm) wide and 7.5" (19cm) deep
Just looking at the description and picture itself, what do we see that really screams winner about this set? Detail! It is insane! I am sure a lot of you are like me and have noticed that over the history of Lego sets, one thing that Lego does really well is find ways to improve details of a set. The easiest way to look at this is to examine the remakes inside the Star Wars themes. Most of the remakes are tremendously more detailed than their older counter-parts. This set represents the pinnacle of that detail. Just looking at the outside of the house, it is amazing. The fence is so crisp and real looking. The building looks like a model. My father was into model trains and we used to build modular buildings like this that were hard plastic. This looks like one of those. It is hard to tell from farther than a couple of feet that it is Lego. The outside of the house is smooth and the colors are perfect. The wood across all the windows and the shutters hanging off really show this set off. The wood bricks are very realistic – I recently built the Orc Forge and was really impressed with the wood bricks in it, and this set has more than 10! But Lego, in their infinite wisdom, does even more for us. The house itself has rooms – It opens up! The chef's kitchen with the pot and the snake is just tremendous. But I think it's the smaller details that set the set apart. In the kitchen, there is a bottle and a Lego jar along with a stove and a pot on that. There is also a large spider web in the corner.
In another area there is a tiny record player and the set comes with another mini Lego record. In the bedroom, there is a chest along with the headboard and there are torches on the walls and a plant in the corner. The set also comes with several bottles with an assortment of items inside them including bones. Details like this just don't come in other toys.:    
On the left hand side, there is a staircase leading up form the first floor to the second. I really love the ladder, though, on the second floor that goes up through a hole in the floor to level 3. There are pictures all over the walls as well. The outside of the house is an amazing display piece while the inside is a giant play-set:

The minifigures are tremendous as well. The Lord Vampyre and Vampyre's Bride and the two Ghosts are all great, but they are found in other sets in the line so they don't add a ton of value to this set. However, there are two exclusive minfigures in the Zombie Butler and Zombie Chef. The Butler is my favorite of the two. I think he is amazing looking. He will really be the popular and expensive minifigure from this set. The Frankenstein-like head is great and the Butler getup with the vest and white shirt is perfect. The tray and the bottle and wine glass make the character as well. Without knowing the name of the figure you know it's a zombie butler!
The Zombie chef is not far behind. The gray face is really mesmerizing and the nasty green grin really sets it off. Of course he has the normal Chef attire, but it is covered in blood. This minifigure is going to be extremely popular as well.

On top of this, this set is a tremendous value at $180. $.09 PPP is exceptional on a Hard to Find set and especially one of this caliber. Most of the best PPP ratios are in sets like the Tower Bridge and Taj Mahal that have 4-5K pieces. At 2000 though, there aren't too many sets that meet this standard and are still this impressive (really R2D2 is the only obvious one that comes to mind). So why does all this make us think the set will be a good investment? If you look at the best gaining large (2000+) sets of all time, what do most of them have in common? Detail! Go back and look at the modulars that have retired like the Green Grocer 10185 and Market Street 10190. How about 10179 the Millennium Falcon? How about the 10196 Grand Carousel? What do all of these have in common? Crazy, insane detail. I think this set fits right up there with all of these. But this set has even more. Lego has really started, in the last several years, to try to make larger display sets that also have a play-set value like 10188 the Death Star and 10236 The Ewok Village. This set is really one of kind in the fact that it is a large modular and a play-set. There is really something for everyone. Unless you hate Halloween and haunted houses, how could you not like this set? For the record, my wife hates being scared and therefore hates haunted houses. She loves this set. Looking at it I can't find a bad thing about it. So, I think I have driven in how cool this set is – What can be compare it to? Well that is the hard part. It is one of a kind. But that only helps it as nothing can rival it. The only really good comparisons we have are 2 retired modulars:
Both have done incredibly well. And again – these were just really display sets. This one has a play-ability aspect as well. There aren't a lot of kids that have all the modulars. This set fits right with the modulars, too. Take a look at this picture of them together with the Haunted House:

Looking at these, and the modulars in general, each new set has had about 10% less CAGR. Market Street is sitting at around 57% CAGR, and then the most recent in the Green Grocer is sitting at 34%. I for one, can not imagine that the Haunted House wont match the Green Grocer. But to be safe, we can say our expected lower limit is 30%. Looking at the two comparison sets, and what this brings to the table, I think this set could come close to hitting 50% depending on all the factors we will discuss below. It will be tough to match Market Street, but this set has an insane amount of potential. So I think most people could look at the set and say "Yes it is really cool" and "Yes other modular-like sets have done really well". So what else really sets this set apart? What is the set's X-factor? Here we go:
Monster Fighter theme popularity – This may not be the most popular theme of all time, but Lego has nothing else like it. Every year, Lego comes out with another popular movie theme, or another Castle theme, and more Star Wars sets, but this is simply a unique theme. And because of that, getting one of these sets is not enough. You can't buy a Vampyre Castle, and just throw it in between all your Star Wars and Lord of the Rings sets. You need more Halloween sets to go with it. I really feel there will be tons of people out there that will buy a few of these sets in the theme – and have to get them all. Chances are, this theme is one and done as well!
Halloween is popular – A lot of people aren't like me and really enjoy Halloween. I sold a couple of Monster's Fighters sets recently to a woman on Ebay who communicated with me a little bit after it. She asked me if I had a Haunted House or The Zombies. I apologized and said no I didn't have any for sale. She wrote back that she had never liked Legos a lot, but loved Halloween and just had to have these. She wanted to collect all of theme and bring them out every year for Halloween. My wife mentioned the same thing.
A lot of people will buy Monster Fighters sets and not know this one exists. I live in a moderately Large town and I am from a very Large town. I have searched every Walmart and target in these towns and have never seen this set there. I think there will really be a good number of people that will not know this set exists until it's gone.
Lack of discounts – As investors, our number one rule is "Don't pay retail". Well, that isn't an 100% rule. Would you pay retail now for a 10179 Falcon, or any of the modulars I mentioned? This set has seen literally almost 0 discounts. This is evidenced by the fact that this set is selling for over retail on Ebay. I remember a couple of $10 discounts and the possible Amazon mistake that led to a few selling for $135. Other than that, this set has seen none. I think this is only good for the secondary market because less of them have been sold in bulk. I don't think there have been many people that have seen a discount and bought 20 Haunted Houses.
Exclusive minifigures are zombies. Enough said.
So with all of this, I have to give a real estimate on it's CAGR right? Earlier, I gave you my limits of worst case 30% to best case 50% CAGR. I honestly think this set will at least see 40% CAGR after 5 years, assuming it retires at the end of the year. With everything I have mentioned, I feel it will be a bit of a disappointment if it doesn't. I am planning on building it in the near future and I have no doubt my projections may improve. It will fit right in with the other modulars in terms of growth. At 40% CAGR, that would make this set worth $968.08. I think it has potential to even do better than that. The set is one of a kind and I think its growth in the next several years will be one of a kind. If you do not have one of this set or more, what are you thinking? I don't think any current set right now has anywhere near the potential this set has. I have trouble everyday buying other sets because I feel like I should put everything I have into these. I think hell will freeze over before this set doesn't do well in the secondary market. I plan to buy as many more as I can afford and I will buy them at retail if I have to. This set is worth that. If you are waiting for a deal, look at those projections again. Is a $10 or $20 discount worth risking missing out on a set with this kind of potential? Sure, 40% CAGR in the current investor and reseller-full market is a little insane. But if anything currently out there has the insane detail, the insane play-ability, the insane popularity, and the insane potential to match it – it's the Haunted House. Note: All of the information here are my own opinions and are pulled from my experiences. You may or may not have success with these methods. Thanks for reading! [ReviewAZON name="LEGO 10228 Haunted Mansion" id="1" display="inlinepost" asin="B0095ZMTE6" trackingid="brickpicker-20" country="" width="200px" float="left" imagetop="10px"] [phpbay keywords="lego 10228" siteid="1" sortorder="BestMatch" minprice="150.00" templatename="default" paging="true"]