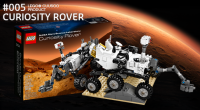 Much has been said of all the shiny new Star Wars and Super Heroes sets for 2014, but in my opinion Cuusoo has the most interesting and potentially most profitable sets this year. For now I want to take a look at 21104, Curiosity Rover. It is some what of an enigma. An S&H limit of only 1 and a "Limited" designation in the catalog has given the Rover a wild ride and it hasn't even been out for  two months yet.  It seems that upon its initial release it sold out in  mere 7 hours and each subsequent release hasn't even lasted that long. What is it about 295 pieces of geeky goodness that can drive sales trends like that? Let's take a look at some similar sets.
 
Hayabusa
Minecraft
Arch Studio
CuriosityRover
 
 

2012

2013

2014

Theme

CUUSOO

CUUSOO

ARCHITECTURE

CUUSOO

Sub Theme

CUUSOO

CUUSOO

ARCHITECTURE

CUUSOO

Retail Price (USD)

$49.99

$34.99

$149.99

$0.00

CAGR

68.89 
65.28 
82.88 

—

Six Month Performance

—

Price Per Brick

$ 0.23 New $ 0.16 Used $ 0.14 Retail

$ 0.10 New $ 0.10 Used $ 0.07 Retail

$ 0.28 New $ 0.13 Used $ 0.12 Retail

N/A

LEGO VALUE COMPARISON: NEW SETS

A breakdown and comparison of new values for your selected sets.

Current Market Value: New

$ 85.33

$ 45.95

$ 336.33

$ 0.00

One Month Change: New

1.07% 
20.54% 
22.61% 

—

Six Month Change: New

20.00% 
5.80% 
82.79% 

—

One Year Change: New

52.29% 
20.80% 

—

—

Change from Retail: New

70.69% 
31.32% 
124.23% 

—

LEGO VALUE COMPARISON: USED SETS

A breakdown and comparison of used values for your selected sets.

Current Market Value: New

$ 59.75

$ 46.27

$ 153.86

$ 0.00

One Month Change: Used

—

4.76% 

—

—

Six Month Change: Used

1.58% 
21.54% 

—

—

One Year Change: Used

3.91% 
7.46% 

—

 

Change from Retail: Used

19.52% 
32.24% 
2.58% 

—
First off, yes I know that 21050 isn't Cuusoo, more on that in a minute. Second, 21100 Shinkai 6500 was only released in Japan and had a very small production run. I considered it to be an outlier and am not including it in this analysis.
Third, 21104 has no data, it hasn't been out for two months yet. I'm hoping to fill in some of the blanks.
From a design standpoint the Rover most closely resembles 21101 Hayabusa. Hayabusa was released in 2012 with an original retail of 49.99. The Rover and Hayabusa have a similar piece count and both are based on actual space craft. Hayabusa has been retired for less than a year and new examples currently sell for over $85.00. So that's it, a CAGR near seventy less than a year after retirement. Homework done, let's party. Not quite.
Minecraft. Set 21102 was also released in 2012, it has a piece count of 480 and an original MSRP or $34.99. Minecraft also had a stated production run of 10,000 sets. They lasted about ten minutes and eBay quickly sent the price into triple digits. TLG responded by releasing another run, and another, and another. The set is still available at retail.
Architecture Studio. While 21050 has four times the piece count and is four times the price of the Rover I bring it up for a reason. Anyone who even casually followed Lego from October of 2013 to February of 2014 should be familiar with this set. Released in 2013 and exclusive to Barnes & Noble brick and mortar stores (it was available elsewhere online) Arch Studio was one of those sets that TLG completely underestimated.
By November this set with a $150 retail was easily bringing $250 on eBay and as supplies dwindled after the first of the year prices surpassed $350. In early February TRU released about 120 units with the usual TRU markup, but prices held. Then a couple weeks later Target released a large number of sets and S&H quickly followed. So endith the high eBay returns. Before Christmas of 2013 as this set was aggressively flipped there were highly animated discussions on when this set would go EOL or if it was already gone. Both sides were adamant, both sides had very good arguments and both sides lacked one thing. Evidence.
Now for the hard part. While at first glance Curiosity Rover has much in common with Hayabusa those similarities disappear with closer inspection. Hayabusa, while it is a cool set, is more targeted for a Japanese audience. It's a Japanese satellite on a Japanese mission. The Rover is targeted for the American consumer. It's an American craft and as such has had much more exposure to a wider audience. While I had to look up Hayabusa's mission, I was already aware of and interested in Curiosity Rovers mission. The Rover also has a much longer mission and more public mission, anyone can google its latest and greatest images and discoveries (do it, the pictures are amazing).  More public awareness can only help the returns of this set.
Now for the really hard part. The Curiosity Rover was released on January 1, 2014 with an MSRP of $29.99. It sold out in seven hours. It has had quantities show up on S&H at least twice since its initial release and has sold out within an hour on each occasion. Currently it is only available on S&H, with some showing up at Lego Discovery Centers, and has a U.S. limit of one (those lucky Europeans have a limit of five).  This set will do well, how well depends on what TLG does. Will they let it sell out only to release in cycles like Minecraft? Will it disappear for a few months only to show up unannounced like Arch Studio? As of this writing the BIN average is around $75.00 shipped. That's about double retail after fees. Do you hold? Should you flip? To be, or not to be? I have a hard time not flipping a set I can double if it has not even been out for two months. I also believe this set will see substantial growth after EOL, so I am holding several. Will it see the same gains as 21100? I don't think so, at least not for many years after retirement. It's simply too small and isn't rare enough. Will it out perform Hayabusa? Without question. Get this set. Flip or hold, ask me in three years which was the correct strategy.