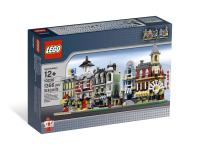 10230 Mini Modulars Set Information
Name: 10230 Mini Modulars
Theme: Exclusives, Advanced Models
Year Released: 2012
Pieces: 1356
Minifigures: None
Price (MSRP): $79.99 US / $99.99 CAN / $99.99 AUS / £59.99 UK / 69.99€ EU
Summer 2012 brought us a unique and exclusive set known as 10230 Mini Modulars. The set was not only an exclusive to the Lego Brand Retail and Shop @ Home, but was also only available for VIP cardholders. Capturing the essence of the first five modulars released by Lego (Market Street, Cafe Corner, Green Grocer, Fire Brigade, and Grand Emporium) in tiny scale, the set provides a much more affordable alternative than the real sets. It recently gone out of stock at Lego.com and it would appear its retirement is imminent. Therefore, it seemed like the perfect time to write up an article about the set to help induce even more panic buying (insert evil grin here). Jump right into the world of miniature models and mega profits!
The Build
Opening the box reveals five neatly organized bags, one for each of the buildings (numbered in the order that each of them was released, starting with Cafe Corner and Market Street which were both 2007 releases). The first instruction booklet covers bags 1-3, with the second covering 4-5. The instructions are cleanly designed and contain the standard part inventory (at the back of book 2) and piece box for each step.
The construction of the modulars is a slow and piece intensive process considering their size. I would say the vast majority of pieces are small plates and tiles, which makes it a nice parts pack. There is a bit of repetition here and there (like in the windows for the Grand Emporium) but the true source of frustration for builders will likely come from the small size of the pieces, which can make construction difficult in some areas. However, the set uses a huge amount of interesting techniques that make it a very enjoyable build overall. From the SNOT used for Market Street, to the bell of the Fire Brigade or the lifesaver lined with skeleton legs on Cafe Corner, the set is an excellent lesson on how  to capture the spirit of larger models in micro scale. The basic pictures in this review don't do the set justice; when you build it you really can feel that the designer had a lot of fun with it (not to mention did a kick-butt job), and it will make you appreciate the detail in the buildings a whole lot more. Lego doesn't do micro builds that much, and after completing the set you will be hungry for more.
The Completed Model
Once you finish building, you are left with five excellent models. The set does lack the playability of minifigure scale sets, but I still found myself fooling around with the buildings trying to find the best arrangement for a good twenty minutes (I settled on the one above). Real modulars are instantly impressive due to their size but only upon closer examination is the detail seen. With the mini modulars, the high detail is apparent from first glance, making it a great desktop display for AFOLs. Unfortunately I do not have a full size modular to compare them to size-wise, but this picture from the BrickBlogger gives you an idea of how the buildings live up to their bigger brothers:
Nice, right? Even the backs of the building remain true to their larger forms - I really like the fire escape on the Green Grocer and you may or may not have noticed already that each mini modulars' 8x8 plate base is the same color as their inspiration's base plate (normal modulars are built on 32x32 baseplates), which is why some are different colors than each other. The picture below shows off the generous amount of extras: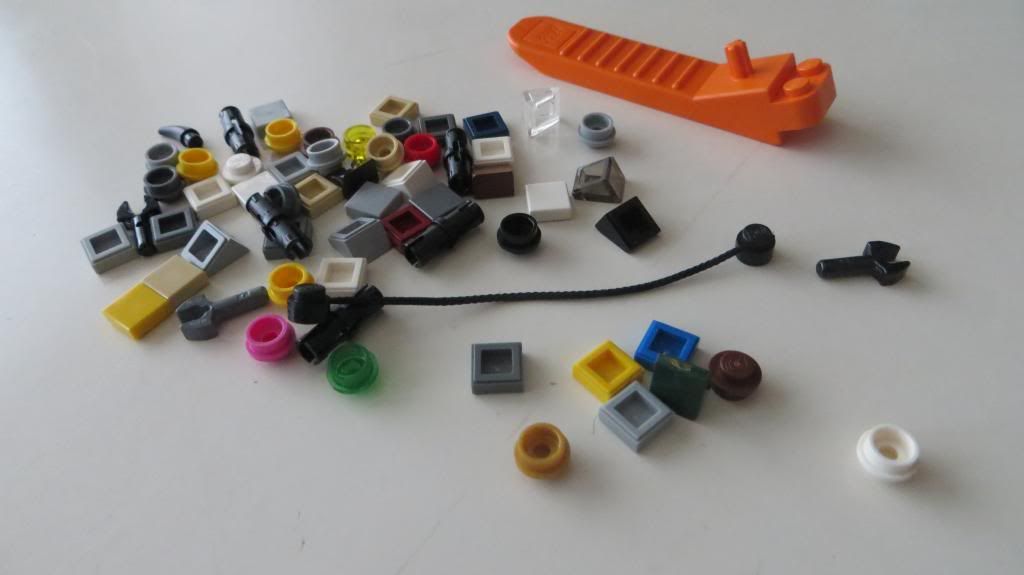 Cafe Corner (Based on 10182)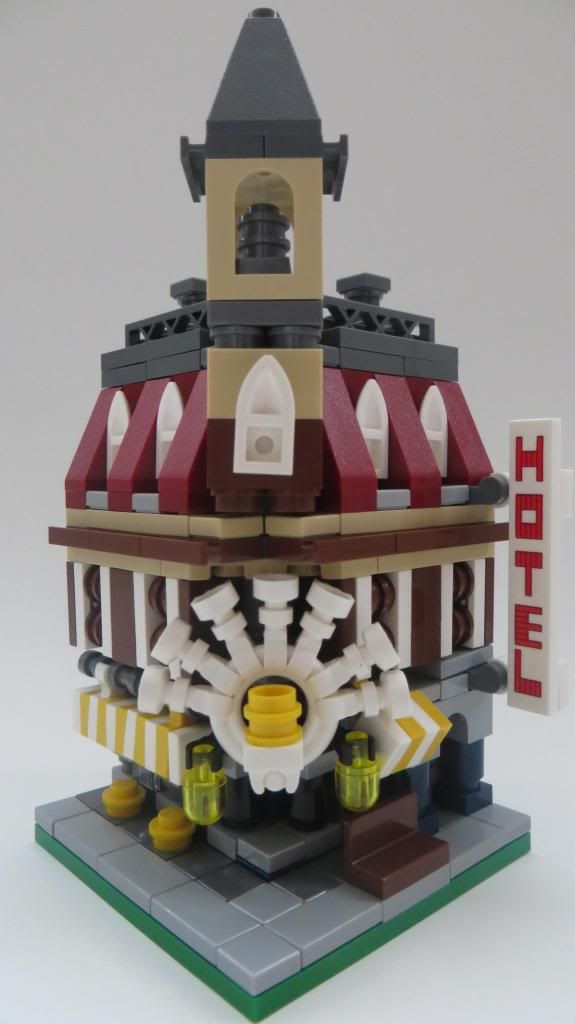 First up is my personal favorite of the five, Cafe Corner. The full size model of this sucker costs you over 1000 bucks with current market prices and contains over 2000 pieces but this fist-sized rendition uses probably a tenth of those pieces. The construction is fun and introduces builders to some of the techniques that will be used throughout the rest of the models like the SNOT used on the second floor or the teeth used as windows. It's a genius creation and a worthy cornerstone to the set. It should be noted  that it contains the only two exclusive pieces in the model, the printed "HOTEL" 1x6 plate and 6 1x2 reddish brown plates with door rails. Well technically, the reddish brown plates do appear in another set, the Comic-Con Bag End, but I thought it would be worth mentioning. A great start to a great set!            
Market Street (Based on 10190)
The second model is a rendition of the 2007 Factory exclusive, Market Street. Like Cafe Corner, the original has appreciated nicely and fetches bids in the quadruple digits. Including it in the set caused a bit of controversy among Lego fans who insisted it was not a true modular because it was released under the Factory line. I always found 10190 Market Street to be the most messy  of the modulars, and the mini version's clean lines do a lot to correct this. Since all three floors are built with the same SNOT technique, it is the only one that you can break apart into each floor. It has really grown on me since I built it, but it does seem like the proportions have been stretched a bit from the original to make it seem more like an Amsterdam canal house; tall and skinny. Which is totally fine, but seems like a bit of a blip in the otherwise authentic representation of the building.
Green Grocer (Based on 10185)
Now we come to the Green Grocer, which was voted as the favorite modular  of AFOLs on Eurobricks. It has lots of cool details like the fruit basket out front and the fire hydrant (that's what the 2 red studs are out front if you're wondering) and is another solid build (with lots of delicious 1x1 clear bricks!). My only gripe is that the upper window doesn't have any glass in it. I know, it's just nitpicking considering everything else is pretty much perfect and they would have to make a new glass piece to fit it, but it makes the model feel incomplete. Excellent build, otherwise.
           Fire Brigade (Based on 10197)
Fire Brigade is the fourth installment in the set. It is quite impressive like the others, but I'd say it has the worst build (mostly 1x1 plate stacking, which gets annoying after awhile), and the bell roof is ridiculously oversized (if you applied that proportion to the real set, the bell roof would be 16 studs wide instead of 8). If you can get over that, it's just another top notch mini-build. 10197 has been making significant buzz in the investing world recently as it appears to be finally retiring after a 4 year run (all the above ones have already retired), making it an even more valuable addition to this set. 
Grand Emporium (Based on 10211)
The grand finale in this epic micro building symphony is the Grand Emporium. The full scale model has been criticized here and there for being too bland, but the mini model doesn't suffer from that problem. The second and third floor windows are a bit repetitive, yes, but the creation has enough details to recover (window cleaners, billboard, flags, ice cream stand, mail box, etc.). Like the fullscale one, it really looks like a decked out Macy's store (or the Bay for us Canadians). If you are looking for trans green windows in the real model, you can stop because there aren't any. There wasn't enough space to accurately represent both the clear windows and dark green trimming in the model, so I guess they combined the two to just make trans dark green windows. Smart move in my opinion, and superb finish to the set. Yeesh, I'm running out of positive adjectives to describe this set!
Well, there you go. It's a beautiful set, and like I said before any (or all) of the five models make for great desk displays at work or home (even teasing coworkers will want to check them out). The price is a bit of a drawback, but piece wise, it's excellent value at 5.8 cents per piece. You may be surprised that the set is bigger than sets like 10213 Shuttle Adventure (1204 pcs, 8.3c per piece) piece wise. That said, a person arguing for price per gram to become the standard for calculating value would point to this set as an example, as most pieces are tiny and you aren't necessarily getting more plastic even though you are getting more pieces (it is 8.03 cents per gram compared to 10213 Shuttle Adventure's 5.1 cents per gram). I would give the set a 8.5/10. It's a must have for AFOLs and building-savvy KFOLs, especially those who always wanted a modular but found them to expensive. It's a standalone set and won't fit into your regular city, but that's fine because it's remarkable by itself.
Investment Analysis
So, it makes a great display piece, but does it have what it takes to stand out in the aftermarket? I would definitely think so, for a variety of reasons. Firstly, the set is exclusive within being exclusive (exclusiception, anyone?), as it is restricted to only Lego VIP members and sold only from Lego directly. I'd estimate that the production for the set is in the tens of thousands. Additionally, it had only been available for about a year until last week (Dec. 2013) when it went out of stock on Lego.com worldwide, after being on discount for about a month. If it doesn't come back in stock (which seems likely or else it would not have been discounted), that is relatively short production run for an exclusive, especially a modular-related exclusive.
Secondly, not only is the set a distinct representation of one of the most praised and poplular themes among AFOLs - the modulars - but it is very rare for Lego to release microscale sets (if you'd like to learn more about modulars as investments, check out this article by FCBarcelona101: http://www.brickpicker.com/lego-modulars-still-worthy-investments/). To get an idea of the kind of growth that this will set receives come its EOL, let's look at the returns of similar sets. The chart below compares the set to the growth experienced by the full scale modulars it features, and three exclusive microscale factory sets from 2005:
The chart shows that retired sets similar to 10230 Mini Modulars have performed extraordinarily, often holding double digit CAGRs (Compounded Annual Growth Rates). 5526 Skyline, which is probably the most similar set as it is also made up of microscale renditions of existing source material like the statue of liberty, has seen huge growth, and the three retired modulars featured in the set are the holy grails of Lego investing. Granted, 5525 and 5524 haven't performed that well but I would consider the appeal and building techniques of the Mini Modulars far superior.
Another thing that should be mentioned is that Lego is likely to release another Mini Modular set next year when they have another five modulars to miniaturize. The serial appeal worked wonders for the original modular  line, and I think if they released another it would without a doubt raise the popularity of 10230.
Part-outters would definitely be able to profit with the set simply because of its low price per piece ratio of 5.8 cents per piece, despite its lack of many exclusive parts, but at this point I would advise against parting out the set in favor of selling it sealed. Due to its AFOL appeal, interesting building techniques, unique microscale medium, exclusivity, and ties to the original modular line, I think very good things are in store for this set, and will predict a rough 5-year CAGR of 27.5%, resulting in a value of $269.51 in 2018.
Depending on how accurately I estimated the appeal of the set, it could go higher or lower, but this mini set is definitely packed with some mega potential. Get 'em before they're gone!