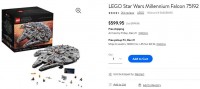 LEGO fans were given an early Christmas for about an hour on Tuesday morning, as the UCS Millennium Falcon 75192 showed up on Walmart's site for 25% off.  Normally priced at $799.99, the one hour sale had the Falcon down to $599.99.
It hasn't been Christmas for everyone, though, as a number of users reported yesterday that their orders got cancelled.  However, a few users have reported that they have shipping confirmations for their orders.  And for a brief time this morning, the set showed up once again at $599.99.
Keep those eyes open, you never know when this, or any other set, may go on surprise sale in the days leading up to Christmas.  Register and participate in the board to stay abreast of the latest deals.
A big thank you to @exracer327 for posting the deal first.
1

1