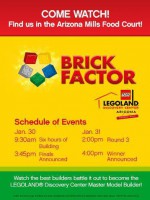 The LEGOLAND Discovery Center Arizona, opening Spring 2016, is holding a contest to find their new Master Model Builder.  On January 30 and 31, they will be holding a competition in the Arizona Mills Mall food court.  Applicants will asked to build themed creations. They will be broken up into groups to build for 45 minutes. The winners of each heat will move on to the Second Round consisting of 40 contestants divided into 2 heats also of 45 minutes each. The top 10 builders of those heats will return for Round 3 on Sunday. The winner of Round 3 will be awarded the job of Master Model Builder.
Spectators are encouraged to come and support the contestants. It should be an interesting way to see some new and interesting creations of some of the most talented builders locally.
The event begins at 9:00 AM on Saturday January 30 and ends at 4:00 PM. On Sunday it starts at 2:00 PM and ends at 4:00 PM.
See the Official Announcement here.
Follow LEGOLAND Discovery Center Arizona on Facebook
As for me, I'm going to try to get over there for at least part of the event and report back to you.
2