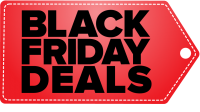 I want to make a blog post that summarizes the Black Friday deals.  A lot of the talk is going on in the Daily Deals thread, and we will try to bring deals over into the content here so that it is easy to see what might be out there.  The reason I turned the summary into a blog is because for any comments, the deals are on each page and there will not need to be searching back 10 pages to see what was missed.  This list will be available all the time.  I am hunting through the Daily Deal thread to find the deals, so you will continue to see this update.

BLACK FRIDAY LEGO SHOP @ HOME DEALS  - A list of everything on sale @ LEGO starting tonight at 12am EST


LEGO: DC Comics Super Heroes: Justice League vs. Bizarro League $6.00
LEGO City Police 60044 Mobile Police Unit 31% Off $30.99
LEGO Movie 70815 Super Secret Police Dropship Building Set 31% Off $55.00
Imperial Assault Carrier 75106-1 26% Off $55.00
Star Wars Order Special Forces TIE Fighter 75101 http://www.amazon.com/LEGO-Special-Forces-Fighter-Building/dp/B00WHYTQXE/tag=brickpicker-20

Bike Shop live at Target
http://www.target.com/p/lego-creator-bike-shop-cafe-31026/-/A-15276992#prodSlot=medium_1_1&term=lego+bike+shop
Arctic Base Camp
http://www.target.com/p/lego-city-arctic-basecamp-60036/-/A-15409367#prodSlot=medium_1_9&term=lego+arctic+base
Police Dropship
http://www.target.com/p/the-lego-movie-super-secret-police-dropship-70815/-/A-15282721#prodSlot=medium_1_1&term=lego+police+dropship
The Lego Movie (Blu-ray + DVD + Digital HD UltraViolet Combo Pack) - Target Exclusive
http://goto.target.com/c/65738/81938/2092?u=http%3A%2F%2Fwww.target.com%2Fp%2Fthe-lego-movie-blu-ray-dvd-digital-hd-ultraviolet-combo-pack-target-exclusive%2F-%2FA-50010679

LEGO Classic LEGO Large Creative Box, 10697
LEGO DUPLO My First LEGO DUPLO Large Creative Box, 10622
LEGO Jurassic World Video Game (XBox One, PS4, Wii U) $25
LEGO Batman 3: Beyond Gotham (PS3, XBox 360) $8.00
LEGO: Marvel Pirates of the Caribbean (Xbox 360) $8.00 Yes, they labeled it as "Marvel Pirates of the Caribbean"
LEGO: Marvel Super Heroes (PS3, Wii U) $8.00
The LEGO Movie: The Videogame (PS4, XBox 360) $25.00
LEGO Batman (Wii) $8.00
LEGO Dimensions Starter Pack (XBox 360) $79.99
http://yoyo.7eer.net/c/65738/83484/2056?u=http%3A%2F%2Fwww.yoyo.com%2Fsearch%3Frf-YoyoPromo%3DBFLEGO
Code: BFLEGO
Max discount: $50
The coupon can be used on MULTIPLE orders
Don't forget about the 30% Ultra Agents at TRU...Some really nice sets there.  The 70173 Ultra Agents Ocean HQ for $69.99 and the 70171 Agents Ultrasonic Showdown for $13.99 with the Professor Brainstein minifigure that sells for $14-15+ on Bricklink and eBay!
Lego City: Coast Guard Patrol $50.99
LEGO DUPLO LEGO Ville My First Police (10532) $14.99
LEGO DUPLO LEGO Ville My First Shop (10546) $14.99
LEGO Legends of Chima Sir Fangar's Saber-Tooth Walker (70143) $23.99

Ebay GC
http://www.ebay.com/itm/262161712504
Toys R Us Gift Card $50
http://www.staples.com/Toys-R-Us-Gift-Card-50/product_1204161

View Black Friday Deals
BOGO 50% on low priced items under $40