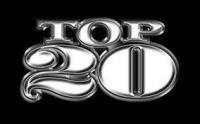 This blog follows on from my previous blogs presenting the top 20 sets in terms of secondary market price growth according to the data we have available here on Brickpicker.  Apologies as I've been a bit slack and missed the last data update that was in January and had data up to the 10th of Jan.  As such this update will be based on values as at the end of Feb-14.  This means comparisons in the "Last Rank" column of the tables will be comparing movements from the Nov-13 positions. Again, here are some notes on the scope before I begin:
I have not restricted the qualifying sets by size or age or any other dimension
Information is based on US prices only
Not all sets across all themes are included as I have zero interest in Bionicle/Hero Factory for example so have only gathered data on a few of those sets.  (I just didn't have the willpower to gather all the data for them really).  Most of the rest are covered though.
I tried to look at as many sets as possible, but there is a chance a few may have been missed, if you spot some that should/could be included please let me know
The Last Rank column indicates changes in ranking from the last Top 20 Blog (Nov data)
  One Month Growth (change in Market Price from last month)
An entirely new set of entrants and that's not really a surprise given volatility in prices when only looking at a change from 1 month to the next and that none of the movers from Nov-13 have popped up again here.  Interestingly the newly released 70803 Cloud Cuckoo Palace from the LEGO Movie has made the list after obvious short term supply issues and high consumer demand. It will be interesting to see if any of these sets can maintain some of this growth longer term.  Which leads us nicely onto our next time period:   Six Month Growth (change in Market Price from August 2013 )
Another list dominated by new entrants.  Plenty of recently retired sets enjoying that initial post EOL price bump.  We also get the Advent Calendar's in a trio in the middle, obviously enjoying a Christmas spike.   One Year Growth (change in Market Price from February 2013)
Black Phantom, Butterfly Beauty Shop, and Jawblade take the top spots after maintaining previous growth rates.  There are also quite a few of the much talked about Super Heroes sets that have recently retired, all translating that hype into very good growth performance.  Plenty of other great sets on this list that you'd have done well to buy at market price one year ago.   Two Year Growth (change in Market Price from February 2012)
Now into the two year time frame we begin to remove some of the short term fluctuations that can occur with some of the narrower time periods. 21001 John Hancock Center has plateaued a little in recent months and has slipped back 3 spots from the top handing the crown to Fire Lord. We can now start to see some of the performers in the shorter time periods that were presented in previous articles begin to push their way through onto the 2 year growth table, like the Rocka XL, Butterfly Beauty Shop, and Black Phantom.   Retail Growth (change in Market Price from Retail MSRP)
Now for the full measure of growth from the retail value of the set.  Obviously a set with a $0 listed retail price like all the promo giveaways etc are excluded as we can't divide by zero, so that has weeded out a few of the small polybags or very very old sets for which we have no retail data.  But the list is still dominated by cheap sets that have increased by large multiples. The 1626 Angel takes top spot with a crazy 20,477% growth over retail thanks to 1 recent sale of $250 and another 2 years ago of $280 all from a set that cost $1.30 when released back in 1989. Perhaps the first "real" contender is 10190 Market Street, such an impressive result for a set in just 6 years.  Much better than another set from the same year that people often point to as the pinnacle of Lego investing…  The Batman set that slips in at number 20 becomes the first Super Heroes set to do so, and perhaps shows the way for future super hero related sets?   Conclusions These top 20 tables lists all the absolute best investment decisions you could have made if you had perfect future knowledge.  The amount of under the radar sets and "sleeper" hits have been a big wake up call for me.  We sometimes become a little circular in discussing the popular sets for investing (Modulars, UCS, etc) and lose sight of the fact that many of the best investments to be had right now are probably some of the least discussed sets.  It does mean there are plenty more topics ripe for discussion on the forums and in blogs.