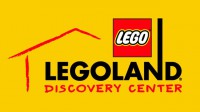 Recently, Arizona news outlets had stories about 50,000 LEGO bricks being dumped at a local shopping mall. Was this some weird Santa sighting? No. Did the ghost of Ole Christiansen manifest all of the bricks there? Sorry. It was in celebration of the beginning of construction of a LEGOLAND Discovery center at the Arizona Mills Mall. Arizona Mills is located in the city of Tempe, part of the larger Phoenix Metropolitan area.
The attraction is scheduled to open in Spring of 2016. The LEGO-inspired play space will include a huge pool of bricks, brick building classes, a Lego ride, a 4-D cinema and a replica of the Phoenix skyline built entirely from Legos, according to the release.
Judging by what is available at other Discovery centers, we should see a LEGO shop, but one that doesn't exactly participate in the VIP program. It seems like they give an instant 5% discount to VIP card holders and 10% to season pass holders. Do these discounts stack? I actually am not finding information, but I would hope so. Someone who has a Discovery center in their area should be able to say. I honestly doubt that they do. LEGO likes to do one or the other.
However a 10% break on whatever exclusives or sale items that they offer would be a welcome addition to any brickvestors in the Phoenix area.
So far the website has little information, and they tend to keep the riff raff out, but I'll see if I can talk someone into a site visit to get pictures before it opens. Otherwise, I will be there opening day to report on the experience and what my fellow Phoenicians might find of value there.
In the meantime, a couple of articles with attached video as well as a link to the official site.
https://www.legolanddiscoverycenter.com/arizona/holding/
http://www.abc15.com/news/region-southeast-valley/tempe/legoland-discovery-center-coming-to-arizona-mills-in-2016
http://www.azcentral.com/story/news/local/tempe/2015/10/27/50000-lego-bricks-dumped-arizona-mills-legoland/74648594/
Honestly I am looking forward to taking the kids.
2