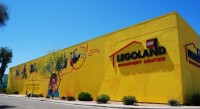 The LEGOLAND Discovery Center Arizona is set to have their grand opening on April 22, 2016. They are located in the Arizona Mills Mall 5000 S. Arizona Mills Circle. Tempe AZ 85282. Tickets are $22 for a single day admission, and you have to book a time for entrance. An individual annual pass is available for $65, or $60 per person for a family of 4 or more. The incentives for the annual pass holders include a 10% discount in the LEGO retail store and a 20% discount in the cafe as well as skipping the line and going right in to the center. Pass holders do not have to pre-book.
I was able to get in early as part of a soft opening that they hosted for their annual pass holders. It was nice to see and experience everything without the lines or hordes of people. It was also a little sad to see so many employees waiting quietly for someone to approach them. I don't expect that this experience will be one shared by most after opening day.
The first thing that we did was wait in line to get our annual pass cards. They took our pictures so that we can't pass off our cards to friends and family. Luckily, we had preregistered and prepaid, so our wait time was minimal. You enter the first chamber and are directed to a photo station. That's just not my bag baby. I endured the multiple suggestions for poses then got in line for the virtual factory tour.
They warn you that the factory tour may induce vertigo in people who suffer motion sickness. It's a large set of screens with control panels close enough to make the screen size overwhelming. The control panels provide you with the ability to interact with the tour minimally. The virtual tour seems like an idealized robotic factory. I am pretty sure that none of it was filmed in a real LEGO factory. I was hoping that their factory tour would have the machines used in the process like LEGOLAND California, only working. It was an interesting enough video,and as soon as you exit the room, the kids are handed a Duplo brick stamped with LEGOLAND Discovery Center.
The next stop in the Discovery Center is the Kingdoms Quest ride. You get in a buggy and pull out a LEGO style pistol to shoot various things like bats,spiders, trolls and skeletons. It's fun enough and they take a picture right at the end. Sure, the picture is a cash grab and maybe overpriced, but you get to commemorate your high score. Interestingly, there's a dragon's tail sticking out of the wall above a sign about a missing dragon. The front half of the dragon is on the other side of the.wall, but you might not remember it as part of the joke by the time you see it.
Miniland is where you come to next. Several local landmarks are represented in LEGO form. From University of Phoenix Stadium, site of Super Bowl XLII, to the Grand Canyon and the cities of Phoenix and Tempe, attendees are treated to a mini marvel. If it was just me, I could have stared at these builds for 3 or 4 times as long as I did. I was delighted by the mini LEGOLAND Discovery Center in the Tempe scene. Each miniland station had button activated features and the room had a day/night cycle that revealed lighting effects throughout. The city scenes at night were spectacular. Vehicles in each area moved and sounds could be heard representing the scenes that you were seeing.
When you leave Miniland, you enter a large, open room. a fair portion of the open space is taken with tables and seating for the cafe. With so few customers, the room seemed echoing and empty, I can only imagine how noisy it will be on Friday.
The perimeter of the room is divided into zones. Each zone is devoted to a specific theme and/or activity. Clockwise from where you enter, there are the following zones: Friends/Heartlake City, City/Town Play Zone, Restrooms, Master Model Builder, 4-D Cinema, LEGO Racers Build and Test, Parent's Lounge, Cafe, Birthday party rooms, Creative workshop, Merlin's Apprentice and LEGO Duplo village.
Heartlake City, Duplo Village, Build and Test, and Creative workshop are all sort of free build areas. Hearltake City has the large statues of the minidolls and a full cityscape for Friends. Duplo has large, life size Duplo cow and other features along with Duplo bricks and a larger rubberized brick. It's great for the little ones. Build and Test and the Creative workshop allow kids to experiment more with what they build.
The City/Town play zone is just a play area that is themed like a construction site and a police station. It's a large hamster habitrail and has more of the large rubberized bricks. Make sure that your kids have socks. If they don't, the snack bar will conveniently sell you a pair for $1. My kids loved this part of the attraction, but my wife and I were stuck outside waiting until we grew too bored.
The 4-D cinema has 2 different movies currently. Each movie is about 10 minutes and requires the use of 3D glasses. The room is damp because they mist water at various times throughout the film as well as blowing a fan, blowing bubbles or making mist. Of the 2 films, the Chima one was better. The Kingdoms one seemed aged and confused the kids because no one spoke, they just mumbled nonsense sounds.
The Parent's lounge looked comfortable enough and probably had some measure of soundproofing. We had no need to go since the place wasn't terribly noisy during this preview weekend.
The birthday party rooms looked somewhat plain and functional. I can't say that I'd be excited to have a 75 minute birthday party in one.
Merlin's Apprentice was a nice little ride. It's pretty much like the Dumbo ride at Disneyland. Except, you have to pedal to make the thing raise and lower. My legs are slightly too long to work the pedals properly, but thankfully it still worked if you pedaled in reverse, which was easier for me. The kids enjoyed it.
I know, I skipped over the Master Model Builder. It seems slightly awkward to watch someone who is trying to work and to pester him to ask questions. I tried not to be too intrusive or let my kids be either. He had to design and build more than a dozen register screens before opening this week. I did find out that 3 of the other finalists from the Master Model Builder contest received some position there as well. I spoke to one briefly who recognized me from the event.
To reach the exit, you have to go back through Miniland and out an awkwardly nondescript door. I feel like when they get up to capacity, this will create an enormous bottleneck, You have people entering the attraction and exiting in the same area without any clear demarcation. Maybe I'm wrong, but we shall see.
The exit lets out into the LEGO retail store. It's not exactly the LEGO store because the VIP card doesn't add points to your account and they don't participate in the promotions like polybag giveaways or double VIP. The sets are all retail priced, not increased to account for being in a mall or at an attraction. As far as I could tell, most of the LEGO Shop exclusives were present including hard to find ones like the Ewok Village. They seemed to have more role Play items than the regular LEGO Store and were doing a fairly brisk business.
There's a good amount of stuff for kids to do, but as an adult, it doesn't seem like it. All of their literature says that it's aimed at kids 3-10, and I would probably cut it off about 3-8. As a parent, you're paying to shepherd the kids from one place to another. You might have some fun on the rides, in the theater, or participating in building, but it is not designed with you in mind. The place is so not designed with adults in mind that adults can't get in without a child (except for a certain night every month.)
Anyone may participate in minifigure trading. Cynically, I would suggest it is just to sell you build a minifigure or CMFs in the shop, but kids (and adults) can bring their unwanted minifigures from home and trade them with any employee that has a minifigure on their badge, or register. That's an activity that is fun for everyone, but selection is basically limited to what you see and what the kid before you may have left. My kids participated, up until my oldest lost all of hers somewhere.
The Cafe was disappointing. Everything was prepackaged,and most of it was unsuitable for my child who has a dairy allergy. You can't bring in your own food, so eat first. If you buy a one day ticket, you cannot return to the attraction once you leave without paying again.
All in all, I can't see spending the money for a one day pass. I guess as a once in a long while treat for a kid, it would be fine, but parents might wind up feeling ripped off. The discount in the store for annual pass holders is a nice incentive, but you have to balance the cost against how many sets you're going to buy and how many times you'll visit the attraction. If you plan on visiting more than 3 times in a year, get the annual. If you buy a lot of LEGO exclusives, $65 might be offset very quickly by the discounts that you receive. The store will give an automatic 5% discount for VIP holders, but that discount will not stack with the annual pass. Still, 10% is more than sales tax, so most large exclusives would be slightly cheaper than Amazon or the LEGO shop.
I'm going to try to swing by on Opening Morning to see if there's any special ceremony.
https://www.facebook.com/LDCArizona/?fref=nf
1