Modular buildings. Considered by some investors as the gold standard of LEGO investing along with the UCS line of Star Wars, have been around since 2007, when LEGO decided to release the first one of the line, the coveted 10182 Cafe Corner. The story of how this line of sets became a reality is a very interesting one, and very different to what usually happens when LEGO decides to produce a new theme. Let's go back a few years and see how this really popular line was conceived.
Most of you probably already know this, but back in 2006 LEGO decided to run a poll to figure out what the AFOL community would be interested in seeing developed next. Something that would appeal mostly to them and maybe TFOL as well, in a way giving LEGO that broader appeal they were interested in having. So, out of that poll came a variety of suggestions from the community, mostly related to the desire for a very realistic and minifigure scale "every day" building, something one would find by walking down the street, as well as a variety of other features on that same line. Finally LEGO got their design team to work and, along with some fan feedback, finally released 10182 Cafe Corner in early 2007.
What do these sets offer that makes them so popular with both TFOL and AFOLs all over the world? There are actually a handful of different factors that we need to keep in mind:
First and foremost, these are sets that are designed to target adult fans and not the usual LEGO customer (kids). Pretty similar to what the Architecture line does on a smaller scale.
Large and heavily detailed models of buildings that are not product of imagination, but rather structures that every single person has at some point of their life seen in their own cities.
The architectural design resembles those of decades past, giving all of the sets a more charm full appearance.
All of the sets are designed to minifigure scale
The sets offer great value for the price paid, even MSRP. Good for MOCers
Inclusion of very hard to find pieces in most sets.
Most of the buildings present several different and more advanced building techniques that are not usually found on some of the other LEGO themes. Even more, they are highly customizable if you know what you are doing.
Even though the first couple of buildings included most of their few play features on the outside, as the theme has progressed the newer buildings have started to show some interesting features also on the inside.
Lastly, they are perfect display models, mostly because the fact that they are completely compatible and connect each other to recreate a complete street.
So, you see, there a lot of very interesting features included on all of the sets in this theme, and to all that you still need to add the amazing price appreciation the already retired sets have been presenting over past few years, something we will be analyzing next.
Retired Modular Sets and their performance:
10182 - Cafe Corner

Add realistic architecture to your LEGO Town!
Developed by LEGO fans and designers working together, this detailed and realistic street corner scene features plenty of special colors, rare LEGO pieces and creative building techniques, as well as authentic interior details and modular construction to let you enlarge the neighborhood as your LEGO collection grows. 

Built completely on minifigure scale!
Includes 3 townspeople minifigures!
Street base measures 10" x 10" (25.4 cm x 25.4 cm) and building stands over 14" (36 cm) high!
Realistic features include opening front door, café tables with umbrellas, striped awning, "Hotel" sign, trash can, street light, bench and more! 
Top two stories lift off to reveal inner rooms and staircases!
Connectors at base of model allow you to join 4 Café Corners together!
My Analysis: This is the set that started it all. Just take a look at the CAGR this set has been presenting over the course of its retirement period. It has already been three years and the figure has maintained very high. The percentage change with respect to the last month is almost 4% even after all this time, so you can be sure this model will continue its high speed growth for at least the rest of this year, probably well into 2015 as well. This incredibly detailed corner building will probably mature in a couple years, but I really see it going all the way to $ 1,800, maybe even more.
10190 – Market Street

Add Market Street to your LEGO town!
Designed by a LEGO fan, this realistic LEGO Factory exclusive features interesting colors and details like spiral staircases, awnings, removable balconies and a terrace roof. The modular construction allows you to put it together in different ways and to enlarge your LEGO town or city as your collection grows!

Combine with set 10182 Café Corner to expand your LEGO neighborhood!
Designed to minifigure scale!
Includes 3 townspeople!
Build each floor separately and put them together to complete the building!
Top three stories lift off to reveal inner rooms and staircases!
Street base measures 10" x 10" (25.4 cm x 25.4 cm) and the building stands 13"" (33 cm) high!
Realistic features include opening doors and windows, gate, street light, striped awning, fruit to sell at the market and more!
My Analysis: Here we have the smallest, and in my opinion least appealing modular building released by LEGO that also happens to be the most profitable one in the secondary market. Market Street has the particularity that it was designed mostly by a LEGO fan and not a professional LEGO designer, something that is not likely to be repeated any time soon. This is probably a factor that has caused this set to rise so significantly above what the Cafe Corner has so far. Market Street's CAGR is an outstanding 55 %, and is currently $40 more expensive to acquire on the secondary market than Café Corner. Even more, the set's last month percentage change is up by more than 5%, showing that even after several years this is one investment that will continue to grow, perhaps above $ 2,000! In fact, if it continues to show a percentage increase of 5% each month, it will be reaching around $ 1,800 by the end of this same year.
10185 – Green Grocer

Amazing details and design!
Expand your LEGO neighborhood or start a new one with the Green Grocer! Designed in a modular style, this colorful and lively building features a grocery store and classic apartments that can be built, rebuilt and rearranged to suit your own LEGO town. Detailed architecture includes realistic interior, courtyard access, a roof terrace and fire escape, lots of windows and doors, and much more!

Build a street layout by combining Green Grocer with 10190 Market Street and 10182 Café Corner!
Top 3 floors lift off to reveal inner rooms!
Grocery store features a blue and white awning, cash register, bins for bread, vegetables and fruit, refrigerator and tiled floor!
Apartments have lots of details like bay windows, fireplace with tools, grandfather clock and windows that open to the fire escape!
Stairs lead up to the apartments and to the roof terrace!
Roof terrace has chairs, umbrellas, grill and flowers!
Check the mailboxes for letters!
Fire escape ladders move up and down!
Access the courtyard behind the building!
Street features lampost, fire hydrant and light fixtures!
Includes 4 townspeople minifigures, plus a cat and rat!
Measures 14" (35cm) high and 10" (25cm) wide!
My Analysis: The last one of the modular that has been retired, so far. From the description it is pretty obvious what the main difference between this set and its two predecessors is: the detailed interior. The first two modulars were outstandingly detailed on the outside, but they lacked a designed interior that would make them even more appealing, and that is something that was included in the Green Grocer. The building consists of three floors, all of which have at least some detailing inside; some examples are the stairways, a fireplace, furniture, detailed inside flooring, etc. As if that was not enough, this model also presents the lowest price per piece of the already retired buildings, while at the same time having one of my favorite outside designs of the entire line. If I had to pick a favorite among these first modulars, this would be the one without a doubt.
Taking a look at the investment numbers, you will notice that this set has not presented the same level of growth the previous two did. This of course does not mean its performance has been substandard; a CAGR of close to 35 % is a number every investor wishes to see in any set that it's part of their Brickfolio. A reason for this somewhat lower number may be the increase in popularity of the theme both with collectors and investors, especially the latter. By the time Green Grocer had retired, a lot of people had probably seen the amazing returns of Market Street and Café Corner, so that an increase in the supply of Green Grocers is more than likely the reason its growth has been somewhat slower. Even more, check the percentage change of the Green Grocer compared to that of both previous sets, and you will see that while those are still growing very fast, 10185 presents a lower, but steady, increase in value. If this trend continues, the set will probably get over $ 700 by the end of this year.
----------------------------------------------------------------------------------------------------------------------------------------------------------------
And those are all of the sets in the theme that have been retired so far. What's interesting about all of these sets is that you can still make the case for each and every one to be a good investment pick even at current prices. Just by projecting the current trends as I did above, you can see that if they keep going the way they are, especially with the first two, there is money to be made as soon as the end of this year if so you prefer, but even more long term. Of these sets, the Green Grocer will set you back the least amount of money, but at the same time it will probably appreciate at a slower rate. Less risk, less return.
Since 2010, none other of the modulars has been retired, so it is really hard to say at this point how they will be going to perform, especially with the awareness factor and longer production runs going against them. Let's now go ahead and analyze these sets you can still get from the shelves.
Current Modulars
10197 Fire Brigade
Build an authentic vintage fire station! 
Ding ding ding! There's a fire in town! The fire brigade drives to the scene from this detailed and realistic 1930's fire station. Designed to fit with other modular buildings like 10211 Grand Emporium and 10185 Green Grocer, the station features rare LEGO® pieces and innovative construction techniques. It includes a '30s-style fire truck, 4 minifigures, a fire-dog, an opening station garage door, and a removable building roof for interior access. It also includes 2 fully-furnished floors with fire-fighting tools, racks for the firemen's helmets, fire-pole, ping-pong table, kitchen with fully-stocked fridge, couch, bookshelf and a roof with a water tower and bell. Measures 14" (35cm) high and 10" (25cm) wide.

Includes a 1930's-style fire truck, 4 minifigures and a fire-dog!
Features lots of realistic details including fire-fighting tools, racks for firemen's helmets and even a fire-pole!
The station house features an opening station garage door and 2 fully-furnished floors including a kitchen with fully-stocked fridge and a ping-pong table!
Remove the roof for interior access!
The roof is equipped with a water tower and bell!
Fire Brigade features rare LEGO elements including bricks and plates in dark tan, 1x1 dark red tiles, a red hot dog and the 3x6x5 Belleville® arch. It also features gold fireman's helmets, a tan hand bag and a red sliding garage door!
Measures 14" (35 cm) high and 10" (25 cm) wide!
Add Fire Brigade to your LEGO Town and combine it with other modular buildings like 10211 Grand Emporium and 10185 Green Grocer!
My Analysis: Fire Brigade, worrying and frustrating investors since the year 2009. In all seriousness, you will be hard pressed to find a set that produces so many different emotions as this one, excluding the 10188 Liv..Death Star of course. This modular was the fourth one to be released, one year after Green Grocer, and if it had followed the trend set up by its predecessors, it should have been out of the market at some point in 2011. But here we are, 2 full years later and this set is still readily available pretty much everywhere.
After the success of the previous modulars, it is pretty clear that a large portion of the LEGO collecting and investing community caught on the investment potential of the whole theme, having as an unintended consequence the more than likely higher number of sales for 10197 than for the older models. It is probable that this increased popularity is the reason LEGO has still not decided to pull Fire Brigade's plug at this point.
Having said all that, as all past modulars this model is very great looking, larger than most and includes a number of exclusives pieces/colors along with the first vehicle of the series that could prove to be a helping hand in this set's quest to glory. The interior of the set is very detailed, even more than the Green Grocer, and the fact that it is a fire station pretty much guarantees that everyone who is considering starting or completing a modular city will need to acquire it at some point. For more specific information about this set, check out Jeff Mack's EC article on Fire Brigade
Value Prediction: I think it would be very naïve to expect a performance similar to Café Corner or Market Street. In a way, Green Grocer already proved to us that these sets will still show strong growth in the secondary market, just that it will probably be at a slower pace. Considering the extended production run, it is my opinion that this set will grow at an even lower rate than Green Grocer, probably presenting a CAGR of around 13 % by the time it has been retired for as long as 10185.
*Graph assumes retirement by the end of 2013 (Let's all hope)
10211 – Grand Emporium
Welcome to the grand opening of the Grand Emporium! 
The LEGO® Modular Buildings series continues with this spectacularly detailed 3-story department store, designed in a realistic scale with lots of special building techniques and rare pieces. On the street outside, citizens carry shopping bags, send letters at the mailbox, admire the window mannequins, then cool off at the ice cream stand while a busy window washer works above. Enter through the revolving doors to discover a ground-floor clothing department, complete with a cash register, fitting room, hats, jewelry, perfume, and even a selection of spare trousers. A brick-built escalator carries customers to the second floor housewares department with glassware and golden plates for special occasions, and then it's up to the top floor for the toy department (complete with toy house and push-scooter) with an impressive chandelier above the open atrium. Up on the roof are a billboard and skylight!

Add this classic department store to your LEGO Modular Buildings collection
Grand Emporium features many authentic details
Set includes 7 minifigures
Measures 15" (38cm) high and 10" (25cm) wide
My Analysis: Released in 2010, Grand Emporium is the fifth set of the series and only the second corner building. This is another great looking building that resembles a large department store, with several different types of merchandise on each of the three different floors. The inside details will completely blow you away, there is even an escalator that looks almost perfect!
The price of this set is completely consistent to that of most of the series, so no issues there. As it happens with Fire Brigade, the set has presented a longer production run than those that have already been retired, getting closer to three years now. However, one of the things this set has going for it that Fire Brigade does not, is the fact that it is a corner building. Grand Emporium is only the second corner building of the entire theme after Café Corner (now three with Palace Cinema), and as you can probably imagine, having a couple of corner buildings in your modular town is the only way to keep it from becoming only an incredibly long street. Even more, if you missed out or only purchased one Café Corner, this was your only choice until not so long ago.
With the release of the new Palace Cinema, I honestly think this, and not Fire Brigade, will be the next modular to retire. This would be good news to investors as the set would only be on the market for a while longer than average, and not a lot more like 10197. For more specific information about the set, check out Arock68's EC article on Grand Emporium.
Value Prediction: Assuming this set retires at some point this year, there is the possibility for a stronger growth trend than exists with Fire Brigade. Even more, being a corner building will probably allow this set to command a higher price in the secondary market, especially considering the high price of a Café Corner at this point. I see this set presenting a CAGR of around 17 % by the time it has been retired for as long as the Green Grocer.
10218 Pet Shop
Build a pad for pampered pets in a 3-story shop with style!
Continuing the LEGO® Modular Buildings series, this highly detailed, 3-story Pet Shop building and townhouse with full internal and external detailing is the perfect addition to your LEGO town. Greet customers with a menagerie of pets and let them treat them with a selection of toys and supplies. The pet shop building features a hinged staircase for easy access, upper apartment with kitchenette and upper loft overlooking the open plan interior below. To the side, the tastefully appointed townhouse features a detailed ground floor with accessories and spiral staircase leading to the upper floor. The attic space features storage boxes and French doors leading out to an elegant front balcony, while the rooftop garden, complete with fresh vegetables, brightens up the rear of the building.  

Includes 4 minifigures with accessories: pet shop owner, girl on bicycle, painter with paint roller and woman!
Pet Shop includes dog, cat, 2 parrots and fish tank with goldfish!
Also includes 3 dog bones, ball, frog toy, birdhouse, bucket and brush!
Kitchenette features stone fireplace, stove, sink, coffee maker and small table and chair!
Upper loft features skylight, bed and lamp!
Townhouse features ground floor with mailbox and mail, hat rack, couch, telephone, toilet and access to basement crawl space!
Measures 10" (25.5cm) wide and 10.5" (26.5cm) high!
Combine with other modular buildings, like 10197 Fire Brigade and 10211 Grand Emporium!
My Analysis: Very nice building and concept. As you can imagine the Pet Shop includes an assortment of animal pieces. One of the most appealing features in my opinion, is the appearance of the exterior where it looks as if they were two different buildings right next to each other, something that we have not seen tried before with other modulars. Inside, the details are once again great looking, full of pet related things as well as some nice architectural features like a very tall fireplace. Even more, you can separate the buildings if you prefer and set them up any way you want!
The set was released on 2011, so it could still retire within the two year average for modulars. Even more, this is one of the least talked about sets of the whole theme, perhaps because it is expected to last a long time on the shelves or just because it seems to be even harder find discounted that some of the others. Either way, if I had to pick one set to over perform the rest of the ones available, it would be this one. It is just a very different concept, and something I honestly did not expect LEGO to produce. Most of the other buildings were pretty easy to expect, but this one is very unique and in my opinion that will help it produce higher returns in the future. Hopefully it will last around two years as the older ones used to do.
Value Prediction: Love the set. I find it very unique and well designed. Plus, it has to do with pets, and who does not love them? The inside REALLY looks like a real pet shop, with several different animals and other details included. This is my top pick of the currently available modulars and if you check the eBay activity you will see that it's very popular as well. I see a CAGR of around 23% by the time it has been EOL for two years. (Assumes retirement by the end of the year)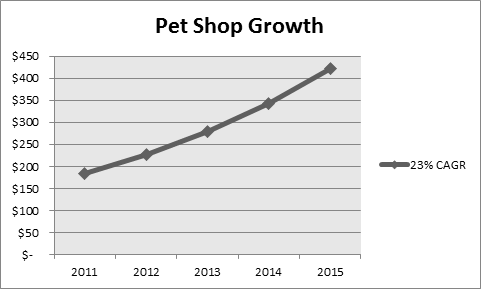 10224 Town Hall
Keep the wheels of commerce turning with the authentic Town Hall! 
Build the authentic 3-story Town Hall, the latest addition to the LEGO® Modular Buildings series! This highly detailed model features large entranceway columns, a coat of arms, a tall bell tower with clock and a large skylight that lets you see inside! On the ground floor, the large hall, tax office and auditorium have everything you need to run the town. Take the working elevator up to the secretary and mayor's offices on the second floor, realistically furnished with desks, chairs, paintings and even a frog sculpture. Hold a meeting and address the town's citizens at the podium! On the third floor, a spacious meeting room features a large conference table, chairs, globe and plants. Includes 8 minifigures: mayor, secretary, bride and groom, press woman, janitor and 2 children.

Includes 8 minifigures: mayor, secretary, bride and groom, press woman, janitor and 2 children
Accessories include a painting, desks, chairs, sculpture, lamp, conference table, globe, plants and bench
Functioning elevator features space for 2 minifigures and ladder access to roof
Bell tower features bench and maintenance ladder
Roof features skylight with view of inside the building
Address the citizens from the balcony!
Collect and build an entire town with the LEGO® Modular Buildings collection: 10211 Grand Emporium, 10218 Pet Shop and 10197 Fire Brigade
Measures 10" (25.5cm) wide and 20" (50cm) high
My Analysis: The tallest of all the models in the theme, you just can't have a town without its own Town Hall. Besides being the tallest building, this set also contains the largest amount of pieces, more than 2700 that earn it a place on the top 15 largest LEGO sets ever produced. The Town Hall comes with some interesting features like a working elevator, meeting rooms, and pretty much everything you need to take care of the most important aspects of your town. There is even a balcony from where the Mayor can give speeches to the adoring masses below.
The Town Hall was only released a little over a year ago, so it is still pretty early to speculate about when it will be retiring. Something else worth mentioning is that this is the most expensive LEGO set from the modular theme ever released when considering raw MSRP (its price per piece is still in line with previous models). This might be a positive aspect when considering the future appreciation of the set, since the price is probably a little steep for some people that will end up missing out on the set, or even for investors who may not stock up as many copies as with some others. Hopefully, this will translate in smaller supply once it goes EOL, something that if everything works out we hope happens sometime next year.
Value Prediction: As said before, sheer amount of pieces may give this set a bump once it goes EOL. Plus, I would say that a Town Hall is just a must have building in any realistic town scene. Assuming this set retires sometime next year, I think it will follow the same trend of some of the other current modulars and present a CAGR of around 20 % by the time it has been retired for 2 years.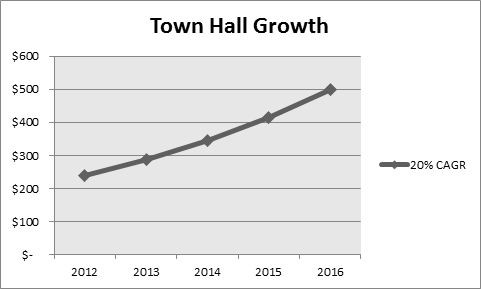 10232 Palace Cinema
Build a grand premiere at the Palace Cinema! 
It's premiere night at the Palace Cinema! Illuminate the night sky with the spotlights as the child star arrives in a fancy black limousine! Gather the crowd on the star-studded sidewalk, then head into the detailed lobby with a concession stand and ticket area! Take the grand staircase into the theater with a large screen, movie projector and reclining chairs for 6 minifigures. Introducing the latest addition to the LEGO® Modular Buildings series, the highly detailed, 2-story Palace Cinema corner building. This collectible model features a sidewalk of the stars, brick-built entrance doors, posters, sign frontage, a tower with spires and rooftop decorations. Includes 6 minifigures: child actress, chauffeur, female guest, male guest, photographer and cinema worker.

 


• Includes 6 minifigures: child star, chauffeur, female guest, male guest, photographer and cinema worker
• Features brick-built entrance doors, posters, sign frontage, tower with spires and rooftop decoration, lobby, concession stand, ticket area, staircase, big screen, projector and reclining seats for 6 minifigures
• Vehicles include classic-style limousine
• Hard-to-find elements include a red baseplate and dark tan, dark red, and gold pieces
• Seat a 6-minifigure audience in the reclining seats!
• Play on the star-studded sidewalk, in the detailed lobby or in the big-screen theater!
• Collect and build an entire town with the LEGO® Modular Buildings collection: 10224 Town Hall, 10218 Pet Shop and 10211 Grand Emporium!
• Palace Cinema measures 15" (38cm) high, 10" (25.5cm) wide, and 10" (25.5cm) deep
• Limousine measures 1.6" (4cm) high, 5.9" (15cm) long, and 1.9" (5cm) wide 
My Analysis: The newest of all the modulars, the Palace Cinema was just released a couple of months ago. It is the third corner building of the whole theme, and a great looking one it is! This is the first modular to include the usually dreaded sticker sheet, but I actually think that they make the set look a lot more realistic, just a little bit more tedious to build. As of today, this set is currently one of the top sellers in LEGO, but that is to be expected with a new release, so it is really hard to gauge the popularity of the model thus far. It is getting mostly positive reviews, so I would say that is probably well received.
The inside details are just really good, some of the best looking ones yet. The Cinema is also the second set of the entire line to include a vehicle, so that may be something to consider when making your investment decision. Even more, it is another of those highly popular corner buildings that are vital for any realistic looking town, and for someone who just can't afford a Café Corner and does not want to have two Gran Emporiums at each end, this comes at the perfect time.
Value Prediction: It is really hard to tell at this point where this set might be going once it is retired, or even to speculate about a possible retirement date. In my opinion, this won't be going on a very different path than some of my earlier predictions for other sets, so expect a CAGR between 17% and 23%.
10230 Mini Modulars
Mini Modulars – it's the Modular Building series…in miniature!


This exclusive mini modulars set is an authentic miniature representation of the first 5 buildings in the Modular Building series: Café Corner, Market Street, Green Grocer, Fire Brigade and Grand Emporium. Featuring highly detailed design, each building can be displayed as a stand alone piece or connected to the others buildings in the set. The mini Café Corner includes details like a fan above the doorway and printed hotel signage, while the mini Market Street includes transparent bricks and a unique brick construction. The quaint mini Green Grocer also features transparent bricks and a fire escape at the rear, while the mini Fire Brigade includes a brick bell and white arch wall elements. Finally, the mini Grand Emporium has a rooftop sign, skylight and window washing platform.

 

Authentic miniature representation of first 5 Modular Buildings: Café Corner, Market Street, Green Grocer, Fire Brigade and Grand Emporium!

Each building can be displayed individually or connected to the other buildings in the set!

All buildings feature fantastic detailing and a wide variety of elements and colors!

Completed model measures over 5" (14.5 cm) tall, 12" (32 cm) long and 2.5" (6.5 cm) wide!

Each individual building measures 2.5" (6.5 cm) long and 2.5" (6.5 cm) wide!
I really was not sure if I wanted to include this set in this article, since they are technically not modulars, but I felt that they deserved at least a short comment. The mini modulars set is a very interesting twist on the larger theme, where you are able to build the first five modular buildings on a mini, but still detailed, scale. I feel they will do very good once retired, especially since they make great companions for its larger counterparts.
I would say that, depending on the success of this little set, LEGO may be planning to launch a second version including the last modulars that have been released over the course of the years, so keep your eyes open for that.
---------------------------------------------------------------------------------------------------------------------------------------------------------
Congratulations if you made it this far, I just have a couple of closing comments before letting you go.
From reading the article and comparing the first three modular releases and all the subsequent ones, along with my value predictions, you may be thinking that I am some sort of "bear" or at least not one of the most optimist people regarding this theme, but that is hardly the case. What I am is aware of some of the signals the performance of the Green Grocer is giving us investors every day: the time of completely crazy returns for modular buildings is coming to an end. Now, that is not to say that they won't be making you A LOT of money, just take a look at my projections again and you will see that is not what I think. The issue now will be that sets of this theme will start growing at a slower rate than did those first ones. Just take a look at Green Grocer numbers and you will already see what I mean. It is growing at a slower rate per month and already has a considerably lower CAGR, even though it has been retired for way less time than the others.
Still, you can be sure most of these sets will be doubling your money a couple of years after they go into retirement, even the very talked about Fire Brigade. Modular collecting is something that, once you start, then you just can't stop. The first modular building most people purchase will more than likely not be their last, and a considerable number will probably want to go ahead and own a complete collection. For that, they will need to go over to the secondary market and get their Town Halls and Fire Brigades from investors like you, that even knowing that you would not get $1,000+ in a couple of years from this sets, decided to go ahead and stock up some and make a still very nice profit in what really is a short term holding period.
Modular investing's rapid growth period may be coming to an end, but we are still in the phase of getting very considerable and steady returns. Hold on to those Fire Brigades!
Thanks for reading
*Entry image from: Lego Wikia*