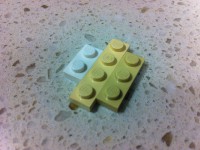 For decades, the problem with collectible toys has been degradation of the materials. For most toys made in the past 40 years or more the main component is ABS plastic. ABS plastic breaks down and changes color as it ages. This process can be accelerated via exposure to UV rays (sunlight or fluorescent bulbs), Heat,  and chemical reaction to other plastics. Most collectors have fought a losing fight to prevent their lighter colored plastics from turning yellow (or green if there is a blue coloration to the piece.)
For many years various solutions had been proposed to roll back the scourge of time. Solutions included (but were not limited to) a good scrub, bleach, Denture cleaner, fine grit sandpaper and oxy-clean. I personally tried many of these solutions to debunk their effectiveness. While a good scrub can clean away surface dirt or even yellowing caused by smoking, it is only a surface approach, and the Denture cleaner makes the item minty. I found bleach to be ineffective and potentially harmful to the plastic if left on for too long. I was experimenting with action figures, so sanding them was impractical for many reasons, not just the amount of time and effort involved. Oxy-clean appeared to have no greater effect than a good scrub until I came back to the figures months later and found that it had promoted yellowing making them worse than ever before. I also tried coating them in Baking Soda to no change.
So far, I felt that I had done a good job disproving the myths about bringing toys back to their original brilliance. One day, someone posted about a Transformers collector in Britain using Hydrogen Peroxide and sunlight to de-yellow their toys. This sounded crazy to me, considering that the sun was the major enemy of this plastic.
Common Hydrogen Peroxide, found in any health and beauty section of any grocery store in the world, was used inside a sealed glass container with the affected items. Hydrogen Peroxide can also be found at beauty supply stores in more concentrated formulation, and I even ordered a much stronger version from the internet one time. (I believe that they have since limited the potency that can be bought due to some terrorist bombings.)
I attempted to test the theory first by leaving my figures inside in a jar full of H2o2 without direct exposure to light. After a couple days, I could see no difference. So, I followed the procedure of setting the jar outside on a sunny day. After 12 hours the whites were whiter. Stronger potency Peroxide is more effective in both time and brightening. I am not a chemist, so I cannot explain how the plastic breaks down or how the H2O2 breaks down, or why that would leach the bad chemicals out of the plastic.
What I can tell you is that the experiment did not end there. Was this a permanent solution to the problem? Literally, only time would tell. So, I took my experimental figures and threw them into a closed box and stashed that in a temperature controlled room for several years. Every once in a while I would revisit them. What I found didn't necessarily shock me, but it did sadden me. The pieces had begun to yellow again. Not to their previous levels, but noticeably yellower than after their initial treatment. This treatment was a stop gap, not a solution.
Why is this a topic for a reselling forum? Well, for people who resell LEGO pieces, they may have heard of the Peroxide solution previously. They may have even used it to make older pieces presentable. A yellowed piece is much less desirable than a clean white piece. What will happen though is that piece will continue degrading under the surface. That degradation will start to show again. Instead of decades of displayability for a new piece, you are going to give the end user only a few years. I guess it comes down to the morality of attempting to use this solution to gain an extra little bit vs providing your customers with a happy long term buying experience. One might liken it to a used car salesman putting something into the engine to deaden the sound of knocking. Others might think of it purely as restoration
To view my original experiment and the subsequent discussion from 2008 You can look here.
In short here are the pictures from my initial test with 3% H2o2:
Before:
During:
After:
6 years after:
(Note: If you are going to try this, watch out for it spilling on your skin. Especially if you get a stronger solution)
2