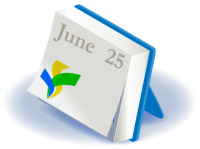 Hello, I'd like to tell you about an idea that I had. I'd like to make June 25th Give a Sick Kid a Brick (Break) Day. This would be a day where we can give to a little served cause. It might not even cost you a dime.
I don't know how many of you have had a sick kid. My child's been to the emergency room more times than I can remember and admitted to the hospital for observation 3 times. The children's hospital is just as dreary, just as stark and joyless as an adult hospital. Somehow it seems worse because the child doesn't have the same acceptance as an adult in the same position. What an adult endures, a child fights. Shots, procedures, nurses, doctors and specialists poking, prodding, checking and waking them up at all hours becomes like torture. Enduring being cooped in a place that is not their home with few comforts and little to occupy them while they are sick grates upon them.
Some children endure better than others, but eventually they all rebel. They fight against another shot or collecting urine, or enduring another hour of therapy. It's hard for them to understand that the discomfort is to help them get better. So, how does the nursing staff deal with the recalcitrant patient? How do they cheer up a child that is trapped in the hospital on their birthday or an important holiday? Bribes of course. Most children's hospitals have some form of room/closet/cart that holds toys. They promise the patient a trip to the closet if it will help them to do a particularly aggravating procedure, or when they're well enough to go home. The promise of a toy keeps their spirits buoyed over several days as they look forward to choosing something special. Sometimes the staff wrap the toys or make a gift bag or package to present to a child that is down because they can't celebrate birthdays, Christmas, Hannukkah or whatever holiday with friends and extended family.
I can tell you that it doesn't matter what is available, the kids are just happy to have something to look forward to. Sometimes the promise of a toy is enough to strengthen them as a needle is imminent, or placate them as they contemplate the third hour long breathing treatment in a row. They look forward to getting a toy as part of their release. It's a graduation of sorts.
The toys in these closets are provided through donations. Some people donate money to a foundation that purchase toys, some sponsor a toy closet and run toy drives to collect stuff to fill it, and some private citizens donate toys. All of that prelude was to get to this last point. I have asked @Ed Mack for permission to address this community and ask you to mobilize for a cause.
I would like to ask you to commit to donating some toys to your local children's hospital. I would love it if people would publically say that they will help out. I'm not offering any rewards, no chances at winning something good. I really couldn't afford to make it worth your while. It has to be something that you would want to do. I'd like to address some concerns that people may have.
There are children's hospitals in most communities. I am not asking that you send me money or toys, because we should all act locally. Plus, you'll have no fear of having someone take your money or items and not do what they said they would.
Many of us as collectors, parents or investors probably have new toys that have no place. As a collector, perhaps you have something that you bought that doesn't fit or that you were never really happy with. Parents will sometimes stockpile toys for future gift giving, or stash extra presents that their children received because there's just too much. Investors may have some dud that they picked up that they have no real hope of making anything off of. As long as the toys are unopened, they should be acceptable, so you might not even need to spend money.
Some people won't donate to a specific organization because it's associated with a  certain religion or political group. There's a fear that the goods or money will be spent on administrative costs or misappropriated. In this case, you won't donate to a foundation or to a charity. You would donate to a hospital for sick kids, the hospital of your choice.
Some people point to the adult community that collects toys and say that we are taking these things out of children's hands. Here's our chance to give back. I know that many of us have given, sometimes extravagantly. I ask that we give again.
Most people are charitable at certain times of the year. There's a greater push for charitable contributions in November and December. I chose June 25th to ask people to donate because it is half a year from the time of year that many people would end their holiday charitable donations. I think that this time of year is harder on the groups that rely upon people's generosity. June 25th is just a guideline.
I can't make anyone do anything. All I can do is ask, please help. Lift the heart of a child that is hurting.
Now, obviously, you will never meet the child that receives your toy, and they will never know you. Child safety laws and patient confidentiality being so important. That doesn't mean you shouldn't do it. Post a picture to this thread of what you're donating, maybe it will encourage others.
Check Google for your local children's hospital. Most of their sites will list what sort of toys/books or other items they need. They will also tell you how to collect your receipt for the tax deductible donation if you want it.
If you have the inclination, pass it along and try to get others to donate too.
Please remember that all toys must be new, unused, unopened. There's serious concerns about exposing children to germs and if you want to  donate used toys, there are other places like group homes that would love to have them. New doesn't necessarily mean fresh from a store, just unused and unopened.