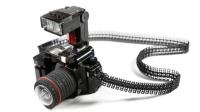 Photographing LEGO minifigures, boxes and sets can be a difficult task to do correctly.  It can mean the difference between selling or not selling an item on eBay or similar sites.  Before I found out how to create this light box, it was a time consuming process to set up a good lighting system, take pictures of my minifigures, and list them on eBay.  When I was in a time crunch, I would just put the minifigures flat on a piece of paper, which did not look the greatest.  This light box is easy to construct, deconstruct, and store away.  The purpose of this article is to show you how to easily light minifigures or other small objects without the constant hassle of setting up and tearing down a complex lighting system.
Material List
1.  Two shallow boxes.  I used boxes that previously had cans in them.  You can probably find them at a local grocery store.
2.  Three sheets of white paper
3.  One sheet of card stock.  Any color is fine, but do not use pink. ;)
4.  Tape
5.  Desk light.  Fluorescent lights tend to work the best.
Assembling the Light Box
Take the two shallow boxes and stick one box inside the other.  It should look something like this:
Now stand the box assembly so that one box is flat on the floor and the other is sticking up in the air.  Then, take the piece of card stock and tape it in the boxes so that it looks like this:
Take one of the pieces of white paper and tape it to the side.  This does not have to be perfect.  The reason the piece of paper is there is to reflect light.
Next, do the same thing on the other side of the box.
After this, take your last sheet of white paper and tape it over the card stock.
After you place the desk lamp over the box, you are done!
I use a Nikon Coolpix P90, which is not the best camera (as you may have noticed.)  However, under the right circumstances, it can take nice pictures.  Here is a picture that I took in my light box:
I realize that this is not the best method to light a minifigure, but it is better than placing a minifigure flat on a piece of paper.  I would usually try to avoid the direct light, but I found that it worked fine for this purpose.
Please share how you like to light objects in the comments.  I would love to hear everyone's different techniques.  Thanks for reading!