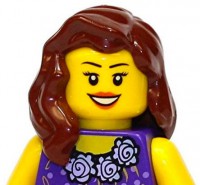 For as long as I can remember, people have been puzzled by my interest in many things that were "for boys", and I have been equally puzzled by why toys have a gender at all. As much as I am genetically and physically female, I have never been one to adhere to the likes and behaviors deemed appropriate to my gender. I am a builder and a creator. Both of my parents worked as computer engineers (although I used to think they worked on a train), so my brain and its nurturing were focused heavily on math and science. As a child, I liked toys that were fun to me, and I am thankful that my parents never tried to limit my curiosity and affinity based upon some societal norm. I loved jigsaw puzzles and my father's vintage erector set, and I built elaborate homes for all of my Barbie dolls using blocks and bricks. I had a little bit of everything (partially because I grew up affluent and spoiled), but if I had to pick a favorite toy, it would be Lego. Sometimes, I did wonder why their were so few girls in my favorite Lego sets, but it never swayed my feelings
I never expected to be a minority. I grew up white as can be in white suburbia, in a nice town, in a great school system getting average grades. I loved blocks, and ponies, and riding my bike. Nothing about my childhood seemed anything other than typical. It wasn't until college that my being female made me feel any different. I majored in Accounting and minored in Comp Sci at a liberal arts college with a 75% female student body. My business classes were 75% male and I was the only female in a class of 30 in my minor. Growing up, I never heard anyone say "you can't do that because you're a girl", so I never felt that way, but it was still a bit odd to be surrounded by men while exploring MY interests. My Lego collection (mostly Pirates, Castle and City) had a similar affliction. Though I did delight at the nuance of the rare female pirate, I never let a silly thing such as whether or not my toys were intended for girls or boys determine what I really liked. I viewed my education and intended career with the same carefree attitude, although I still remember my one female accounting professor enlightening me to the fact that only 10% of CPAs are women.
Years passed. I finished school. I got a job. I got married. I started a family. I quit working 3 days before the birth of my 4th and final female child (my poor husband is plagued with daughters). At that point, I started to notice all the ways in which I am a minority. As an SAHM, I am part of only 24% of US mothers. The majority work at least part-time. I have more kids than the national average, and as a result, a minuscule net worth. The most important way that I am a minority, is because of my intelligence. According to SAT and GRE scores, I am ranked in the highest 5% of the population (among those who have taken these tests). Needless to say, after the first year at home, I got bored. Hence, I came out of my dark ages, just as my oldest decided she NEEDED the full line of Harry Potter Lego. I never much cared that Lego was "for boys". I just really liked the product. My girls and I are Lego maniacs, and I wouldn't have it any other way.
Close to a year ago, I registered on BrickPicker. I read the forums, but didn't start posting until a few months ago. I had no idea I had so much to say. It was refreshing to chat with "adults". As an AFOL, I really liked finding a place to share my thoughts instead of monopolizing the time of my local Lego Store employees. As an AFFOL (the first F stands for female), I started to notice just how very male the Lego reseller market is. As with most things, it doesn't really matter to me, but I do find it a point to ponder. I look forward to sharing with you as I explore the impact of gender on Lego sales and marketing.
11