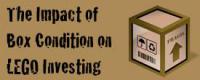 Will box damage reduce the value of my sets when it is time to sell them?
We have all asked ourselves this question at some point, and it is actually seen on the forums relatively often, so I think it is time to evaluate a little more in depth how much does box condition really matter for the LEGO investor once it is time to get rid of some of those sets we have stored in our closets (or whole rooms, if you are lucky).
There are very different types of damage to consider, ranging from the typical small creased corner, passing through the 2cm puncture, to the the run of the mill completely trashed box. It has been my personal experience that most of these does not really matter much when it comes the time to sell the sets, mostly due to the fact that the large majority of people who buy LEGO in the secondary market do so to build them instead of as an investment, and as a result most of them have absolutely no use for an empty box. However, I will take a more objective approach in this article and find actual examples of sets sold over the past two months on eBay with different levels of box damage and try to compare to the same sets in MISB condition. This comparison will really give us a pretty good idea about how justified are the worries of some investors regarding the condition of their boxes.
Let's see some examples and compare the prices each auction ended up selling for against each other as well as Brickpicker's Price Guide (New). Again, this are all SOLD listings.
Example 1: Quidditch Match 4737 (BIN)

Example 2: Ninjago Ultra Sonic Raider 9449 (Auction Style)

Example 3: Dino 5888 Ocean Interceptor (BIN) 6 copies, same damage.

Example 4: Heartlake Vet 3188 (BIN) 5 sold sets

Example 5: B-Wing 10227 (Auction Style)

So far, this have all been relatively cheap or even still available in stores, let's see some examples of more expensive retired sets.
Example 6: Boeing 787 Dreamliner 10177 (BIN)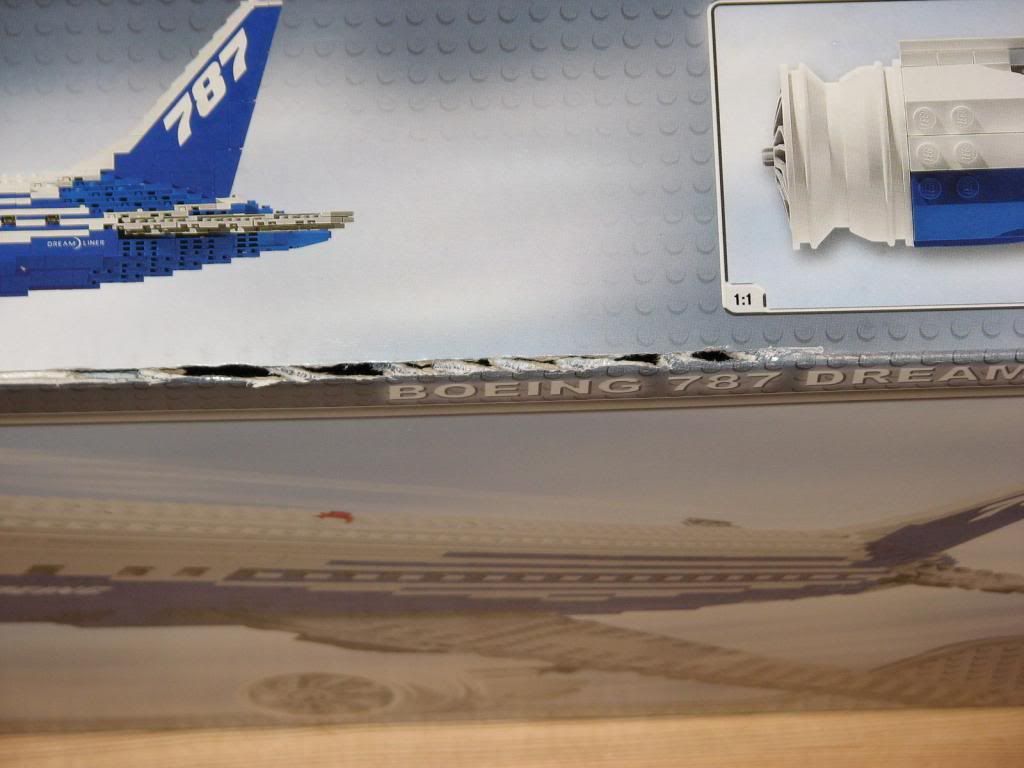 Example 7: Grand Carousel 10196 (BIN) The seller did not have a picture of the damage, but in his description he notes: "Box had other boxes stored on top and the set box is mashed in on the top and one corner. The damage is not all that bad but if you are looking for a pristine box then do not buy this one."
*There is one sold listing for around $1,700 included in the mean. Example 8: Cafe Corner 10182 (Auction Style)
Apparently, there is now way for me to go back more than 60 days of my own sold listings so I won't be able to actually place the pictures in here of my own personal damaged box sales, but I can at least tell you about some of them
Example 9: Hogwarts Express 4841 (BIN) Completely trashed box, dented, crushed, creases everywhere.
Example 10: Imperial Shuttle 10212 (BIN) This one was way back when the price was hovering around $ 320 (Feb-Mar). Sold two in a week, one MISB one damaged for the exact same price. (Price guide value from Mar 13)

Now that you have seen first hand the real impact box damage has on the value of your sets, I would like to leave you with some comments.
First of all, it is very important you take into consideration that most of the time a set with box damage will end up being significantly cheaper for you as an investor than one that is MISB. For example, on the recent Amazon Haunted House and AA sale a few weeks back several members, including myself, received boxes in bad shape. I can't tell you what some of the others did, but I did contact Amazon who suggested sending me a replacement for the set at the same price, or that I kept the set for a discount that ended up being $ 36, bringing the set down to around $ 100!. This is not something uncommon when dealing with Amazon, as most of the time they prefer to discount a significant percentage of the price instead of going over all the hassle and cost that involves getting a set back from a customer and issuing a replacement. This is not unique to Amazon, however, as you will probably get the same treatment by customer oriented sellers with great reputations on eBay and even with some of the other major retailers.
Another thing that you have to consider relates to when you actually decide to sell the damaged box set. If you are listing on eBay you are better served by making very obvious that your item comes damaged both in the title and in the description. This is one of those cases were you don't want to downplay the level of damage your box presents in hopes of getting more money, as the buyer could very well ask for a refund/discount or even file a SNAD (Significantly Not As Described) case, in which case the probabilities of you losing both the set and the money are relatively high.
So, when selling sets with damaged packaging I suggest including something to the effects of *DAMAGED BOX* in the title and then once again in the description with a more detailed explanation. Of course, you also need to add several images showing every single crease or imperfection, for those buyers who just don't like to read the descriptions. Even then, you might get some complaints, but that is true of pretty much every listing. If you are really worried about this though, you can even message the buyer before shipping to confirm he knows he is getting a "damaged" item.
Finally, when selling these type of product (I would say always, even) use the Buy It Now format. By listing the price you want, as long as it is realistic, you will pretty much secure exactly the amount you are expecting. The special problem with listing damaged boxes in auction format is that you don't know if the buyer you are looking for will come during the 7 days your item will be listed for sale. With BIN you will have plenty of time to get a buyer who is not really interested in the box at all to purchase your item. If you want to see cases in which box condition does seem to have an impact, it will almost always be in auction style listings.
Those are the three major factors to consider when investing in damaged boxes. As with anything, there are pros and cons, but I consider that in this case the benefits (discounts on price / higher profits) outweigh the costs (more time listing / somewhat higher risk).
One last thing I would like to mention relates to highly collectable items, like a 1st Edition 10179 or similar sets. In those rare cases you are in fact better served to secure a MISB set in order to maximize your profits when it comes to sell it. Having said that, there are really not that many sets that would fall into this category.
I hope I have put some of your concerns to rest when it comes to holding onto those damaged boxes. As you could see yourself, most of the time the impact they have on your profits is negligible and certainly well less than what you usually get in the form of discounts when originally purchased.
Thanks for reading.
*Whether your item sells or not will also depend on your feedback and listing terms. I know this is pretty obvious, but wanted to include this note just in case.