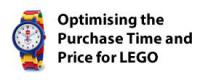 Over the last few weeks I've been looking into understanding how the time you decide to purchase a set for investment factors into your real investment returns. After one of my earlier blogs on how discount amounts affect your returns I began to examine how in some circumstances buying at a higher price but later in a sets retail shelf life may be beneficial.
It's all about the Time Value of Money and the Opportunity Cost of purchasing an item when your investment capital may be better utilised in another asset. Typically sets last 18-24 months on retail shelves before retiring. If you buy a set right after it is released there is a longer time you have to hold before any potential price growth is realised.
So is it worth buying something early on if you see it at a discount, or are you better holding off to by later on at perhaps even full retail just before EOL?
Well the answer is a "fence sitting" it depends. The level of the discount offered, length of time to EOL, expected growth rate, and the length of time you are likely to hold the set all factor into the answer.
Lets take a look at a recently retired set that we have good information for and try and use that as a bit of a case study:
10212 Imperial Shuttle UCS
This well known recently retired set was released for retail sale in Sep-2010 for a retail price of $259.99. It stayed in the majority of retail outlets up until the end of Dec-2012. That's a retail shelf life of 27 months. Over that time we can get a good picture of any retail discounts available using the camelcamelcamel.com data that is captured from Amazon.com prices and is available here on Brickpicker via the set's individual information page.
The pricing graph above shows all the discounts available at Amazon.com over the retail life of the set. There could well have been other discounts available at other retailers, but this is the best data we have available and often retailers match discounts with each other so for the purposes of this exercise it should provide us with a good set of data to see what impacts buying at different points will have.
The largest discount was in Dec-2011 where a 30% off deal was available for a very short time, maybe a day or only a matter of hours. Earlier discounts of 10% can be seen back in Feb-2011 with the latest very good discount to around $217 of 16.5% in June-2012. After that there was only the $259.99 retail price available right up until EOL, no clearance sales here!
The current market price for the set is $354.69 based on Brickpicker data to the end of May-2013. We can use this as the benchmark to see what purchasing the set at different periods gives us as a return on that investment to date.
To compare purchase points we can use the CMGR – Compound Monthly Growth Rate that shows us the month on month increase in price. If you bought the set on day 1 at release then you would have seen a growth rate of 0.98% per month for the 32 months right through to the May-2013 price. If you waited for a bit and pulled the trigger on that first 10% sale in Feb-2011 then you have a growth rate of 1.55% per month over 27 months. If you were lucky enough to catch the big 30% sale and get one for $181.99 in Dec-2011 then you'd have enjoyed a nice 4.00% growth per month for 17 months. However if you waited until the June-2012 sale and got one for 16.5% discount at $217 then 4.57% growth per month over 11 months would be your result. Even more surprising is if you waited until the very last month and got one at full $259.99 retail in Dec-2012 then you'd currently have a monthly growth rate of 6.41% over 5 months.
Very interesting results and we can graph the monthly growth rates at each purchase point using the line graph below.
The set has grown 36.42% above retail after retirement in 5 months. This means almost all of the growth is "squashed" into those later months. Therefore the later purchase points show higher percentage monthly returns as they enjoy most of the growth in their short time span. If your intentions were to wait for initial high growth after EOL and sell now then obviously waiting later looks to have proven most beneficial. However, the longer you intend to hold the set the difference between the monthly growth rates start to even up.
For example if your plan is to hold the set for another 2 years lets see what the results after that time are. You need to make an estimate of the expected growth over those 2 years. The following table shows the monthly growth rates for each of the 3 interesting purchase points given a few different annual growth rated for the next 2 years.
You can see that as the growth rate gets higher the later purchase points have a better monthly increase. The 30% mark is about where they break even. I feel that the 25% level is realistic and slightly on the side of conservatism. After those 2 years of 25% growth per year the set should be worth $554.20. Buying the set back in Dec-11 at it's biggest discount looks to have the slight advantage there.
The other thing you can do to compare two different purchase points is to look at the growth rates between just those two points and see how impressive that might be. Lets take the difference between Dec-11 and Jun-12. Buying for $181.99 in Dec-11 saves $35 compared to buying for $217 in Jun-12. That savings represents a 19.24% return in those 6 months, or 2.98% CMGR for comparison. The question we need to answers is could you have invested your capital into something else in that time period that would give you more than 3% growth per month?
There would have been a few sets that could have bettered that during those 6 months. For example Taj Mahal was growing an average of 8% per month during that time. Still, 3% per month is very impressive and you should be pretty pleased with it, suggesting that the Dec-11 low point was a very good purchase point.
Likewise, comparing to the opportunity of purchasing at the end of retail in Dec-12 the $78% savings back in Dec-11 represents a 12 month growth of 42.86% or 3.02% CMGR. That is also very good and you won't find too many set options giving that sort of performance. There will be a few for sure, but picking them would have been hard at the time.
Conclusions
It's far harder to optimise your purchase decision at the time you are presented with a discount opportunity. You don't have a crystal ball so are unlikely to be able to know whether a discount will be available in the future. It's also hard to predict EOL times, you can estimate, or make an educated guess based on the cumulative shared wisdom of members here on Brickpicker, but often it's not an exact science. It's far easier to try and look at the optimal purchase point looking backwards with the full benefit of hindsight and complete information.
I'm not sure this article will have helped you a great deal, but I feel like I've at least got my thoughts down on paper. I think this is a topic I'd like to return to in the future as I feel I haven't quite captured a way to determine when the best point to buy was. It's going to require a bit more research. At the very least we've been able to see that buying time does have a big impact on percentage returns on investment in the shorter term. And that the opportunity cost of buying early is the potential profits that capital could have been used to generate on a different set.