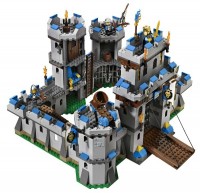 The Proposal
Looking at one and done themes, both in terms of one wave and an availability of one year (and change), can an investor learn anything? Short answer: maybe. Long answer: maaaaaaybe. I'd like to spend a little time talking about the Castle theme. Availability from brickset.com lists May 28th, 2013 to December 22nd, 2014. Yes, I know this might be stretching the aforementioned 'one and change' but actual production was likely much closer to one year with the later EOL date the result of stock being depleted after the final production run. Let's get started...
The Forums
The Castle 2013 thread was essentially a discussion of why the 2013 was inferior to Kingdoms and other earlier iterations. Little talk of investment potential or future projections, and not too much chatter even as EOL approached. Many liked the dragon in Dragon Mountain. Some didn't.
The 70404 King's Castle thread was similar. It started with a bang – a divisive set from the get go with some forum 'bantering' about the overall 'kiddiness' or 'juniorization' of the set as well as 'discussion' in the form of wild speculation (even before the set was released!). I was pleased to see I posted in that thread! Go me! It wasn't my best post, but certainly not my worst. I give it a B- grade. (See it on page 1 of 3 in the 70404 thread). The best information that can be gleaned from the paltry three pages came courtesy of J-Mack, who (I'm paraphrasing) thought King's Castle would hit $200 tops. Amazon has it at $199 as of mid-February 2016 so it turns out the guy might have a pretty good understanding of the Lego secondary market. One factor that might prove him wrong – well, not wrong, per se, but perhaps too conservative, is the lack of a similar replacement on the horizon. Nexo Knights doesn't seem like much of a direct competitor, so perhaps Christmas 2016 will see prices somewhere between $220-240?
The CAGR (US) Data taken Feb. 2016
| | | | |
| --- | --- | --- | --- |
| Set # | Set Name | CAGR% (BP Data Feb 2016) | MSRP (US) |
| 70400 | Forest Ambush | -0.06 | $11.99 |
| 70401 | Gold Getaway | 2.98 | $19.99 |
| 70402 | Gatehouse Raid | 8.95 | $29.99 |
| 70403 | Dragon Mountain | 10.7 | $49.99 |
| 70404 | King's Castle | 25.57 | $99.99 |
I think the Gatehouse Raid got a little boost from the fact that it can be used to expand 70404, and was a little surprised that Dragon Mountain wasn't a bit stronger. King's Castle hit the sweet spot. While 70404 was probably harder for most folks to get on clearance, I think it is reasonable to assume that many got it with a solid discount and have had the opportunity to double their initial investment. As for the smaller sets, I think I take away from this that money could only be easily made with deep clearance sales. I recently passed on some of the smallest set from the Pirates theme at nearly 50% off, but did end up biting at 75% off. Of course, smart investors can always bundle some of the smaller sets with 70404 but my personal experience selling King's Castle over the holidays was 9 solo sets to 2 bundles.
What Did We Learn?
The forums didn't really provide a lot of useful information. In fact, the forums might have dissuaded folks from buying these to their own detriment. I think we also learned that the largest set in the theme provided the best total profit as well as the best CAGR%. It tells me I should probably get out there and get the last of the Brick Bounty sets still in the wild, for one, and that I can probably pass on the other sets in the Pirates line (no good comparison to Dragon Mountain or even Gatehouse Raid). It also helps me look at other themes more critically to try and maximize profit.
Veegs
4