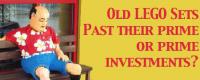 There are over 9000 LEGO sets in existence. Of those 9000+ LEGO sets, the vast majority have been retired or in LEGO terms, gone EOL(End Of Line). The common topics among forum members usually relate to newer LEGO sets, while the LEGO sets that are five years old or older, get very little attention in terms of buying as an investment. New sets like the 10211 Grand Emporium, 10197 Fire Brigade, 10217 Diagon Alley and 21102 CUUSOO Minecraft get a lot of love from LEGO investors. There is constant speculation of when these sets will retire and how high they will appreciate. There is constant dialogue about the various sales and deals for new sets, but are we overlooking thousands of older and retired sets in the process? I say the answer to that question is a definite...yes.
For our purposes here, an "old" set will be any set that is five years old or older. A set like the 10188 Death Star (or "Live Star" as some members call it) is an exception to that rule in that it is still being produced five years after its initial release, but removing the 10188 and others like it from the equation, leaves a solid standard in which to separate new and old sets. It is my belief that the majority of LEGO sets will be retired in a year or two after initial release and make its largest increase in value in the secondary market soon after EOL(approximately years three-four after initial release). Around year five, the set's rise in value in the secondary market seems to slow on an annual basis, eventually leveling off at some period...and maybe even dropping in value at some point. Many LEGO collectors and investors will sell their investment LEGO sets around this time(~five years) frame and start the process again with another new LEGO set. It is a method that has worked for many LEGO investors over the years and has made many a LEGO investor/reseller some solid profits. But can this technique be applied to a set that is older than five years old and come up with a solid return on investment? Let's take a look...
When I discuss older LEGO sets and their investment potential, I always like to discuss examples of how I bought older sets that have appreciated well five or more years after release.
Take a look at the chart below. These are some examples of LEGO sets I bought after they were retired. All the sets were at least five years old and retired when I bought them. I bought them at various times on EBAY auctions/Buy It Nows and were all MISB/NIB condition. Take a look:
As you can see, there are some really nice gains there from sets that were five years old or more at the time of purchase. These are just a few of my more memorable sets I have acquired over the years. There are hundreds of other smaller sets, such as the 10020 Santa Fe Super Chief and 10026 UCS Naboo Starfighter, that I have bought that meet this criteria and appreciated nicely as well, but I do not want to bore you with charts. As a matter of fact, many of my smaller, older sets have appreciated even better than these large scale LEGO sets. I have tens of dozens of older STAR WARS(especially the mini sets) and Bionicle sets that have exploded since I bought them in the secondary market. Many have since leveled off in price, but that doesn't diminish the strong returns on investment that were achieved. Ideally, I should have sold off some of these sets a year or two ago, to maximize profits, but I am a collector first, investor second. What is funny is that my first 100+ or so sets wee all old and retired LEGO sets. The 10179 Millennium Falcon was my first "new" purchase. These older and retired LEGO sets have served me well over the years and have made me a tidy profit(on paper at least).
When I started collecting LEGO sets, there was no such thing as BrickPicker.com. It was a figment of our imagination. I had to search and search and research to find decent deals. I would scan the EBAY LEGO auctions for HOURS every day, looking for older, cool sets that intrigued me. I would scan the Brickset.com pages to look up old sets and jot down information to compare sets. I would come up with lists that were pages long with chicken scratch charts and such to find sets that were worthy of my investment dollar. Heck...it wasn't even investing to me. It was collecting and a lot of damn fun...and addictive to say the least. Well, Jeff and I are here to make your life a little easier than mine was five years ago. With the development of our new, Top Performing Retired and Older Set Chart, you will be able to see a list of the top 50 appreciating older and retired LEGO sets over the past six months. The chart will show you sets that are at least five years old and have been retired and have appreciated well...many with gains of 15% or more in six months. It will also show you buying options for the particular set of interest within a given range of prices. Remember, these sets have been around quite awhile, so this sort of return on older sets is quite amazing.
So in conclusion, I hope that you utilize this new chart and consider buying an older LEGO set as an investment. The explosion of LEGO investing and the interest in new sets like the Modular Buildings have put a premium on sets like the 10211 Grand Emporium and 10197 Fire Brigade and have caused thousands of LEGO investors to buy multiples of these sets in the hopes of a huge score one day. While this may pan out in the future and these sets might turn a wonderful profit, the likelihood of this happening is growing less and less with each new set that is sold. I often tell people to think "outside the box" when choosing LEGO sets to invest in. Buying new sets, waiting a few years and flipping them, sounds easy...but with anything, positive results are not guaranteed. By diversifying your collection and looking at older and retired LEGO sets to sink your money into, you can stand to make a pretty penny like I have over the years investing in these more traveled sets. LEGO investing is a grind. It takes time, patience and a willingness to risk some money. Don't be afraid to spend $500 on an old set that has appreciated well, but still shows signs of continued growth. You never know, that $500 can turn into $1000 in the blink of an eye. Maybe the next 10182 Cafe Corner or 10190 Market Street is somewhere on the chart. Good luck...
page to see what sets have been the top performing retired/older sets over the past six months.Top Performing Retired and Older SetsBe sure to check out our new