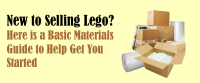 So, you have been buying LEGO sets non stop over the past few months, maybe even years, and you have noticed your Brickfolio has increased in value by 10,000% (exaggerating just a bit here). Or maybe you are a short term investor looking to make some "quick" money to fund your own collection or long term investing choices. It can be sort of difficult to decide how to start selling some of your inventory, as well as where to get the most cost effective materials so that you end up with more money in your pocket and less in other people's, So I decided to write this very basic guide to help some of you start selling ASAP! Hope you find it useful.
Note: I will continue making the assumption that you will be selling your sets on eBay, as that is by far the most common marketplace talked about in the forum.
1- Materials
   One of the most important decisions you have to make before you start listing items left and right is where to get your materials. Things like packing paper, boxes, envelopes and so on are an essential part of your LEGO business, and you will need to carefully evaluate exactly what you need and where to get it for the lowest price possible.
First off, you need to evaluate what's the core of your business inventory, as shipping/packing materials will vary greatly from seller to seller. If most of your inventory consists of polybags or loose minifigures, then most of of your packages will need to be bubble mailers and small ziploc style bags. On the other hand, people who focus on set will have to research a little bit more and purchase a variety of boxes that fit a particular LEGO set size.
Following you will find a list of what I currently use for each particular type of item in my inventory, as well as a small description and where to get them (With their own BP Affiliate link in case you decide to purchase!)
Polybags, loose minifigures and individual bricks/parts
These three categories fit perfectly under one section, as they often require the exact same amount of effort as well as shipping materials. If you have sold any of the three items mentioned above, you know that most of the time you will need to work with tight profit margins, hence the importance of picking the right vendor and quantity. Most of the time, this involves purchasing larger quantities even when you might not have an immediate need for all.
Here are my choices:
- 2x2 Self lock bags ($ 6.86 / 1,000 units / $ 0.007 per unit)
As you can see, these little bags are extremely economical once you calculate the price per unit, basically adding less than 1 cent per sale. Of course, these are not essential to be able to ship figures or bricks, but I would strongly encourage you to give them a chance for a couple of reasons. First, depending on the type of envelope you use, your minifigures may not be sufficiently protected against the elements (rain, etc); this can have a very negative effect on the condition of the figure, especially those that include unique elements like capes and such. Second, these little bags make a seller look more professional and careful in the eyes of the buyer, a couple of factors that might help you with future sales.
- 4x8 Kraft Bubble Mailers ( $12.10 / 100 units / $ 0.12 per unit)
Unlike the previous item, this is one thing you really can't avoid having. There is no best way to mail small items than small bubble mailers, as they require very little postage and help protect your items from damage during shipping. At around $ 0.12 per mailer, I really believe you can't go wrong with these, and it would make more sense to even get the 500 ct if you really have that much in figures or bricks. It is important to note that 4x8 mailers can also be used to ship most polybags, while you might need to get a larger mailer for special ones like the mini Camper Van.
With sets, things get a little bit tricky as there are multiple different sizes that make selecting a proper box a little more time consuming. Thankfully, some sizes will allow you to fit a variety of them without needing to get 3 or 4 different types of boxes, and that's personally they way I have chose to go with in order to reduce the time I spend worrying about that. I deal mostly with 28x16x7 boxes that fit most sets in the medium to large range, while recycling and using USPS free supplies to ship the smaller sets.
There has been a lot of talk about where to buy shipping boxes, and we usually hear about Uline, Staples or similar stores. If you are going to buy more than 20 boxes I would definitely recommend to order at Staples to pick them up in store for free, while you can always choose either them or Uline if you are getting a pretty large order shipped  in order to spread out shipping costs.
Most of the time though, small to medium sellers may need less than 100 boxes, and for that amount Amazon actually offers a nice option to purchase them (usually with Prime shipping) for pretty much the same price as bulk sellers like Uline. If you check the link below, you will be able to purchase 20 boxes (28*16*7) for around $45. These are pretty good quality and the ones I personally use more often.
- 28x16x7 Shipping Boxes ($44.87 / 20 units / $2.24 per unit)
Compare to Uline ($47.8 same Qty and Size)
- Scotch Shipping Tape ( $ 9.97 / 4 Rolls (215 yards total) / $2.49 per unit)
Another essential item, shipping tape. I have tried a variety of different brands and types and have found that this particular one is the one I liked the most. It might not be the cheapest one out there, especially if you search on eBay and get some generic tape, but they match what I'm looking for in respects to quality and duration. Unlike some other brands, I really don't need to use that much tape to completely secure  a heavy shipping box, and that gives me the peace of mind it will get safely to its destination.
As said before, you will be able to find cheaper versions out there, but in my opinion the quality of most is sub-par.
The following is completely optional and not really needed, but I have been using it for a while and find that it saves me time and sort of streamlines the process of packing both sets or smaller items.
- Avery shipping labels ($ 26.95 / 200 ct / $ 0.13 per unit)
These labels are really high quality, and even though they only come in the 200 ct packet for Laser printer (50 ct for inkjet) I have been using them on my inkjet printer for quite a while with no problem whatsoever. I really like to just print the label and immediately paste it on the package without having to tape over the label to attach it, and these have the added bonus of blocking any other label previously applied to the box. Basically, you can recycle any of the boxes you receive by simply pasting the new label over the old one. (Not all self adhesive labels do this well). For an extra 13 cents per sale, I find them a really good value.
---------------------------------------------------------------------------------
And that's it for now. Again, these are the materials I personally use, so feel free to add your own recommendations in the comments section. I hope that at least some of our most new sellers are able to benefit from this basic information.
Thanks for reading