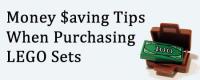 I have played with LEGO bricks since I was young(I am now 34), but never collected them in any way until recently. A couple of years ago, my wife got back into LEGO and started buying sets to build with our nieces and nephews. Before long she was asking for LEGO sets from me for her birthday and Christmas. Well, of course a few of the sets were hard to find so I had to turn to eBay. I was shocked by how much some of the sets were going for and that's what turned me into a true LEGO investor. Even though I have been doing it for only a short time compared to many, I have learned some very good tricks to getting good discounts on LEGO sets and I thought I would share some of them...
Credit Cards
Although I would never suggest anyone sign up for a credit card that they don't need or cannot pay off every month, in certain instances this can save you a lot of money. Before I was even buying LEGO sets I signed up for a Chase Freedom Card. I never had a need for a credit card, but I figured it was safer than using my debit card that was tied directly to my bank account, and if I have to spend the money, I might as well get 1% cash back which the Chase card offers(Many other credit cards, like Discover for instance, also gives 1% cash back). I started using the card to pay my bills and just about anything else I could that I used to use my debit card for. I would pay the card off 2 of 3 times a month(a little over the top I know) to avoid any interest charges. The 1% started adding up quickly since I was putting everything through the card including all of my business expenses, and before I knew it, I had hundreds of dollars in points through the card. The points can then be converted into a check which they will send you in the mail. However, the nice thing about this card is that you can also use those points on Amazon.com and they are as good as cash. Just link your card up through the Chase site and you are all set. After a while of doing this, I was able to spend my points and buy LEGO sets on sale at Amazon. Now, even though this was the same as spending cash, it did save me 1%. Although that doesn't sound like a lot, I feel that every little bit helps. Also, at times Chase has promotions where you can save up to 5% by shopping at certain stores. This happened to be Amazon.com over Christmas.
After having an Amazon account for years and years, I finally caved and got an Amazon credit card. It wasn't the $50 I saved on that order that finally made me pull the trigger but rather the 3% I can save on orders through Amazon.com in the future. I just recently signed up for this and haven't seen the results yet, but I should be earning 3% cash back that I can use on Amazon.com purchases. So basically, if I need to buy something through Amazon, I use this card. If I buy it elsewhere, I use the Chase card.
Editor's Note: The Amazon Card deposits 3% of your previous month's "paid bill" into your account, which can be used directly on Amazon purchases. I have used this card for over a year and along with the Amazon Prime service, which gives you FREE Two-Day shipping on most items, makes Amazon a favorite retailer of mine for purchasing LEGO sets.
That being said, I have perfect credit and pay my card off every month (actually multiple times a month to avoid one large bill) and I would never suggest anyone sign up for a credit card if they cannot do this. If you end up paying any interest at all, then it defeats the whole purpose of the card and costs you more money than it saves.
Amazon Lightning Deals
Every day the first thing I do is check Amazon Lightning deals for the day. Usually, there is nothing good but every now and then they will have a popular LEGO set that can be purchased at a huge discount. Lightning deals only last for a certain amount of time and usually only have a certain number available, but when you do find one, you can save a lot. The best place to see LEGO Lightning deals is on the BrickPicker site on the Amazon Discounts Page. This page shows up-to-date deals on LEGO sets that are 10% OFF MSRP or more on the Amazon site.
Barnes and Noble Membership
I can't remember offhand what a Barnes and Noble membership costs per year(I think $25) but it pays off if you plan to buy a lot of LEGO sets. Basically you save 10% off of any purchase throughout the year by having the membership. They also frequently send out coupons which can be as much as 30% off. While Barnes and Noble doesn't have the widest selection of LEGO sets, they do have some that are fairly popular, and they frequently have discounts on certain sets.
Damaged Box Discounts
Not sure if everyone knows this or not but a lot of places will give you discounts on damaged boxes. All you have to do is ask. Granted you have to ask the right person and the discounts vary depending on the damage and the set, but at times it can be worth it. A while back my wife and I found set 7208 at Barnes and Noble. It had minor box damage, so we asked if they would give a discount. They offered us 10% off, plus we used our 10% Barnes and Noble membership on top of that for an OK discount. I wouldn't recommend buying damaged boxes for investing, but if it is for your own personal collection which you plan to build and you don't mind having a box that isn't in excellent condition, it can work out on occasion.
Bottle Returns
I added this one in because it makes me feel good about my LEGO purchase when I walk out of the store without having to spend a dime. Basically I consider my bottle returns money already spent. Sure I could return them and buy groceries or anything else, but why not make a good LEGO investment with the returns and maybe make a little more money on it. This one doesn't really save you any money but at least it keeps you from spending "more" money. Of course it only works in states with a bottle deposit and stores like Walmart or Meijer.
Membership Cards
My wife has had membership cards at her favorite stores forever, but I am just recently signing up for my own, and I don't know why I didn't do it long ago. Most stores have some sort of membership you can join which will give you certain perks. Most times these memberships are free and give you huge benefits. Some just ask for your phone number, but most give you a card you carry around. I found using the Key Ring app on my phone works better so I don't have 50 cards in my wallet everywhere I go. By having these memberships, you either save right there on the spot or later get reward coupons that can be used as cash or for other discounts. For example, Toys R Us rewards program rewards you by shopping there by sending you $5 coupons. I just recently received $30 in coupons that can be used just like cash in the store. Kmart does something very similar. Also, if you have a Meijer in your area I found this to be one of the best places to save by joining their mPerks membership. The membership is absolutely free and all you do is clip digital coupons that you want to use in the store before you shop. You then just type in your phone number and a pin at the register and it applies those coupons automatically. They also occasionally send out 20% off 1 item coupons.
Coupons
This one seems obvious but I can't tell you how many times I have shopped online or in store only to find a coupon the next day. In most cases it is a trip back to the store to return and then rebuy the item with the coupon, but I have had cases where that didn't work out because I couldn't get back to the store before the coupon expires. If you are shopping online, check retailmenot.com before every purchase to see if there is a coupon you can use. In some cases it may just be a free shipping coupon but it still helps. If you are shopping in a brick and mortar store, then make sure you do your homework first. Look at their current flyer online and check if there are any coupons you can print from their site. Also check competitors ads because many stores will price match. Also, when you walk in the door, grab a flyer. Sometimes they contain coupons you can use on your purchase that day.
Target Red Card
Recently I went through the checkout line at Target and as usual they asked me if I would like to save X amount on my order by applying for a Target Red card. My response was "No thanks, I don't want another credit card". Well, the cashier responded that they also have a debit card version that will work just like a check. I still wasn't sure I wanted it until she told me that with the card I save 5% on any purchases in store and online, and you also get free shipping on any online purchases. It sounded like a good deal and a way to finally match some of the Amazon.com prices, so I signed up. Basically, the 5% just about covers the tax (6% here in Michigan) and with free shipping it makes some prices on Legos just as good as Amazon. Plus, I have had much better luck on getting undamaged boxes from Target than I have Amazon, so I am now a happy Red Card holder.
ebates.com
ebates.com pays you money for shopping at online stores such as Amazon, Target, Kmart and more. I just recently started using this site and am very skeptical that I will ever get any money back on my purchases. I have heard both good and bad things about it, but it is definitely worth a try since it is free and takes very little work to first visit their site and then click over to Amazon or another online retailer. Only time will tell on this one.
Buy from out of state
Due to the Interstate Commerce Law, many purchases made from retailers located outside the buyer's state are tax free. Although the fine legal print might say differently, many online retail sites do not collect sales tax from buyers if you are from another state. This policy is void if the retailer has a Brick and Mortar store/warehouse in the state the buyer resides.
eBay.com
Sometimes you can get really great deals on eBay and other times not. What I do is a few different things. A few times a day I search the word "LEGO" by newest listings with a Buy it Now. Although rare, every now and then you can find someone that has just listed something at a really great price. Either they don't know how valuable the LEGO set is or they want quick cash. In either case, it works out to your benefit. Usually these great deals go fast though. I have been beat out many times doing this. By the time I click the buy-it-now button, I get a message saying the item is already sold so I can say I am not the only one who does this. Another way is to search "LEGO" and view by auction format ending soonest. There are times of the day that very few people are bidding and you can get some great deals on auctions that have 0 bids ending soon. I don't view Buy it Now listings when doing this because I figure if the item was on eBay for days at a great buy it now price and no one picked it up then it might not be worth it. This is just my opinion though, and you might have luck with buy it now and ending soonest listing. And finally, my favorite thing to do is search for "make an offer" LEGO listings. You would be surprised at what people will really take for an item when they have a real guaranteed offer right in front of them. I have been able to knock up to $20 off of a Buy it Now price just by making a fair offer.
Don't Pay Over Retail
This may sound silly but always check the retail price on brickpicker.com before purchasing. Some stores (you know who you are TRU) will mark LEGO sets way up past retail and then put them on sale or a BOGO(Buy One Get One) 50% off deal. In some cases you are still paying way more than simply buying the set on Amazon. Just make sure you know the "real" price of the set before you jump on it.
And lastly…. Stalk The Return Line
Now I have never done this myself, but I have heard of others doing it. Basically, you linger on a busy day of returns in the weeks after Christmas and once a LEGO set that you may want gets returned you jump in line and ask if you can purchase that set. While this almost sounds a little creepy to me, I guess it works out for some. I would imagine maybe you would find a set that is now sold out but I don't know. I guess instead of "stalking" you could always just go in once a day and ask if any Lego sets were returned that you could purchase. Count me out on this technique.
Conclusion
Money is tight. That is how the old saying goes. Every penny saved on a LEGO set purchase can go towards investing in new LEGO sets. These are just some tips I thought I would offer to help everyone save on their LEGO purchases. While many are already well known, others might be less known, but nonetheless effective in saving a couple of bucks. Whether it's a couple of dollars or a couple of hundred dollars, every little bit helps. Good luck and happy LEGO purchasing...
1