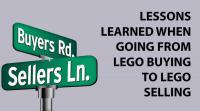 After reading an earlier thread, I want to make a thread chronicling my own transition from LEGO "investor" to LEGO "seller."  I have received a ton of great advice on this site and have learned a few things along the way.  I started the buying side of this in November 2012 and have completed my first several sales (November 2014).  I want to point out some of the things that I learned here and did right and some things I didn't know and did wrong.  Some of this information may be very basic for many of the advanced LEGO investors on the site, but some of the information might be able to help some of the novices out there nonetheless.
BACKGROUND:
A lot of the posts on the Brickpicker site, particularly those from the seller's side, seem to be from larger scale reseller types who have really been successful in creating a small business of LEGO buying and reselling.  While those posts are often helpful, I first off want to say, that's not me and it is not my goal.  I have a secure full-time middle class job which I enjoy.  This is more of a hobby in which I can make a little money from, rather than a true investment that I'm going to send my kids to college with or pay for a retirement  home when I get older.  Those life priorities I have paid for by conventional means.  My goal is to pay for LEGO sets that I buy for myself and my future kids with profits that I earn from selling other sets...and maybe earn a little extra cash on the side.  The time I spend doing this is recreational to me and I won't be breaking down my hourly wage from how much I make from it.  That being said, this has been much more fun than reading my 401k statements every quarter and I think I have the potential to do much better job if it was a competition.  My ROI(Return on Investment) goal is to (on average) double my money on the sets I sell.  I knew I would not spend more than $10k on this investment between the sets I want to keep and the sets I want to sell.  The cash I used was sitting in the bank and was not my emergency savings.  I only say that because I see people going into debt to buy LEGO sets on the site and that is a horrible idea.  I also am not a "flipper," nor a "parter outer."  My strategy from the get go was to hold and sell after EOL(End Of Line).
BUYING LESSON #1 (WHAT TO BUY):  CHOOSE WISELY...DO NOT BUY TWO OF THE SAME THING JUST BECAUSE YOU WANT ONE TO BUILD AND ONE TO RESELL.  THE SET MIGHT BE A BAD INVESTMENT.
As a child in the late 80's through the late 90's I played mostly with City Sets, though also played with a few Space, Kingdoms, Pirates, Western sets.  I don't recall any licensed sets back then.  Like Will Ferrell in The LEGO Movie, I had a whole city on a table (as a kid). After coming out of the "dark ages," one of the things that concerned me was that sets I would want to build later on would be EOL and would cost me a fortune.  So many of my initial sets purchased were bought so I did not have to pay a ransom for them later on.  Many of sets I bought two of...one for me and one for an "investment."  I'm pretty sure it has been suggested on here that you can't go wrong on buying sets you like and want to play with.  Well if you are like me and like playing with City and other "generic" sets, that's a bad idea.  I'm going to probably hit my goal on many of these City sets I have, but it will take a while and the ROI will be weak.  I wouldn't say I was addicted to buying (liked the linked thread above), but in the beginning, I certainly did go on a buying frenzy on the outset.  I would have been better off separating "play" set buys from "investment" set buys.  Sometimes they are the same, but many times they are not.
BUYING LESSON #2 (EOL): DON'T BUY NEW RELEASES AND TRY TO BUY AS CLOSE TO EOL AS POSSIBLE.
My first major buys: An Ultimate Collector's Series Imperial Shuttle and a 10188 Death Star.  The Imperial Shuttle went EOL and has doubled in price and the Death Star wouldn't even make up the selling fees if I sold it today.  EOL, or in other words...when a set retires, means everything to my investing strategy.  Buying towards the end of EOL is critical.  In the beginning I bought several newly released sets and it's going to take me a long time to make money on them compared to the Imperial Shuttle which I bought right before EOL.  Obviously, buying towards the end of EOL is a crap shoot, but I could have done more research and at least not bought new releases.  In the future I will probably make many of my buys after the products have been out a couple of years.  In some cases this may be too late or too early, but it should be better than buying new releases or stuff after one year.
BUYING LESSON #3 (SPACE):  SPACE COSTS MONEY, LACK OF SPACE CAN LIMIT SIZE OF INVESTMENT INVENTORY, FORCING TOUGH CHOICES.
I have a decent sized home and had a bedroom mostly used for storage.  The closest was the kind with the two sliding doors, maybe 4 feet deep by 8 feet wide.  I filled it with about $8k in LEGO sets in 6 months.  Thankfully it is in a cool dark area and had shelving.  If I was paying for space, that would kill any profit I would be making as a small investor.  My space was available and free and I think that is what keeps this type of "investment" profitable.  If everyone had an empty closet lying around, there would be so much more competition.  That being said, when my closet started getting full, I slowed my buying down and really started getting more focused on buying the sets I could make the most money off of.  The lack of space made me a smarter buyer.  My Brickfolio is at about $9K in purchases and I didn't feel the need to go all the way to my $10K initial goal.
BUYING LESSON #4 (SET SIZE):  MEDIUM TO LARGE SIZED SETS ARE THE BEST FOR MY STRATEGY.
For various reasons, I bought a lot of small sets ($20-$40).  As I progressed into the selling phase, I see why this is an issue.  They don't make as much money and take more of your time.  That being said, I'm also not a fan of the really big sets.  They make me nervous as a small time seller.  If I put all my money in a $400 SSD and get robbed by someone on Ebay, I'm done.  I also don't think sets with that much value will increase as much percentage wise as a $100 set.  Also with a large set you take up a lot of space and capital with fewer sets (see my Death star).  The amount of people able to pay $300 for a set, vs $1200, is huge in my honest opinion.  My goal in the future is to focus on investment sets in the initial $80-$200 range.  That maximizes my time, storage space, and if I get burned, the sting won't be so bad.
BUYING LESSON #5 (SALES VS MSRP):  FOCUS ON QUALITY SETS, NOT ITEMS ON SALE.
So I always love looking at all the sales info on here and have geared many of my buys to LEGO sets that are on sale.  My particular area is a densely populated area of Southern California, so my best sale items are online (no clearance racks here).  Most of my purchases have been discounted buys from Amazon.  These sales have slowed over the last year, but in the beginning they were plentiful.  But this led more to my buying even more City sets or other sets that are not going to have a high ROI.  I waited a long time for the Haunted House to have some kind of discount.  I got one for $10 under MSRP on Amazon at one point and decided to wait for a better sale to get more.  Well it's EOL and I only have one.  Huge mistake.  I should have ponied up MSRP for a couple more.  I would have been better off on focusing on what sets were going to have a high ROI, not what sets I could get the best discount on.
BUYING LESSON #6 (WHAT TO BUY):  BUY COOL SETS THAT ARE UNIQUE.
Do not buy sets that will be re-released (most City).  The safe bets are Modulars, licensed sets, UCS sets, Creator Houses, Trains and adult themed stuff.  Try and go for sets that are neat and more unique. There is money to be made in every theme, but if you are trying to maximize your profits and time, do your research.
THE TRANSITION:
So over the last year I have slowed down on the buying.  I figured I would start the selling phase next Christmas, but thanks to the new Jurassic Park Movie, I had to unload my Dino Theme this year.  I had 10 Dino sets that needed to be sold before they are re-released.  I am lucky in that in this particular situation of re-releases that I had a large advanced notice the Jurassic Park theme was coming out with the movie next year and the last Dino sets have been EOL over a year.
SELLING LESSON #1 (POSTING FOR SALE): PAY CLOSE ATTENTION WHEN POSTING ITEMS ON EBAY...USE GOOD PHOTOS...MAKE THE POSTING CLEAN.
Your sets are not unique snowflakes.  There are multiples of sets for sale of basically anything that has been released in the last few years. I use eBay's Buy It Now and would consider myself a novice in using it.  I would rather avoid the risk of an auction at this point and can sit on some sets for a while.  While there are other ways to sell, this seems the most logical for me as a small time seller.  I have never sold anything on eBay before, though I have been buying for years.  There have been numerous threads on the fees, so I won't go into that.  I don't post until I can make my net profit goal on sets and I figure fees into that.  I would not describe eBay as hard to use, but it can be annoying.  If you are posting numerous sets, it seems the settings reset to random things each time you try to make a new post (auction or BIN, shipping, payment types, posting time frames, etc).  I had to be very careful and edit some things later on.  One of my other part-time hobbies is photography.  For less than five bucks I set up a light box for product photography.  I already had the flashes and other stuff. I you don't have photo equipment you can still buy some cheap white posters and do this with a small camera.  I see a lot of crummy cell phone pics on eBay and as a buyer, I would shy away from those.  I posted over a few days before Black Friday.  Next year I will post earlier for the holidays.  I am not using a script and have a very short listing, but in the future I might move to a script.  However, I see a lot of messy, cluttered, and ugly listings out there.  Some of the posts dealing with eBay have put a healthy fear into me, so I do not accept returns and do not ship internationally.
SELLING LESSON #2 (GETTING PAID): UPGRADE TO A PAYPAL BUSINESS ACCOUNT BEFORE YOU START...USE THE "IMMEDITATE PAYMENT REQUIRED" FEATURE.
Now when people say moving from investor to seller is not fun, they forget about the best part...getting paid.  Watching the money drop into your Paypal account...and tripling your money after a year and a half, is pretty awesome.  But there are issues.  Deciding on what to price a set takes some time and research.  I have my collection in my Brickfolio and that helps, but every set is in different condition so all those variables have to be accounted for.  Between used sets, parted out sets and people posting sets for ridiculous amounts way above the norm, I decided to price my sets towards mid range to make it easier. My first sale was a Buy It Now and the seller never paid.  No email saying my kid did it, nothing.  Not a major issue except it takes my product off sale for almost a week.  Another listing a buyer took a couple of days to pay.  During my research I discovered you can set your items to "Immediate Payment Required" for Buy It Now  sales.  I never saw this option when setting up my eBay listings.  Further research showed it was under the advanced item listing AND I needed to have an active PayPal Business account for it to even be offered.  I will be using "Immediate Payment Required" from now on. My next problem was PayPal.  I have used it for a while to buy stuff, but never received money from it.  After my first sale, I got an email from PayPal saying they would not accept the credit card to a "personal account,"  which is what I had.  Apparently this is not true anymore, but PayPal still sends out the email.  I tried to research the difference between PayPal personal and business they don't say much and the fees are supposed to be the same.  I eventually upgraded to a business account on PayPal.  Also note there is a three week delay when you actually get the money.
SELLING LESSON #3 (SHIPPING AND HANDELING): KEEP THE PACKING MATERIALS YOU GET...HAVE THE MATERIALS READY TO GO BEFORE YOU POST...GET A SCALE.
This is where things get a little more challenging for me and makes me nervous.  I chose to charge separate for S&H on eBay.  I chose the "standard shipping" option and made up my own fixed rate.  I pretty much guessed at the rates for my first group of sales.  Most of the guesses were close, except for the boxes.  KEEP YOUR BOXES.  I can not stress this enough.  I had boxes saved, but not ones for the larger sets.  So as soon as I made my first sale I wandered on over to Office Max for shipping supplies.  They had four box sizes. That was it.  Target was worse. I had to go to a UPS store for large shipping boxes and I paid $5 for each of the boxes for my larger sets.  Way too much.  Had I saved my boxes I would be $10 richer now.  I have also located a shipping store in my area now that will be better in price and selection for future sales.  I should have had the packing materials ready to go before I posted the items.  I bought a box re-sizer mention on these forums for my next batch to cut down on size and hopefully cost.  Additionally, I didn't have a postal scale, so I used the bathroom scale and rounded up the weight on the box to be sure it was OK.  I would rather do that then stand in line at the post office, but have since ordered a postal scale for less than $40.  I used the eBay USPS shipping function to make, pay for, and print shipping labels.  I liked this feature.  Still being scared of getting burned, I bought insurance and signature confirmation and then took photos of the items in the packing material.  I used mostly bubble wrap bought on sale to package my sales.
CONCLUSION:
In the end with my first batch of sales and after expenses, I more than doubled my investment money (On the Dino theme).  So I'm on track.  Had I done some of these things above, I could have done much better, but I consider this a success and this didn't feel like real or hard work.  Hopefully, some of you learn from my mistakes and maybe some of the more seasoned LEGO investor/resellers have some advice to offer on things I noted above.  I would consider myself still novice and have a lot to learn.  I realize everyone might do things a little differently and I am certainly open to suggestions.  Good luck with your LEGO investments.
Opinion Article This article was built upon the experiences of steelmelt. This does not mean that all new, novice or even experienced LEGO investors should follow the practices talked about here. You may agree with some and disagree with others. As an example, personally I don't wait for sets to be almost EOL before buying. I don't want be surprised if some set has a short run and doesn't really show the signs. Then you are sitting there and telling yourself "I knew I should have grabbed that set earlier" That is just me, but others do like to hold onto their money as long as possible and I totally understand that.

It will be interesting in hearing some of the feedback from both novice and experienced investors.

-Jeff
3