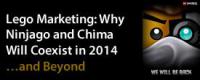 When I was a kid, I remember my younger brother wanted to be involved in everything I was. When I got a bike for my birthday, he wanted one. If I went to summer camp, he wanted to go, too. If I was hanging out with my buddies, he was tagging along behind us. As I've grown older and seen my kids behave similarly, I have come to understand that's the nature of siblings. The younger ones look up to and emulate their elder siblings.
In the wonderful world of Lego, the older brother is growing up: Ninjago, the explosively popular theme that debuted in 2012 is set to return in 2014 after a brief hiatus. Lego originally announced that holiday 2012 would be the final Ninjago release before retirement, allowing little brother, Legends of Chima, to claim the spotlight. Yet, late last year, Lego announced on a message board that Ninjago would be rereleased in 2014, elbowing little brother Chima to the back of a crowded pre-teen market segment.
Ninjago's runaway success was based upon appealing, detailed sets being marketed better than any theme before. Lego's primary marketing vehicle was the smash television series: Ninjago: Masters of Spinjitsu. Ninjago took Cartoon Network by storm, and by its final second season episode amassed a domestic viewership of almost 3.5 million, good for the highest rating on US cable television in its time slot. The Ninjago product line also included the hot-selling "Spinners", a supplemental game within the theme that pit Ninja minifigs in simulated combat against their skeleton foes. In two short years, Ninjago went from four ninjas training in a dojo to one of Lego's top three selling themes.
Sometime during Ninjago's ascent, Lego decided to shelve after a three year run in accordance with their typical theme strategy. To fill the void left by the wildly popular Ninjago, Lego created Legends of Chima, a theme built around a society of sentient, anthropomorphized animals that quest for Chi, the "life-source" of these advanced creatures. It appears the Chima theme has been in the works for a while, and will utilize a similar product line and marketing strategy to Ninjago that includes kid-appealing animal characters, a television show, and another ancillary "game" that utilizes single wheeled zip-cars called Speedorz. The first wave of Chima sets was released in early 2013, with a plan to ramp up with a second release of sets and the television show in mid-2013.
With Chima poised to become Lego's lead offering to the pre-teen market segment, Lego decided to change tack by reintroducing the recently retired Ninjago theme at the beginning of 2014. While Ninjago fans rejoiced, this created some uncertainty for the Chima theme. The obvious, major concern was that a new Ninjago release could cannibalize Chima's nascent sales, and possibly kill the theme all together. However, with the few dribbles of 2014 Ninjago information coming out, it appears there may be room for both Chima and Ninjago. The first rumor to emerge is that Ninjago's new release will ditch the snake villains for an enemy that elevates the Ninjago conflict to more mature viewers: evil robots. As evidenced in the poster released by Lego shown below, the introspective, oddball ninja Zane may discover the source of his social discomfort: it appears he may actually be a robot!
The poster also shows some type of robot in the shadow of Zane's mechanized ocular orb, perhaps a reflection of the future struggle for Zane, or a robotic enemy that awaits the Spinjitsu masters.
Needless to say, adding robots points to more complex storylines and more mature and nuanced characters. Think of the Terminator series, or the Borg from Star Trek The Next Generation. Both have very frightening Armageddon-type storylines with villains that show little human emotion or qualities. With this turn, Ninjago will begin to encroach on science fiction that typically appeals to an older demographic. The departure from a historical context to a science fiction platform allows Ninjago to follow their core fan group that are growing out of the younger, pre-teen market segment. Ninjago's changes also create a void in one of Lego's target market segments that I expect Legends of Chima to fill. Our Chi-loving animal friends should fit the demographic gap vacated by Ninjago quite nicely and allow Lego to dominate both of these crucial market segments and bridge the gap to teen and adult themes like Lord of the Rings/The Hobbit.
What effect will this new market segmentation have on investors' strategies for these themes? For one, retired Ninjago sets should continue to be profitable, and will likely get a boost with new episodes airing sometime in 2014. Any investors with Epic Dragon Battle, Fire Temple, and Destiny's Bounty sets must consider stashing a few of these away for another year in anticipation of the Ninjago buzz coming in 2014. The new Ninjago release should open up new investment options in a year as well. Per BrickShow News, the Hungarian Blog Kockamania http://www.kockamania.hu/ claims to know the new Ninjago set names, and have leaked them as follows:
LEGO 70720 -- Air Breaks (Hover Hunter)
LEGO 70721 -- Kai fighter (Fighter Kai)
LEGO 70722 -- OverBorg attack (OverBorg Attack)
LEGO 70723 -- Thunder offensive (Thunder Raider)
LEGO 70724 -- NinjaCopter (NinjaCopter)
LEGO 70725 -- Nindroid mechanical dragon (Nindroid MechDragon)
LEGO 70726 -- Destroyers (Destructoid)
Investors will be drooling over the release of 70725 Nindroid MechDragon that appears to extend the phenomenally performing Ninjago dragon line, and with Ninjago sets typically increasing in size within the theme's number sequence, the dragon appears to be one of the larger sets of the theme.
As for Chima, Ninjago's reentry into the Lego catalog still could stunt its popularity as a theme despite Ninjago's older market segment. The good news for Chima is that it has another seven months to launch the television show, and to introduce a newer, stronger wave of sets that includes the dramatic 70010 Lion Chi Temple and the gritty 70014 Croc Swamp Hideout, both anchor sets of rival tribes. On the downside, Ninjago could still steal some of the 5-9 year old demographic from Chima even if Ninjago is geared toward a more mature audience. As we all know, little brothers still like to tread on the heels of their older brethren. I believe the creativity of the Chima sets, the release of the new anchor sets, and the television show launch still portends popularity for Chima, but its upside may be capped from Ninjago. For those that believe the Ninjago move foretold Lego's dissatisfaction with the performance of Chima, TLG is still firmly behind Chima, as evidenced by its recent announcement of a new Chima themed area of the water park in Orlando, aptly titled "World of Chima".
From a performance standpoint, I think Chima theme returns may mirror the Pirates of the Caribbean theme: strong at the low and high price points, but weak among the mid-level sets. Here are the performance graphs of the two PoTC set releases:
First release:
Second release:
These sets are shown in order of size, from largest to smallest piece count. As you can see, both graphs have the shape of an inverted bell curve with the best performing sets on the ends of the size spectrum and the worst performing sets in the middle. If the Chima television show is a success, I believe returns on Chima sets will follow this pattern as well, so look for small sets like Razcal's Chi Raider and large sets like Cragger's Command Ship and Lion Chi Temple to perform well, while medium sized sets like Laval's Royal Fighter, Lenox's Lion Attack and Eris' Eagle Interceptor to languish. There's one caveat to this: if the television show highlights a certain set and makes it iconic, it could very well become the next Ice Dragon.
Only time will tell whether Chima will be a hit on the secondary market, while the established and popular Ninjago theme continues its secondary market gains. As always, retail market popularity will drive secondary market demand, so if the television show continues the popularity of the first three episodes, Chima will have sets that perform well after retirement. While little brothers are usually tag alongs when they're young, if they learn from their older brethren they can mature into great people. The same holds true for Chima – don't let this theme pass you by.