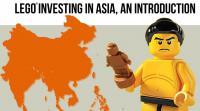 Introduction to Asia:
In recent years, The LEGO Group has seen its sales of our favorite toy brick rise greatly, especially in Asia. Here, the local LEGO Scene is abuzz with activity, with annual sales seeing a 35% increase across Asia in 2013. With the recent opening of Legoland Malaysia just over a year ago, with another Legoland slated for Japan in 2017, its not surprising that the brick is becoming so popular.
I am aware that many of you have questions about what the LEGO Scene in Asia is like. As such, this will be the first in a series of Articles detailing almost every aspect of the Asian Market, from Lego Polybags to the LEGO "Mecca" that is Hong Kong.
An Overview:
In light of recent events with the opening of the first Legoland in Asia and The LEGO Movie, the local LEGO Market is growing day by day. Local LEGO User Groups (LUGs) conduct mass orders frequently, while resellers scramble to procure newly released LEGO exclusives for the hungry Asian market.
Asian LEGO Prices have always been higher than those in the United States and much of Europe. The local MSRP is roughly double that of the US and EU. Prices here are pretty close to that of the UK, Australia and New Zealand, but while all these regions have Official LEGO Stores, Asia has close to none.
As such, LEGO Exclusives and Polybags such as the 40078 Hot dog Stand which was given away for free with purchases, sells for well over SGD$25 or USD$20 on the local eBay. One can only imagine how much other exclusive sets and polybags sell for.

40078 Hot Dog Stand 
Very Hard to Find in Asia
As a LEGO Collector myself, it is quite a challenge getting all the sets I want at prices that I can afford. With such high MSRP at local retailers and toy stores, and the absence of LEGO Exclusive sets, it is no wonder that resellers are thriving on the price difference. A good example of this would be In's Point in Hong Kong, a small building with many shops dedicated to selling LEGO Sets that are retired, Hard to Find and LEGO Exclusives.
General Trends:
I can't say much about which themes or sets are more popular in Asia, as it is generally the same as the UK, US, EU etc. However, the sets that perform the best seem to be the LEGO Store Exclusives such as the Ultimate Collector Series of Star Wars and Batman Sets, CREATOR Models such as the T1 Camper Van and MINI Cooper, Seasonal Exclusives and of course, LEGO Ideas or CUUSOO.
Set Number
(Year of Release)
Set Name
USA Retail (USD)
Asian Retail
(Prices taken from Singapore, values in USD)
Immediate Cross Comparison
(Percentage of USA Retail)
Current Market Value, USA New
(USD, as of October 2014)
Current Market Value, Asia New
(USD, as of October 2014)
Overall Percentage Growth, USA
Overall Percentage Growth, Asia
Notes
10179
(2007)
UCS Millenium Falcon
$499.99
$799.20
159.84%
$3123.47
$5999.20
524.71%
650.65%
 
10188
(2008)
UCS Death Star
$399.99
$639.92
159.98%
$451.60
$622.34
12.90%
-2.25%
Not Yet Retired, still Available at Retail Outlets
10212
(2010)
UCS Imperial Shuttle
$259.99
$399.99
153.90%
$431.20
$544.29
65.85%
36.08%
 
10215
(2010)
Obi-Wan's Jedi Starfighter
$99.99
$239.92
139.94%
$120.83
$256.00
20.84%
6.70%
Vehicle was from the Prequel movies, not as Iconic or popular
10221
(2011)
UCS Super Star Destroyer
$399.99
$639.20
159.80%
$646.46
$800.00
61.62%
25.16%
 
10227
(2012)
UCS B-Wing Starfighter
$199.99
$319.92
159.97%
$214.09
$256.00
7.05%
-20.02%
Recently Retired in 2013
As you can see, there is a very large price difference between the USA prices of LEGO, and that of Singapore, Hong Kong and the rest of Asia. This trend also exists in regular sets and Retailer Exclusives. For example, 21109 Exo-Suit retailed on the secondary market for well over USD $80 in Singapore, despite having a US RRP of only USD $35.
It is worth noting that straight off the mark, there is already a significant price difference in the retail prices of sets in Asia and the USA, presenting significant opportunities for Turboflipping sets to overseas buyers, capitalizing on the price difference. It is interesting to see how the growth rate and appreciation value of sets in Asia is actually less than that in the United States. This may be due to many collectors or investors buying from overseas, and lowering prices by selling for less than the Asian Retail amount. Hence, resulting in the "negative appreciation" of certain sets.
As in all markets, retired sets increase in value as well, which is good for the LEGO Investor. A recent listing for 9492 TIE Fighter sold for more than USD $120, despite being fairly recent and having a US RRP of USD $55.
So there is indeed money to be made in the Asian Market, with Exclusive sets fetching really high prices.
For those who wish to make money, Turboflipping and Capitalizing on new releases and Retail Price differences is the way to go. As for investment, I would suggest stocking up on the Original Trilogy Sets such as the Death Star and Red-Five while they are still available. It is worth to note that like the rest of the world, it is the OT Vehicles that register the highest profits.
Asia Exclusives
An advantage that Asia has over the rest of the world however, is in the release dates of its sets, and various Asian "Exclusive" sets. Asia typically has early releases of LEGO sets, with the January wave being released in early December, and August Wave released in June. This makes exporting sets from Asia to the USA or UK particularly profitable.
Sometimes, Asia also gets ahold of certain sets that are unavailable to the rest of the world. For example, the LEGO CUUSOO Shinkai 6500 Submarine was exclusively released to Japan, and now sells for over USD $600, while the LEGO Architecture Marina Bay Sands was exclusive to Singapore (my country!) and is worth around USD $400 or so.
Recently, LEGO partnered with Shell to release a second wave of the Shell-Ferrari LEGO Polybags to accompany the Annual Formula 1 Night Race in Singapore. This is similar to the 2012 Wave of polybags, except this time it is exclusive to Singapore only. As expected, this made the prices of the original Shell-Ferrari Polybags increase by quite a bit, to around USD $100 for a set of 7 (1 of Each).

2012 Shell Polybags
Exclusive to Singapore and Asia

2012 Shell Polybags
Exclusive to Singapore and Asia
In Conclusion:
There is money to be made in the Asian market for LEGO, and the growing market and popularity of our favorite brick is only going to increase profits and prices. For those of you who are investors, you might want to consider contacting your friends or relatives in Asia to help you get ahold of some of these nice Asian Exclusives. For those of you who are resellers, it wouldn't hurt to add International Shipping to your listings to get a nice 50% to 100% profit on new exclusives.
This is my first ever Brickpicker article, and it is only the "Introduction" to LEGO in Asia. I'm thinking of making this the 1st of a 3-part series talking about Asia in general, so do tell me what else you would like to see or what I can improve on by leaving a comment!
Also, if you have any other questions, do feel free to send me a private message so I can address them directly.
Cheers!