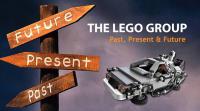 LEGO, officially known as The LEGO Group,  is currently the #1 toy maker in the world.  But did you know at one time, it was on its knees and at the edge of bankruptcy?  This article speaks of the Danish toy maker and how they pulled just the right strings to make this remarkable and educational toy a success in a declining toy market.  It's the story about the "Eye of the Lego Tiger" and how a company went from one extreme to the other and back again.
"Success ultimately depends on three factors: a company's financial backbone, willingness to succeed, and patience,"  said the businessmen from LEGO
Past
Days of Glory
Once upon a time before 1992, Ole "Man" Kirk Kristiansen bought a plastic molding device and created... a brick.  This brick was special as it had the ability to stick to another brick without any glue involved!  Instead, it had an interlockable mechanism.  And so the story of what binds all the people on this forum begins. All it takes is an original idea.  Well... an original or a stolen one.  Tracking down the actual birth of the modern brick is rather difficult.
I would say that the current LEGO brick is an invention perfected by many companies and of which The LEGO Group came out strongest in the end.  I will not bore the reader more with any information as it is not relevant for the rest of the article.
Some Facts:
In 1944 Automated Binding Bricks are born.     
In 1963 the material became ABS.
 In  1978 the minifig saw the light.
In 1979 Kjeld Kirk Kristiansen became the president of TLG.
Various subthemes are launched.
In 1994 the Company grows to 8.880 employees
It were golden years for The LEGO Group and their 'Brick'.
Days of Defeat
The decay had started.  For many years, LEGO had prospered but it was about to come to and end soon.  From 1992 onto 2004, things didn't go exactly as planned.  Black Wednesday at its finest. The main causes for this were:
Shrinking customer base in the European and American region.
Home entertainment revolution.
Bad response to the market change
Weak dollar, strong US competition for building bricks market.
LEGOland Parks were not profitable.
Portfolio became no longer manageable.
Strong cheap Chinese competition.
Two consecutive losses in 2003-2004 caused the company to be on the edge of bankruptcy.  In 2004, Kjeld Kirk Kristiansen resigned and appointed JØrgen Vig Knudstorp as CEO.
Present
From 2005 to the current day, TLG has changed dramatically and attempted to bring back what they had lost the 12 difficult years before.  The economy was getting on its feet again and after a lot of hard and/or costly decisions, it got to the point where it is now.
Back to the Core
The company philosophy changed and it was decided to focus more on the core activities.  It is why the LEGOland theme parks were sold to a theme park organizer.  At a certain time, they were making nothing and everything.
Desperate times ask for desperate measures
There was a drastic cut on costs by outsourcing distribution and production.  Distribution moved to Central-Europe, Production plants were added in Mexico and the Czech Republic and took over some  of Billund's production. A plant in the US closed, another in Switzerland.  Some distribution centers here and there. Quite some people's jobs got outsourced to other 'cheaper' countries.  It was one of the darkest moments in LEGO history. However, financially, it was a very successful (and necessary) move.  The factories keep on expanding due to the heavy demand.  In Mexico, during the month of June, the expansion of the factory was a fact and more than 1.000 new jobs can be created.  An extra factory has been inaugurated in March in Hungary. So bad news for some, good news for others.
Batman to the rescue!
The licensed theme sets are a large success with the huge amounts of movies coming out.  However, TLG do not count those as being one of their core products so it is possible that after they gained enough ground with the public, the licensed themes will be built off.  The reason is simple, licensed themes only work when a film comes out.  Because of this, the revenue on these items becomes very erratic.  And erratically selling products are something any company would try to avoid. TLG also rebooted the Duplo theme which also proved to be a very successful move.  In fact they have tried to break open the consumer market and trying hard to gain over the favor of selected target audiences. There are 29 different active themes on the moment of writing and the main themes are:
LEGO Duplo
LEGO City
LEGO Technic
LEGO Star Wars (Licensed)
LEGO Friends
If you look at the current lineup for themes, you will find a theme for babies, toddlers, young boys,  young girls and AFOLS.  It is amazing to see that with 1 product, so many people can be reached.
Barbie who?
The company has moved up in the ranks and as of writing, it occupies first place with revenue sales 30 million dollars over Mattel after it had hopped over Hasbro in 2012.  Of course Mattel will still release a bunch of their products late in the year so there is a possibility Mattel will strike back.  But it seems unlikely that they will ever be able to stop the TLG behemoth from taking over the lead eventually.  If you look at the numbers, it is very impressing.  Over the last 6 years, TLG managed to triple their revenue. Of course the release of The LEGO Movie helped them reach this goal.  Globally the movie has been a great success.  Perhaps an idea  for Mattel to do a movie feat. Barbie and Ken… But let me tell you that Barbie is not KO yet.  Certain companies work better under pressure of not being the undisputed # 1 anymore. Other companies fail to react consequently or react as a headless chicken.
The Future?
There is still a lot of potential for TLG to expand.  If you look at the demographic situation, there are 2 billion Chinese people and over 1 billion people in India that can become potential customers. The situation in 2011 was as following graph displays.  Of course, now in 2014, things have changed already for eg. China, but it does show LEGO's business plan for expansion during the next couple of years.
Here we can see the Russian market that has matured more, the Brazilian and Mexican market that are on their way to maturity and the Chinese market in their child shoes.  India is currently not even in the womb yet.
Russia
Since 2007 until the beginning of this year, revenue for Russia has tenfolded.  It did however take quite some time for it to come this far.  LEGO started already in 1985 with its Russian story.  Back then, Russia was still part of the Soviet Union. TLG found its place and started to make its connections with retailers and distributors.  It is when the Soviet Union fell and the middle class became larger, that the little LEGO bricks were taken in the heart of the Russians.  Since then, the market has very much matured and gave room for other endeavours like China.
Americas
Bringing a factory to Mexico was a very smart move of TLG.  It brought capacity to supply the largest LEGO market and boosted the sales for LEGO in South America.  It was their primary focus for enlarging their customer base.  The North American market is still growing and with the logistics part simplified, the revenue in North-America increases.  South-America benefits from this too, albeit in lesser degree since LEGO still is relatively expensive.
China
TLG is at this moment investing strongly in the Chinese market.  I think this one will be the most significant market for LEGO in the near future.  Dare I say more important than the US and EU combined? A factory is planned to be operational in 2017 (Jiaxing – Zhejiang Province) bundled with a distribution center in Shanghai.  This investment is a necessity for TLC to make as their product is really too expensive – sometimes even double the price - in comparison with the US and EU prices.  The huge distribution costs played a very important role in this. However, even with the factory not in place yet, TLG managed to have an increase of sales of around 50% in the first half of the year so it offers some good perspective for the future. It is not the first time that TLG tried to get its foot in to crack open the Chinese door.  Before the changing of the millennium, they made an attempt, but it was unsuccessful due to their diversified business model and expensive toys.  Cheap knock-offs were produced and the Chinese shoppers at that moment did not hesitate to go for the lower-quality copy.  With the coming of the factory, the prices of LEGO will drop and this will also have its effect on the LEGO-counterfeit. The choice of investing in China rather than India is an obvious one.  TLG's product speaks to the philosophy of Chinese parents more than a Barbie doll.   Creativity is of high importance to them so they don't have to compete with Mattel.  Building bricks are just bound to continue being successful in China if the price is right and the marketing well executed.
India
India seems a Mattel stronghold.  In 2013 Funskool Toys was the largest toy producer with Mattel following as second with 20%.  Hasbro is good for 9% and the TLG share in India is 4%.  So this is an opportunity still for the company.  However, there seems to see more profit in China at this moment. As soon as TLG feels comfortable in China, I am sure India will be the next target.  The question however remains if LEGO bricks can ever top the success of Barbie there.  If LEGO keeps on pumping out Friends sets, I'm sure they have a chance to succeed.
So what will be TLG's next move?
The future seems bright for TLG.  It has been a difficult journey but they managed to find a succesful formula to bring their products.  Hard sacrifices were made by outsourcing a large part of their activities.  This combined with the 'there's a theme for everyone' lineup helps them become the biggest toy maker in the world.  For how long this will last is of course the most important question.   What goes up...
"We have been investing and we will continue to invest significant resources in further globalizing the company, which is a precondition for our future ability to not only create great LEGO experiences for children all over the world, but also our ability to build a culturally diverse organization where we can attract and develop global talent. Ultimately this is what will ensure the future success of the LEGO Group" - Jørgen Vig Knudstorp.
Resources:
http://lego.wikia.com/wiki/Automatic_Binding_Brick http://euromonitor.typepad.com/files/sampledeck-corporate-strategies-in-emerging-toy-markets.pdf http://www.economist.com/blogs/graphicdetail/2014/02/daily-chart-8 http://www.globaltimes.cn/content/859023.shtml http://aboutus.lego.com/en-us/news-room/2014/september/interim-result-2014 http://www.nbcnews.com/id/13442193/ns/business-us_business/t/lego-lay-end-us-production http://www.themoscowtimes.com/business/article/why-lego-succeeded-while-jysk-failed-in-russia/490394.html