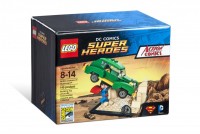 Convention exclusive. The two words many LEGO collectors dread to hear and several investors become giddy over. To some, these highly exclusive sets with their limited availability can be the Holy Grail of a LEGO collection. They are extremely hard to obtain, and can be very expensive unless you are lucky enough to be in the right place at the right time.
In recent years as the popularity of LEGO has skyrocketed, these exclusive sets have become even more coveted. Retailing for just $40, they can be found at conventions such as the upcoming San Diego Comic Con (SDCC) and Star Wars Celebration. These sets are small with very low piece counts (averaging around 200) when compared to the price tag. Yet, for investors lucky enough to obtain them, they are instantly worth at least two to five times retail price.
For LEGO investors, convention exclusives are easy money if you're looking for a quick flip. Especially they can be obtained directly from the LEGO booth for retail price. If your investment style is less "fast money" and more "buy and hold" these sets have traditionally seen incredible returns within 1-2 years of the convention as supply dries up and the sets become harder to get.
As is often the case, what is good for the investor is often bad news for the collector. For a LEGO collector such as myself, it can be a frustrating, difficult, and certainly expensive to obtain one of these sets. For the average collector, a convention exclusive will ever make their way into their collection and will forever remain on their list of dream sets. One need only look back one year to the summer of 2015 and the convention exclusives released San Diego Comic Con
At SDCC 2015 there were three exclusive sets released, all retailing for $40. One from the Marvel superheroes line, "SDCC2015-1: Throne of Ultron," one from Star Wars universe, "SDCC2015-2: Dagobah Mini Build," and one from the DC superheroes line, "SDCC2015-3: Action Comics #1 Superman." Every year when these sets go on sale over the course of the convention, before some sellers have even made their way through the winding lines up to the cashier at the LEGO booth, resellers are already listing them on sites like eBay, and Brick Classifieds. 2015 was no different and both Throne of Ultron and Dagobah Mini Build were being listed on eBay for between $100-$120, thee times the retail price. A 300% return on investment is amazing for any LEGO set and after 12 months these sets are still holding strong in the same price range but the prices are slow starting to climb and will probably be near $150 by the end of 2016. 
But what about the third set to be released? How did Action Comics #1 Superman perform? If you were an investor who got this set for $40 or even $100 you were jumping for joy! This was my personal favorite set of the trio, and unfortunately for my wallet, I was not in the minority. Initially Action Comics #1 was selling for $180-$250, few sets ever reach five times their initial retail, let alone reaching that mile stone before the ink on the receipt had dried and it didn't stop there. It seems that with this set the sky is the limit and recent prices on eBay reflect that. For those investors who braved the crowds and the lines at last year's SDCC Action Comics #1 Superman has become one of the most valuable LEGO convention exclusive sets to date and has recently started selling for anywhere between $300 and $600! An amazing feat for any set; but when you take into account Action Comics #1's "low" $40 price tag and a piece count of just 145 this set's performance is truly astounding.
Both investors and collectors may ask: "When is the best time to buy these convention exclusives?" Or "How can I avoid paying astronomical prices on the secondary market?" Obviously the best way is to head down to sunny San Diego and attempt to buy the sets right from the source; but since that isn't an option for most people, I have found that buying the set within the first few days of its release from people looking to do a quick flip can get you the best deal. After that initial rush when the market isn't nearly as flooded with sets, patience is key. Auctions can be a great way to save some money as they usually end a few dollars lower than if you were to pay a set price. Hover with auctions you run the risk of not having the winning bid. If you do decide to use the "Buy it Now" option on a site like eBay, be sure you research the going rate for the set and look out for unreasonably high shipping costs. 
If you watch the secondary market closely, eventually you might get lucky and find the set of your dreams for a steal of a deal. I was lucky enough to find my dream set, Action Comics #1 Superman, for just under $170 by catching the listing right after it was listed.
With San Diego Comic Con just a few weeks away rumors of this year's convention exclusives are starting to swirl. Will you be traveling to Southern California to brave the crowds and lines for your chance at owning one of these highly coveted sets? What types of exclusive sets do you hope to see revealed this year? Let us know in the comments below and stay tuned to Brickpicker for the latest news as we move closer to the convention.
Never forget to clean the HTML code and double check your content before publishing an article!
1