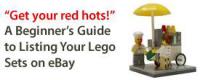 For three years, I worked downtown and on my way home from work I would occasionally pass by a hot dog vendor named Ray who would stake out a corner near the entrance to the train station. Because I'm a sucker for a good Chicago-style dog (tomato, pickle, onions, neon green relish, mustard, celery salt, sport peppers, and NO KETCHUP), I would occasionally stop by Ray's cart for a dog, and he and I would chat for a couple minutes while I finished it. One day, we got around to talking about his business, so I asked him what separated his hot dogs from the cart across the street. At first he gave me a line about how his have magic, so when I challenged him on it he looked at me and said, "You know, there's no difference between mine and his but one thing – my voice. I was blessed with pipes…he wasn't."
"Get your rrrrrrrrrrrrrred hots here!"
thanked Ray for the hot dog and headed home, hearing his "red hots" call echoing off the buildings as I walked toward the train station. On the train home, I pondered Ray and his little business and began to appreciate his simple, effective business model. Essentially, he had two critical components: a location with thousands of potential buyers and an effective sales pitch: his signature call.
"Get your rrrrrrrrrrrred hots here!"
Lego resellers are similar to Ray: both are looking for lots of buyers and a great sales hook. To get buyers, every Lego investor has easy access to "park their cart" on the most prolific market in the world: eBay. Yet to succeed, sellers also need to develop their hook, and the easiest way to do this is by creating an effective eBay listing. Posting effective listings will yield more sales and higher selling prices for the Lego investor. With these tips, the beginner Lego reseller will maximize returns on all their eBay listings.
Lego Listing's Key Ingredients
Let's say a new Lego investor purchased 10228 Haunted House around Christmas last year at a shockingly steep discount and now, to free up some capital, has decided to sell it. What's the best thing he can do to maximize return on your sale? Write a great listing! Fortunately, eBay wants to help you list your merchandise, so they have created two tools to help sellers complete their listings: the quick listing tool and advanced tool. The quick listing tool is a guided process that prompts sellers for specific information, while the advanced tool is a self-guided process that provides the seller more options to customize the listing's information. For new sellers, I would suggest using the quick listing tool for the first few sales to develop a familiarity with the listing process. The advanced tool can always be used for future listings once the new seller is comfortable with the format.
For now, we will discuss the quick listing tool. The quick listing tool includes four steps:
Describing the product
Setting the price
Selecting the shipping options
Reviewing the listing
Each has its own considerations and challenges, so here is a description of each:
Describing the Product
There are three main areas that must receive special attention when describing your merchandise in a listing:
Listing Title
Product Category
Photographs
Product Description
Listing Title
The listing title is the first input a seller must make when crafting a listing. This title is important because most eBay buyers use eBay's search engine to find merchandise, and this search engine searches only for words in listing titles. A well written listing title will increase views of your product, and the more buyers look at your product, the higher the probability that someone will bid on it. The listing title is limited to 80 characters including spaces, so the title must be condensed, accurate and informative. For Lego selling, follow these simple rules:
Assuming you are selling a Lego brand product, always include LEGO at the beginning of your title without exception.
If selling a Lego set, always include the set number, name and theme and the term "set". Try to avoid abbreviating the name and never miss including the number.
If selling a group of Lego bricks, always include "lot" in the name and the defining characteristic of the lot. For example, if you're selling a collection of tree pieces, include "Lego lot tree pieces" in your listing title.
If selling minifigs, always list the fig name if there is one, the term "minifigure", and the number and name of the set it came from.
If parting out a set, be sure to list the set number and name, and what is missing or parted out. For example, if you're selling the dragon only from 70503 Golden Dragon, including the phrase "Dragon figure only" in your title will bring you the best chance of hitting your target buyer. If you're selling Bag-End with no minifigures from 79003 An Unexpected Gathering, be sure to include "no minifigs" in your description. If the set comes with everything but the box, include "no box" in your description.
If there's room, always provide the condition of the set or part. Common modifiers include:
MISB: Mint in Sealed Box – appropriate if the box is flawless
NISB: New in Sealed Box – appropriate if the box is sealed, but there are flaws in the box such as folds, crush marks or wrinkles. This note is not appropriate if the box is open in any way, or if the original seals aren't in their original condition.
New - appropriate for pieces being parted out that haven't been assembled.
Gently Used – appropriate if pieces or set has been assembled once and all pieces are in good shape
Here is an example of a strong listing title:
If there are still available characters in your description, it will help your Lego listing if you provide other descriptive words. For the 10228 Haunted House, adding additional appropriate descriptors like "vampire" or "mansion" in your title will give your listing extra hooks for the search engine:
Lego 10228 Haunted House Monster Fighters MISB vampire mansion
Also, I suggest NOT using hyphens in your titles since they tend to be wasted characters. If you feel like you really need to use them, separate the hyphens with spaces. The listing title "Lego 10228 Haunted House-Monster Fighters-MISB-mansion" may not provide a match with any of the individual search words "house", "monster", "fighters", "misb" or "mansion" since the search will read the hyphenate phrase as one word.
There is also a subtitle option available to add to your listing for an additional $.55. This subtitle will not be searched for keywords by eBay's search engine so I don't see a lot of use for this, especially for commodity-type listings like lots and common minifigs. Returns from low cost listings will also suffer from this additional fee, so it's not worth using this feature for small sets either. I suggest keeping the $.55.
Product Category
The product category is also a small, yet important piece of information to provide for your listing. For buyers that don't use the search engine, the only other way to find a listing is to navigate eBay's product categories. The eBay product category database is an entire hierarchy of categories and subcategories that can quickly refine a search without keyword input. As you may have guessed, there is a "Lego" product category that is a subcategory of the "Toys and Hobbies" category and "Building Toys" subcategory. The Lego subcategory is also segregated into a variety of themes including Bionicle, Technic, Duplo, Mindstorms, Lego sets, and an all-encompassing "Other" category. It's important to provide the most applicable subcategory since the listing will show up in all the categories and subcategories that are marked. For example, a 10228 Haunted House set that is only labeled in the "Lego" category will only show up in a Lego category search, while the same set that is labeled with the "Lego" category, "Sets" and "Other" subcategories will show up in all three category searches. Fortunately, eBay quick listing tool will suggest categories/subcategories if you enter the set number and name when prompted.
I have circled an example of a strong Product Category selection:
EBay will also offer the option to list your Lego product in a second category, but I wouldn't recommend spending the money as most Lego merchandise will almost always fit into a specific subcategory.
Photographs
Like a good bun to a hot dog, a good photograph will really complement your listing's text. There have been many discussions on the Brickpicker forum about buyer frustration from getting stock photographs with listings. While Power Sellers can leverage their track records to establish a buyer's trust, the new Lego investor must use all tools in his arsenal to establish buyer's trust. Posting pictures of the actual set is a way to prove the condition of the merchandise and establish that buyer trust crucial for getting a bid. EBay allows sellers to post up to 12 pictures, so always start with a general shot of the box, and use the remaining pictures to establish box condition or to show the assembled set if selling used.
When taking pictures, be sure to provide enough light while avoiding glare on the box. Also, always use a light background (a sheet can work in a pinch), and as Brickpicker members have seen, never use the bathroom as a setting for your photographs! Finally, avoid confusing pictures such as this one:
 
This picture confuses the buyer, mixing a stock black and white photo from a different set with the actual set in bag and assembled form.
Product Description
The product description is probably the most crucial part of the Lego listing. While a good title and a targeted subcategory label will bring in the potential buyers, the product description will sell a product. The Product Description is the only place to provide specific details of the Lego merchandise being sold, and the more information that is provided to potential buyers, the better a chance there is for a bid. All descriptions should be written conversationally, and have a positive tone. If you are proficient in HTML, you can add graphics and backgrounds to your listings, but don't feel pressured to provide this, especially if it's outside your comfort level or skill set. If you elect to use graphics, keep them clean and minimal.
The best Product Descriptions include the following four sections:
Introduction
Lego [email protected] Description
Listing Specific Information
Personal Touch
Introduction
The introduction should introduce the buyer to what you are selling. It's important to make an impression, so make it fun and keep it light, but always include the quantity, set number and name, piece count and a quick description of the model and its highlights. For our 10228 Haunted House example, something like this would work well: "The_lego_closet presents Lego 10228 Haunted House – a frightfully wonderful building model that will have you screaming for more! This 2,064 piece Lego set is an old, rundown Victorian mansion that's been haunted by a vampire, his bride, zombie assistants and even a ghost! The Lego model house swings open to show the scary contents of this vampire couple's home including a variety of rooms, spooky accessories, furniture, and a fireplace among other delightfully ghoulish details."
Lego [email protected] description
For Lego sellers, the actual Lego description provides a wealth of knowledge, and should always be included in the product description if it's available. Brickset.com has Lego's description listed under their "Descriptions" tab for each set's information page, so always check Brickpicker for this copy. For 10228, the copy is:
Lego's Description for 10228 Haunted House
"Enter the haunted house at your peril!
The crooked Haunted House is home to the scariest ghosts and monsters. Tremble in fear as you open the gate, go weak at the knees as you step onto the porch and gasp in horror at the fireplace, kitchen, office, folding staircase, bedroom, potion room, music room and collection of other creepy objects. Dare you enter the Haunted House?!
Add to your LEGO® Monster Fights Collection with the first officlal LEGO® Haunted House!
Includes 6 minifigures: 2 glow-in-the-dark ghosts, Vampyre, Vampyre's Bride, Zombie chef and butler
Features unique 'crooked' design featuring boarded up windows and working front gate.
Haunted House opens to reveal detailed interior with 3 floors.
First floor features fireplace that swings open and displays a ship in a bottle on the mantle.
Cook up a ghoulish meal with the Zombie chef in the kitchen complete with old-style stove, jars and table!
Write letters from the Vampyre's haunted office!
Pull the lever hidden in the chimney to release the drop down staircase and access the top floor!
Top floor features gramophone, records and newspaper LEGO® elements.
Customize the Haunted House with new stickers for wall hangings, spider webs and curtains!
Measures 15.4" (39cm) high, 9.4" (24cm) wide and 7.5" (19cm) deep"
Some overlapping information between your introduction and the Lego description isn't an issue, but it's important not to just repeat everything included in the [email protected] description in your introduction.
Listing Specific Information
Every strong Lego listing should include a section that discusses information specific to the listing. For example, if you are selling a part of a set, or a minifigure, this is the place to tell the buyer this. Be sure to thoroughly explain exactly what the buyer is bidding on here. Don't hesitate to format words or sentences differently for emphasis or effect, but make sure the emphasized text doesn't look ridiculous. Also, be sure to state the set comes from a pet free/smoke free home if applicable.
This section can also include any specific shipping, insurance or bidding information as well. While some refer to this as the fine print, it's very important to clearly communicate any information that would have an effect on bidding to the seller. This listing does a very good job of explaining listing specific information:
 
Personal Touch
It always helps to bring a human element to your listing by adding some personal observations or opinions about the set as long as they are positive. Also, always thank buyers for considering your listing. See below for a listing with a nice personal touch:
 
Things to Avoid In reviewing eBay listings for this article, I came across a number of listings that were utter disasters. Here are a few to consider for what they've done incorrectly:
Don't use loud backgrounds like this. They're an eyesore!
This description is too overwhelming and confusing – what is with all those set numbers?
Setting the Price
There are three primary decisions to make when setting your price:
Selecting Auction or Fixed Price sale
Determining the price
Determining the auction duration
Selecting Auction of Fixed Price sale
Sellers need to determine whether they want their sale to be an auction or a fixed price. Auctions typically garner higher prices, but there is always the risk of not getting what you feel you deserve for your set. Sets garnering significantly higher secondary prices should be safer auction bets than ones that are selling close to MSRP, so consider a fixed price sale if flipping unretired sets, and an auction for well performing retired sets.
Determining the Price
The most important decision a seller will make is the selling price of their merchandise. If the seller has selected an auction, eBay recommends that setting a $.01 starting price will garner more bids and yield a higher sales price. EBay also gives you the option to set a "Buy it Now" price. If selected, BIN has the effect of setting an anchor price, which can be good and bad: good because it gives buyers an idea of what you want to get for the set, but bad because it will cap bids at this price. While it's the seller's option, I would suggest not setting a Buy it Now price.
Determining the Auction Duration
The final part of setting your price is to determine the length of the listing. EBay claims the longer the listing, the more likely the merchandise will sell at a higher price. Also, eBay gives you an option to schedule a start time, which is really a way to set your finish time. This is critical because you typically want your auctions to end when there is the most traffic on the website. If you're in the United States, this would likely be between 8 -10 PM Eastern. To finish it at this time, be sure to start the auction at this time.
Selecting the Shipping Options
EBay gives you two options for shipping: the eBay suggested option which in the US is USPS first class for US domestic packages, and the "create your own shipping" option that allows you to customize your shipping. Some sellers require a signature for expensive shipments, and first class shipping provides this as an option for an additional fee.
The Create Your Own shipping option is good if you are savvy or experienced with shipping. Before doing a significant amount of shipping on eBay, I would suggest new sellers review the cost of each of the shipping options eBay provides to learn your preferred shipping option.
For pros and cons of different shipping options and carriers, stay tuned for another blog entry!
Finally, eBay also offers you the option of including free shipping with your order. I would only suggest providing free shipping if you set a fixed price sale and build the shipping cost into the fixed price. Otherwise, I would always have the buyer pay shipping.
Reviewing the Listing
This is your last chance to check everything in your listing. Be aware – this is EXTREMELY important. For proof, check out this forum post:
http://www.brickpicker.com/forum/index.php/topic/3315-lol-ebay-whoops/?hl=ebay (sorry eRacine)
Needless to say, always check everything on your listings. You don't want to risk a mistake that could wind up in a canceled listing or, worse yet, bad feedback from a buyer.
Seller's Rating
While writing a good listing is crucial, it's also important to understand the importance of a seller's sales rating. The number in parentheses next to your seller name is a count of the ratings a seller has received from past transactions. Someone with hundreds of positive sale ratings will always be considered a low risk seller for buyers, and will usually command top dollar for their listings. For the new Lego investor, I suggest selling small Lego sets such as polybags or sets under $10 to increase your sales ratings. That way, once your large sets appreciate, your strong sales rating, combined with a good listing, will get you top dollar for your listings. If you have more than 10 ratings (hopefully all positive), you will receive a number in parantheses next to your seller name. This will allow buyers to easily review the feedback and hopefully provide them with a higher comfort level that you will deliver what you are selling.
 
It's a Shame About Ray
Crafting and posting an effective eBay listing is critical to attracting buyers to your eBay auctions. Buyers will appreciate the accuracy, detail and relevance of a good listing and will be more willing to place a bid an auction with one.
I haven't seen Ray in ages, and I miss hearing his signature "red hots" call - it always reminded me I was on my way home. While eBay buyers may not have this same emotional connection, positive feedback from good sales will grow your reputation, much like Ray's voice did for his business. In a sea of thousands of Lego auctions, make sure yours stands out.
As always, invest accordingly.