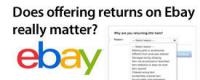 I have done several articles about selling on Ebay, and several other BrickPicker members have as well. You can tell by just trying to sell on Ebay, or reading there articles that selling on Ebay includes quite a few different choices about how to list: Do I offer Free Shipping? Buy it Now or Auction? When do I end the Auction?
I have been doing a lot of different articles touching on each of these and I wanted to touch on another big one that I felt could have an impact on sales and also offers a lot of different pros and cons. Should you offer returns on your Ebay listings?
As a buyer in any marketplace, returns seem like something that you always want. I frequent quite a few flea markets and such and I know I am a lot more careful about what I buy there because they don't offer returns. In general, I want to get the item a little cheaper because I know I am taking a chance. But does that logic apply to Ebay?
I think most people that have been on Ebay from its conception know that there was a time when returns mattered quite a bit. In the first days of Ebay, there were a lot of people committing fraud as there is with any new marketplace. To protect themselves, buyers started targeting items that offered returns and Ebay encouraged this. This meant that it definitely mattered if a seller allowed returns.
However, Ebay eventually came out with this awesome buyer protection system quaintly named "Ebay Buyer Protection" which pretty much should be called "We only care about Buyers on this site so we will do whatever we can to protect them even if it's their fault" (sorry I have run into this as a seller as I am sure many of you have). Anyway, once this was out, it wasn't such a no-brainer to offer returns. Most people would see they are protected from poor listings, bad selling practices, and just general bad listings by Ebay themselves. So does offering returns really benefit the seller anymore? Will people still purchase an item with no returns allowed?
A quick note before our discussion about Ebay Buyer Protection. In case you aren't familiar with this, it allows a buyer to open up a case with a bunch of different options like "item not as described" or "haven't received item" and if the seller doesn't make good on it, in 99% of cases Ebay refunds your money whether the buyer is right or not. When the buyer is right, it's 100% (This is in my experience).
So for this article, I decided to go through the pros and cons of offering free shipping with a very fine toothed comb, and then do a little bit of Ebay research to help us make an informed decision about offering it.
Pros
First off, one would think that offering returns allows a buyer to feel a little better about the purchase. I think this definitely makes a big difference if the item is priced a little higher than market value in a Buy it Now (BIN) listing. If the item has something slightly wrong with it, I think this matters a lot more as well. For example, I chose to offer returns on an item I was selling where the box had been damaged and the minifigures had been pilfered. I felt that this was going to create a feeling of "nothing to lost" since seeing a box destroyed like that can make someone feel weird about the contents.
Another plus would be Ebay's filtering system. On the left hand side, Ebay allows a buyer to filter listings by "returns accepted". I don't have a direct access method to all of Ebay's internal data, but I would assume there are some buyers who filter out any items that don't allow returns or otherwise it wouldn't be there. Think about it in this manner: Let's say you got big time burned on an Ebay purchase because the listing was misleading and you didn't read it closely enough (An example: I was buying a Lawn Mower bag system for my Lawn Mower which includes a bag and the frame to hold it on the mower. Unfortunately, the seller's picture showed it with the frame in it, but the listing just said "Lawn Mower Bag". I purchased it and was disappointed.) You would think that there is a good chance if this buyer purchases something again, especially a very expensive retired Lego set, that they would possibly filter out any listings that don't accept returns so that they are not burned again.
Offering returns does also make you look very professional. What do you think of a store when they have a large sign that says "No Refunds or Exchanges"? You generally, you probably assume there is a reason they don't allow them.
Cons
One pretty obvious con to offering returns is the fact that you, the seller, can get burned by a buyer. In terms of Legos, I believe I have seen several people here complain about Ebay buyers not reading their listings when they say something like "No Minifigures". If you offer returns, the buyer can ask for a return and be fairly justified to Ebay even though you made it completely obvious in the listing that the item didn't include this. Unfortunately offering returns sometimes protects the buyer further than Ebay protects them from their own buying stupidity. From my anecdote in the last section, that seller did offer returns, but after speaking with him I felt he made the error in the listing without any malice and his price was still relatively good for the bag, so I didn't return it. I hate when buyer's do this so I didn't want to even come close to being one of those.
Another implied con from our pros above is that your listing could be filtered out in an Ebay search. We don't know how many people click these, but I think especially if you are selling a Lego set that hundreds of others are as well, a buyer may look more and more to find the perfect listing. Because Ebay offers that check box right over on the left side, this is a very easy way for a buyer to just quickly filter down listings to find the best one to buy. If you are selling a very rare Lego set, I doubt this matters near as much.
Another big one people forget is Buyer Fraud. I have had this happen before and it is something that a lot of people don't even think about. Here is the situation: A buyer purchases an item from you and then comes up with a legitimate reason to return it (or legitimate enough in Ebay's eyes to return it). They then deny the free shipping label from Ebay buyer protection or they ask for the refund and return outside of the normal case system and ask the seller if they can return it and they would pay free shipping. In the times I have seen it I will get a message saying "I purchased this item from you a few days ago. I unfortunately just had a family problem and will need to return this item as we are very strapped for money. I would be happy to pay the return shipping". In this case, the seller will feel bad for them and allow them to return the item because they are not really out anything but the shipping and don't want negative feedback.
Unfortunately what actually ends up happening is the buyer never sends the item back. The seller has already refunded the money to them because they needed it, but the item is never received. When the seller contacts the buyer, they will offer a fabricated/photo-shopped shipping label showing they sent it and always saying they couldn't pay for tracking. Eventually the seller has nothing to prove they never got it and the seller is out. I have had this happen twice to me and have had to change my practices accordingly (luckily it was two very cheap items so I was not too concerned. Price of doing business).
The last obvious con would be – a seller can return it. This costs you money and time. No one wants to have an item returned to them because of the ordeal of shipping and the feeling you get when you sell an item.
We all also know that we are pretty anal about box condition. If shipping hurts it in any way, you are in trouble.
Ebay Analysis
For this analysis, I did several things. I wanted to find three retired sets that sell quite a bit each month on Ebay and draw some conclusions about Ebay's return offerings and how they actually affect your listings. I think Auction and BIN listings are both relevant. In an auction, this will attract more buyers if you concede that some people are concerned with whether a seller allows them or not. In BIN, if you have it listed fairly high, the buyer is taking a chance on the item so offering returns gives them a little more of that warm feeling when pressing the button.
For these three items and my information, I came up with the following criteria:
New listings: Though I definitely think this affects used listings, I feel that there are too many other factors to draw a good conclusion from the data. I am trying to get the listings as close as possible to each other to compare.
Had to have at least 10 Auction and 10 BIN listings that accepted returns and 10BIN that didn't accept returns. For the Auction price, instead of finding ones that don't accept returns, I am using the average price for comparison that is found on BrickPicker.
Three separate themes just so we get a little variety.
No add-on's or exclusions, sealed new listings only.
For this as well, shipping is averaged in. We have a control with calculated shipping because it is going to my address each time. Because of this, I filtered out international sales as well.
I came up with these three sets:
4867 battle at Hogwarts
10212 Imperial Shuttle
10219 Maersk Train
Auction listings
For this, I took the average of all the auction listings that accepted returns that were shown on Ebay (last three months of data) and then compared them to the BrickPicker average:
4867 Battle for Hogwarts:
27 Auction listings that allowed returns: $83.78 average
BrickPicker new Price = $82.68
Percent above BP average = 1.3%
10212 Imperial Shuttle
12 auction listings that allowed returns: $362.87
BrickPicker new price = $354.69
Percent above BP average = 2.3%
10219 Maersk Train
10 auction listings that allowed returns: $216.87
BrickPicker new price = $210.46
Percent above BP average = 3.04%
Percent average above BP value = 2.2%
Buy It Now Listings
For this I took the average of the top 10 sold BIN listings for each: listings that accepted returns and listings that did not
4867 Battle for Hogwarts
BIN with returns accepted average = $109.67
BIN with returns not accepted average = $101.76
Average percent gain by offering returns = 7.8% gain
10212 Imperial Shuttle
BIN with returns accepted average = $430.05
BIN with returns not accepted average = $413.62
Average percent gain by offering returns = 4% gain
10213 Maersk Train
BIN with returns accepted average = $252.14
BIN with returns not accepted average = $239.57
Average percent gain by offering returns = 5.2% gain
Percent average gained = 5.7%
Analysis: For our auction listings, I expected a minimal gain and that's exactly what we got. That seems to suggest that maybe there is that last bidder looking over the listing and decides to put one more bid in for a dollar more because they see that if anything is off, they can return it. This is nothing to base your whole decision to allow or disallow off of, but I think it is something to think about.
For the BIN listings, I think it's obvious it matters quite a bit more. If you are offering your item for quite about above everyone else's because it really is MINT, or you just like making big money, this only adds a bit of comfort to the buyer who is about to overpay for the item. 5.7% is pretty substantial.
Final Thoughts
So looking at the pros and cons, I would lean towards allowing returns on items. We established that there is a good chance you will get a little more money out of your listing, especially if you are listing something in a BIN listing for more money than it's normally worth. Ebay makes it hard for the seller to really enforce a return policy anyway, so it's easier to just offer it and make sure your listing will get top price.
But, you should definitely protect yourself. First off, always charge a restocking fee and always put that buyer pays shipping. In extreme cases you can always go back on this, but you don't want to be paying out of your own pocket for a buyer not reading your listing. Also make this very clear in the listing that the buyer pays shipping and the restocking fee will be collected.
Also, don't ever accept a return outside of Ebay's system. Make sure you only offer the return once you get the item back and require that the buyer buy tracking on the item when it is sent back. This will protect you from any bad situations.
Note: I am going to research more and see about writing an article looking at used set data. At the moment, I can't find enough controls to make it good statistical information.
What do you all think? Does any of this information make you feel different about offering returns?
Note: All of the information here are my own opinions and are pulled from my experiences. You may or may not have success with these methods.