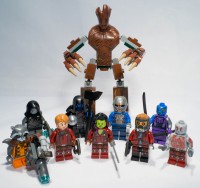 Welcome to a (maybe?) regular update on what I'm currently investing in. While some would prefer to read through threads to listen to various members' opinions about what they are buying – or not buying, as the case may be, I think some folks would rather save some time and get the real scoop on what Big Blue Dog Bricks (BBDBricks) is up to. In this case, putting my money where my mouth is and telling readers what I bought this week, and why.
Big Blue Dog Bricks: What I'm Investing In Now: Guardians of the Galaxy Edition!
I'm a small to medium-sized investor, height wise, weight wise and probably also in terms of total investment. I've sold around 30k or so (before fees, shipping, taxes, etc) in the last three years, so not big time but not exactly green around the investment ears. I started small, with about 1k in the first several months and built from there, so I imagine this post might appeal to those either at a similar level of investment or who want to move from having a closet full of Lego to a basement full of Lego without being a hoarder. (For clarification, the Macks are hoarders, in that they don't sell their sets, while I regularly shift inventory to make room for more inventory)
What I bought this week: Guardians of the Galaxy Sets!
It is time, sheeple, to follow my advice and grab a few complete sets of this line before the ship sails off into the EOL night. As an investment vehicle this small theme within the larger Marvel line has quite a few things going for it right now and not too many negatives.
Pros:
Pretty solid movie: I double checked the box office haul just now and, if Wikipedia is to be trusted, made $774 million dollars worldwide, which is perhaps a little more than 'solid'. As a casual superheroes fan Guardians of the Galaxy (GotG) wasn't well known to me and I imagine others were also not as familiar with GotG storylines, villains and heroes as well. Despite not being as ubiquitous as Batman, Superman, Spiderman et al, the movie managed to do pretty darn well. If people will spend money to go the cinema, it stands to reason they might want licensed toys as well. Of course, that alone isn't enough of a pro on its own, so let's also consider some other positives.
18 month mark:
The Milano Spaceship Rescue and Starblaster Showdown have already moved to Sold Out on Shop at Home. They may or may not come back, but as of this writing that is where these two sets stand. The Knowhere Escape Mission is still available, but it seems unlikely it will not succumb to its fate sooner rather than later. This week I grabbed six Milano sets from Wal-mart.ca, 50% off. I laughed when I saw the sticker on the outside of the original Lego shipping boxes – Do Not Put on Shelf Before June 1, 2014. Clearly, initial demand didn't require Wal-mart to open these bad boys up, or they perhaps got stuck behind other boxes and patiently sat in a warehouse somewhere for the last year and a half. At any rate, they are mine, now, and I love them (especially at 50% off) . Even though these might not be available at the official Lego website, it should be possible to get creative and add these sets to your stash over the next couple months from other retailers. 18 months is a standard (well, I don't know if this word applies to any Lego sets anymore) cycle and I'm glad they seemingly aren't extending production for a full two years (or more) which would make the opportunity window potentially much smaller before new sets hit with the sequel. Now is a great time to buy, as your hold time will be significantly less than many who hit up clearance sales last fall or this winter/spring/summer.
Definite sequel coming:
Always good news – wait, almost always? My worries with slightly less well known licensed lines is that they will drift more towards Lone Ranger or Prince of Persia type returns. It is easy to forget that LR still had a large box office return even though critics didn't especially love it (or even like it). Box office alone doesn't an investment make. A sequel slated for 2017 means GotG will certainly be back in front of the consumer in perhaps another 18 months. This could be a double-edged sword if the new (probable) Lego sets are too similar to those out now, or worse, a straight up remake of, say, the Milano. That being said, if the current sets get the retired tag there should be a window to sell, and a savvy Brickpicker should have leaks about the upcoming sets long before the general public does, and can act accordingly. Although I am buying these sets, I'm certainly not going 20-30 complete sets deep. I think it might be hard to move that many at a decent return and the window is too short to go all in, at least for BigBlue.
Easily collectible:
Unlike a lot of other lines, there are only three sets. I think this is advantageous for a few reasons. Number one, easy to invest in. I've spent the last couple of weeks searching out deals to get complete sets for future selling. Number two, easy for buyers to get all three at once without breaking the bank. It appeals to a lot more collectors. I personally hate starting to collect (for myself or my family) in a theme with a crazy amount of sets as I am a bit neurotic and like to have ALL OF THEM. Having an uncompleted theme of all the Hobbit or Lord of the Rings sets makes my brain uneasy. I think the phenomena is common, or at least I tell myself that to make myself feel better. This is a neat and tidy package of three, relatively easy to list and ship together. Having one offs, even if you got them at a great discount, might be harder to move even if priced well. As a collector, I hate paying for shipping more than once, so if I want sets I seek out lots. I can't imagine the majority of future buyers wanting to shell out over MSRP + shipping for one of the three sets, when listings for the whole line are also available. Obviously, those buying gifts or completing partially collected sets would be interested in single set sales, but my gut says most serious buyers post-EOL are going to be collectors looking for all three. Prove me right, Marvel collectors!
Cons:
There are cons, and not the convicts terrorizing the Lego City sets. Although I'm pretty confident the sequel will do well at the box office, even if it isn't as good or nearly as good as the original, the threat of a remade Milano scares me. Chinese counterfeiters scare me too, but I still think the target market I'm selling to is interested in the sets and genuine Lego products. Another major con is I think these have a definite ceiling in terms of growth. I've been able to source my complete sets at around 40% off MSRP or better (for all three) with some careful planning and buying, so I think my risk level is quite low. That being said, I don't expect double MSRP by next Christmas and would be quite content with perhaps 20% over MSRP sales. Anything more would be a bonus, and I'm only looking to move around 5-10 lots, definitely not more. These are a nice tangential investment for me, and might be a good call for a small to medium-sized investor who is looking for a short(ish) hold with a decent return, provided they are carefully sourced with maximal discounts. I'm certainly not advocating lining your stockroom with these sets, especially at or near MSRP, but I think there will be a window to make a decent return.
10