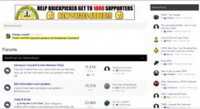 So, you've stumbled across brickpicker.com and are overwhelmed by the number of different threads, blogs and sets. First, welcome to this community. Lots of users will happily welcome you, others, maybe no so much. Especially if you populate different threads with a variation on 'what should I buy' or 'is this a good set to invest in'? 
I'd argue both of these questions (other than gifs and sarcastic rejoinders) form the basis of every single thread, so instead of asking about a particular set, check out the thread dedicated to that set and start at the beginning. I can almost guarantee that some posters like it (some will even give logical reasons why) as an investment and some posters don't (also, sometimes logical). It is your job to weigh these pros and cons and decide where your opinion rests. You, of course, are free to post questions like the two mentioned above, but the answer will probably just be rehash of things already mentioned in the thread earlier. That, and forum members may be slightly less inclined to be helpful if they feel you posted it because you are too lazy to go back and read the whole thread. They might even be sarcastic/mean about it.
A tidbit of Advice
If you've read the thread and still want advice, at least try to be specific. Perhaps state the price and quantity you are considering and your ideal hold time. I bet a post that asks a question in this manner will be much better received.
Quote

An example: I saw set "xxx" at store xxx for "$xxx.xx". I haven't invested much and would hopefully like to hold it about a year or eighteen months. Thoughts on how this set will perform in the next 18 months?
I know I'd probably answer this question with a little more insight and help than I would otherwise offer.
Now, that is for a single set which has a dedicated thread. What if you are a new investor/collector/browser or Lego aficionado and you want to ask about several sets at once? I offer you this, a shopping list of what you should be buying today (according to me). I am looking for these same sets for one reason: they are either sold out or retired from either the Europe or North America shop at home and I believe they aren't coming back. I also believe that they have some potential, and carry a very low risk because they are becoming harder to find at MSRP or on sale anywhere. That isn't to say they can't be found – some might be found quite online still, depending on your market. Others might be in store only, so this shopping list is a handy thing to check when out with the family browsing retailers and trying to kill time.
Veegs' Awesome Quick Guide of the Best Hopefully Soon to be Officially Retired or Already Retired in Some Markets Lego Shopping List. (Items may come back into stock. Not an official guarantee. Veegs is not responsible for your investment choices. Success rate may vary wildly.)
Architecture: A nice range for all budgets! This line is one of my favorites, and I think the new Cityscapes, while neat, aren't as desirable as the standalone sets, which will hopefully push demand for older sets. Availability in Canada isn't great, but I think Barnes and Noble in the US still have some of these (your area may vary). No clue about Europe or other markets, but I'd keep my eyes peeled for any of these.
At this point, I'm a buyer of any/all of these at MSRP
CITY: Quite a few City sets qualify for my list, but these are two I particularly like. The Ice Breaker was a Toys R Us exclusive (at least in Canada) and boats are, in short, awesome. The Snowplow is pretty cool, and there is no remake (yet) on the horizon. Could this be the next Logging Truck? (I bought a lot of them...still not enough) Unique City sets often do well, and despite the constant police/fire sets, the themes overall CAGR% is rock solid, so there is money to be made on this theme with the right sets. I'd include Coast Guard Patrol 60014, too, if you can still find it.
Disney Princess: I am a huge Princess fan. I think this theme is on the cusp of doing some great things for investors, and have a separate blog in progress. For now, though, I think this is the best pick of the four that meet the sold out/retired criteria. Only Rapunzel set so far (minus a 2014 polybag) and a massive fan base (including my daughter). Disney toy collectors are out there (my daughter watches so many Disney un-boxing videos and such...I experience it first hand) and I doubt we're getting another Rapunzel set anytime soon or a remake – rumors have Belle coming this summer. I love this set.
Friends: Quite a few others on the sold out/retired list but I gravitate towards these two. The Mall is a good anchor set for any town, and the last large Friends set to retire (Riding Camp) did well. I think this will do just fine in 12-18 months. I opted for the Beach House over a couple other mid-sized sets because Heartlake seems to have a boatload of stores but not that many houses. The new Emma's House and Livi's Mansion (although the mansion seems smaller than Emma's house?) bring some balance, but I think this set is one folks will pay double MSRP for to add to their collection.
Ideas: Gorgeous set, and the growth in the European market has me believing in this set more every day. From the dedicated thread for this set I know folks are still able to find this in North America and use coupons or other magic to get it on sale. Your skill level and experience may dictate that, but I still think it is a great set at MSRP.
Pirates: Short run for a theme, and this is the flagship of the line. Still floating around at MSRP in Canada, but plenty got in on sale recently. I suspect if it is available around you, you can probably wait and get it on sale. Unlike others on this list, I'd prefer this at least 20% off before going nuts.
Marvel: I was going to include Guardians of the Galaxy but I've already discussed those sets here:
Ant-Man is growing like Wolverine's Chopper Showdown did and should be sought out in your region and purchased. Easy to store and probably easy to ship, great set for a brand new investor to track down and buy. Check recent sold listings on eBay to see what I'm talking about!
Star Wars: These will be the hardest to find, even at full retail price. In case you didn't know, a new Star Wars movie came out in December 2015!!! There are a few others I'd throw on this list, too, but I think these four are the best of the recently sold out/retired lot. At least in the North American market.
The Hobbit: Stragglers are still out there from the third wave. It had the shortest run that I can remember from any/all of the Lord of the Rings or Hobbit waves and scarcity drives demand. Impressive sold listings for Lonely Mountain and Mirkwood Elves so I'd snap up remaining stock of this final wave. Unlikely to ever be made again and a huge fan base, coupled with the fact that there are no decent Medieval sets on the horizon (I'm not counting Nexo Knights, people!)
There are many other sets that fit my criteria (sold out or retired in at least one market) but I think these are your best bets, even at MSRP. That being said, I happily nabbed plenty of sets not on this list but at a discount. Obviously, if the set is sold out/retired and you can get it for clearance prices, you probably don't need me to tell you to consider it (unless it is Ninjago, The Lego Movie or Chima, then consider longer...still might not be a great buy in) and probably nab it. Remember items marked clearance probably won't be in that store when you come back, so don't hesitate too long. Do a quick check of Brickpicker values or a scan of recent sold items on eBay, and if you see it trading significantly above the clearance price I'd probably advise pulling out the plastic and buying.
Also, as per my exclusives 2016 article, no need for a new investor to start throwing money at exclusives!
I doubt we're getting a surprise winter/spring retirement of a bunch of huge sets (sarcasm – I expect zero, maybe one Star Wars set around May the 4th) so put your money into sets that are already primed for post-EOL growth. Probably the safest place to put cash, and you can get your feet wet selling some of the sets on this list tomorrow (Ant Man, for example) or in a few months. I daresay all of the sets on my list will be able to be sold for a decent profit in 9-10 months. Low risk, short hold time (if needed, most will benefit from longer holds before plateauing but nothing wrong with cashing out sometimes) and good to great upside. Winner, winner, buy BigBlueDogBricks a chicken dinner.
All photos courtesy of brickpicker.com, opted for one per theme discussed otherwise I felt it would be a little too picture-happy.
Happy Hunting,
Veegs
16