MEMBER OWNS SET:
YES

MEMBER HAS BUILT SET:

NO




FIRST IMPRESSION |

Score: 9

Who would not recognize this little LEGO droid at first sight?, I think this is probably one of the most easily recognizable characters in movie history, as even those who have never seen the SWs movies or anything have more than likely had an encounter with R2 in some way. The level of detail of this set is very impressive, as it has been with all of the other UCS busts that LEGO has been doing over the years. This is more than likely the most popular SW bust produced, along with Darth Maul probably, and to me it is one of the most iconic SW sets ever produced. If you are a Star Wars fan, then this is one model you just need to add to your collection.

Parts

The set does come with a handful of exclusive parts, plus several parts that can be considered rare (sets <6), but really nothing special for a set with over two thousand pieces. Most the rare parts come in the "earth blue" color, so if you are interested in those you should be checking out the complete list. Let's see which parts are exclusive to the set:

Twenty white 1x2 bricks with four knobs
Two white 1x8 technic bricks
Four "brownish" flex tubes (Color is described as multicombination)
Three medium stone grey disks
Four earth blue 1x2x3 wall elements
So you see, not really a lot of very important exclusive pieces other than maybe the flex tubes and the disks. I don't believe that the part collection of this set is really going to do much for its value in the secondary market.
Minifigures
The set comes with only one minifig, that not surprisingly, is R2-D2. In my opinion, it would have been really coll if LEGO decided to include an exclusive version of the droid in this set that would make it more valuable as a collectors item. Say, one with the third leg or metallized head. Anything of that sort would have helped a lot to make this set more appealing to me than it already is, but instead we got one of the most common SW minifigs ever.
PLAYABILITY/BUILD EXPERIENCE |
Score: 8
There is really not that much playability factor with this model, as it's usually the case with bust type sets. These kind of models are even more done for display that some of the other UCS sets based on actual ships. The model is sturdy, and you could probably move it around the floor, but there is really not mcuh more you can do. It does come with some gadgets shown in the movies and you can even rotate his head, just nothing I could see anyone spending a lot of time playing with.
As far as the build experience goes, this one is top notch. I have to say that I did not build the whole thing, as it was a gift for a cousin, but I did participate some and was able to watch him complete the whole thing in a couple days. It is a REALLY fun set to complete, especially the first couple of bags.I did not find it to be repetitive at all, only a little bit when completing the pair of legs, and the spots of technic style building inside the main structure is extremely fun as well. From the few UCS sets I have built over the past year, I have to say that this one is probably the one I liked the most.
VALUE FOR MONEY |
Score: 9
Let's take a look at the value for the money chart:
| | | | |
| --- | --- | --- | --- |
| Model | MSRP | Number Of Pieces | Price Per Piece (Retail) |
| | | | |
| 7194 - Yoda | $ 99.99 | 1,075 | $ 0.09 |
| 10018 - Darth Maul | $ 149.99 | 1,868 | $ 0.08 |
| 10225 - R2-D2 | $ 179.99 | 2,127 | $ 0.08 |
I think it is pretty clear that the pricing of this model is very consistent to that of previous UCS busts. Yoda being the smallest and oldest model of the three, and first of its kind, has a slightly higher PPP, but that is completely justifiable by the factors I just exposed about its size and age.
This is a perfect example where the pricing is consistent all the way with comparable sets, so it is my view that this means 10225 is a fairly priced set. Even more, this R2-D2 model is vastly superior in a lot of ways to its predecessors, in my opinion. It has a lot more interesting design features just by the fact that is supposed to replicate a robot instead of just head and shoulders that can't really offer much more than display value. R2-D2 comes with several different features that in my opinion just add a lot to the value you get for your money, like the retractable third leg, head rotation and the gadgets you can make visible or hide as you please. Plus, the variety of pieces included in 10225 is just so much better than in 10018 or 7194.
Given the very good price per piece, I do believe this is a good candidate to part out if you prefer to go that route. Still, none of the included parts is really that valuable at this point, so you may be better served by waiting a while before attempting to do this. I am not a fan of parting out UCS sets just because it seems to make much more sense to keep them sealed and make more money with less work in a couple of years, but it is completely up to each person to decide this.
THEME POPULARITY |
Score: 10
This set is part of the Star Wars Ultimate Collector's Series. If you take a look at Brickpicker's list with the average CAGR of all the LEGO themes that have been released, you will note that Star Wars is not really located among the top performers, with a CAGR of around 9%. However, that is mostly explained by the large amount of sets that have been released by the line, where there are bound to be several underperformers.Having said that, the UCS is a completely different sub-theme/branch of the SW theme. These are sets targeted directly to the hard core fan, collector and mostly AFOL community.
The Ultimate Collector's Series overall performance is what may very well be the reason a big chunk of current LEGO fans started thinking about the little bricks as an investment options. Every single set that has been released and retired so far has performed extremely well in the secondary market, with the one exception of Obi-Wan's starfighter that still says for pretty much MSRP. Even more, you could divide the UCS line into two more branches, one being the actual ship models, and the second one being the popular character busts.
If we examine the performance of the three busts and the one full body Grievous, we can see that the average CAGR of those sets is around 10%. This number can seem low at first sight, but you need to take into consideration the fact that the two earlier and top performing sets of this kind were released over a decade ago, and the CAGR figure is something that once LEGO sets stop growing significantly gets spread out over more and more years. In my opinion, once some sets have been retired for a very long period of time, it is best to go directly to the price over retail to figure out what kind of performer the specific set was.
If we do this, we will see that Yoda and Maul are currently going for 215.20 % and 348.14% over retail, respectively. Grievous is currently over 40%, but that is a more recent set than I am still in doubt about including it as an actual bust, it is just very different to the other two. Anyway, you can see that UCS busts are very good performers over the long term, so you would be very wise in picking them up while they are still in production and sell in 3 to 5 years.
This set is a LEGO exclusive. It is only found on LEGO branded stores, S@H, and the online stores of some of the larger retailers, including Amazon. It is still too early to tell if this set will be enjoying a production run that is either shorter or larger than average, but if everything goes like it should I would assume that it will last the typical 2 years on the market.
This set is part of the UCS line, that gives it some sort of extra exclusivity over the average LEGO set.
The box of this set is pretty large, as are most of the other UCS sets.The measurements of the model are displayed on the lower left corner, but other than that there is not really any markings that would make it stand out from other sets. The graphics are pretty cool and set up R2 in the center of the box placed in what appears to be one of the SW ships.
GROWTH POTENTIAL |
Score: 9
Let's set up our comparables table: (Data from Brickpicker)
| | | | | | |
| --- | --- | --- | --- | --- | --- |
| Model | Release Date | MSRP | CAGR | Current Market Value (New) | HPR* |
| | | | | | |
| 10018 - Darth Maul | 2001 | $ 149.99 | 13.31 % | $ 672.17 | 348.14 % |
| 7194 - Yoda | 2002 | $ 99.99 | 11.00 % | $ 315.17 | 215.20 % |
| 10225 - R2-D2 | 2012 | $ 179.99 | N/A | N/A | N/A |
*HPR: Holding Period Return, assuming the set was purchased at retail on the day of released and sold today.
The performance of these UCS SW busts over the years has been completely outstanding, and I don't think R2 will be the exception. Note that all of the characters that LEGO has chosen to recreate are easily considered as extremely popular over the course of the series, and it actually is my opinion that R2-D2 is the most popular of all three, by a wide margin.
10225 is also the first bust to be released in more than a decade, if we decide to leave out General Grievous from the conversation since it is somewhat different. Especially interesting is the comparison between R2 and Darth Maul's model, since they shared more similar price points and number of pieces than Yoda does with both. Stil, both of the sets that have been retired have appreaciated in a very similar way, so in this case I am not really sure those differences really play a role, or at least a big role.
Darth Maul was a very popular character from a very unpopular movie, and managed to produce an outstanding HPR despite that disadvantage. Plus, the piece selection is also very limited in that model, as most of it consists of black and some red parts. On the other hand, R2 is a major part in every single movie from the Star Wars series, with the advantage of being one of the main characters in the highly acclaimed original trilogy as well. In my opinion, his popularity is extremely more widespread than Maul's or Yoda's, something that will prove to be very positive in the appreciation of the model. Even more, it has a very interesting piece collection and several extra features the other two just can't compete with, while still keeping the high level of detail.
Value Prediction: R2-D2's popularity will be the main driver of its future growth, and I see it beating Darth Maul's performance easily in the secondary market. In my opinion, this set will produce a CAGR of around 14% by the time it has been retired by as long as 10018 has been, with a high growth period CAGR of around 20% until it matures around 4 years after retirement and starts growing more slowly at around 6% until it reaches its peak value, where it will maintain or grow very slowly from that point forward.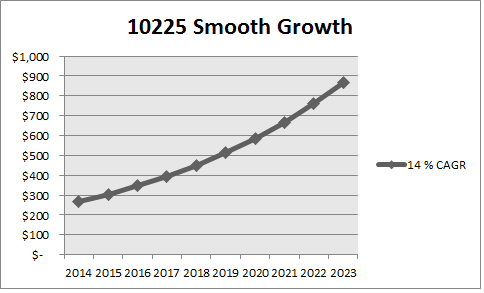 Note: This projections are not meant to be used as a way to determine the expected price on individual years, but rather to see trends and the expected value at the end of each period. For example, in 2023 you can expect the price to be close to $ 870, while if you use the two period chart you can determine also the expected price in 2018 to around $ 650.
DISPLAY QUALITY |
Score: 9
The set looks completely amazing on display. Almost every single detail of the little robot is present on the model, and the colors are just perfect in my opinion. There is also the option to display it both with its third leg out or just hide it using the retracting mechanism, that is probably the most impressive feature I have seen ever on a LEGO set of this kind.
There is no UCS stand included with 10225, since there is really no need for one, but it does come with the typical UCS fact sheet just like all the other models in the series. This is definitely going to be a set that will catch the attention of every single person that takes a look at your collection, since it is one of the most recognizable characters of the whole series. Even more, it helps complement your UCS collection, that is dominated by great looking ships and just a couple of busts like this one.
CONCLUSION & FINAL ANALYSIS |
Score: 9
The R2-D2 UCS set is a very complete set that guarantees some hours of building and display fun, while adding some very cool play features that can also be used to change its display position and look. Even more, its investment potential looks to be very promising, in light of the performance of the entire UCS line, but more specifically busts, and the fact that the robot is one of the most popular characters in movie history. Every single collector or fan will want to add this to their collection, and once it retires it will be a long while before LEGO decides to do a similar model, making the secondary market the only choice.
Really great set, you would be wise to pick up several of these before they go into retirement!