MEMBER OWNS SET:
NO

MEMBER HAS BUILT SET:

NO




FIRST IMPRESSION |

Score: 10

This is it, the most amazing, detailed and impressive model LEGO has ever released, in my opinion. I got the opportunity to see this set completely assembled a couple months ago and have to say that I was completely blown away at the size and the level of detail it included. I have several of the Star Wars UCS sets, and even though they are all amazing looking, none of them seems to even get close to how well designed this piece is. With over 5,000 pieces, this is the second largest model LEGO has ever produced, and actually the largest when it comes to actual dimensions.

In this case, size is not the only factor that makes the set so impressive. As said before, every single detail of the actual ship seems to have been included on the set. Even more, the MF is completely built minifig scale, so the 5 characters that are included in the set look really small and just the way they would look if the thing was actually real.

The Millenium Falcon is more than likely the most iconic ship of the entire Star Wars franchise, and its LEGO recreation matches that by being the single most iconic model the Danish company has ever produced as well. This is one of the sets I am sure almost every single person craves to own, and judging by the eBay sales activity, a lot of those actually go ahead and purchase the set even at the current extremely high prices.

Even if you have one of the largest LEGO collections in the world, this set will stand out over every single other set you could possibly own, even the Taj Mahal, ISD, etc. There is just none like it and probably never will.

Unique Parts

The set comes with almost 5,200 pieces, and you can be sure a lot of those are very rare or even completely exclusive, making this set one of the most expensive ones out there to recreate by purchasing individual parts (not to mention extremely time consuming). The couple of exclusive parts include a medium stone grey tube and the famous printed radar dish. This part alone will cost you no less than $ 40 on Bricklink, and if you want to accurately recreate the model then that is definitely a piece you will need to get. There are just too many pieces to list all of the very expensive ones, but just think about how expensive can it get to get the 60 levers you need (no less than $60, and to find that many sold by one store will certainly cost you more than that). So, just in those 61 pieces you have already spent around $100 at the minimum, at that is only close to 1% of the total part inventory.

If you are a true collector, I am sure you will be wanting to also get the UCS sticker fact sheet, the instructions and the box (let's just assume you are not interested in the certificate of authenticity for the 1st editions). Those three very important add-ons will run you about $180, $200 and $150 (used). Right there you are spending enough money to buy one non UCS Death Star and one R2-D2.

These expensive and hard to find parts and add-ons are just one of the reasons this set became so highly valuable in the secondary market. We'll talk about some of the others later on.

Minifigures

The UCS Millenium Falcon is one of the few sets to have been built actual minifigure scale, which makes the 5 characters included to look a lot better when placed in the model. As you can imagine, the characters included in this set are pretty much the protagonists of the whole original trilogy, so none of them is actually exclusive to the set. Included, you get Luke, Han Solo, Chewbacca, Leia and a exclusive variation of Ben Kenobi. Place them right next to the model and you will see just how big the thing really would be and how accurate it looks when compared to the one in the movies. The minifigures by themselves may not be that special, but they complement the ship EXTREMELY well.

PLAYABILITY/BUILD EXPERIENCE |

Score: 10

Unfortunately, I don't own this set so I can't really comment that much about the build experience, however, I did take a detailed a look at the instruction manual just to get a basic feel of the building process. As with pretty much all large UCS sets, the interior frame of the set is built with the use of a lot of technic pieces, and overall the model seems to not be repetitive at all, impressive for a set with over 5,000 pieces. Even more, the sheer size of the set will guarantee you at least several hours of building fun, and even several day if you don't push to complete it all in just one day. Large sets are the most satisfying to build for me personally, and spending such a long time to then see the model completed and get to admire every little detail feels like a great accomplishment.

Other than the great building process, there is really no playability with this set that I can think of. I guess you could sort of play with the model stationed and use the minifigures around it, but then I don't consider that to actually be a feature of the model, just a constraint of because of its size, weight and original intention as a display piece.

VALUE FOR MONEY |

Score: 10

Let's now evaluate the value for the money of this set, while it was still on the shelves:
| | | | |
| --- | --- | --- | --- |
| Model | MSRP | Number of Pieces | Price Per Piece (Retail) |
| 10221 - Super Star Destroyer | $ 399.99 | 3,152 | $ 0.13 |
| 10030 - Imperial Star Destroyer | $ 298.99 | 3,096 | $ 0.10 |
| 10179 - Millenium Falcon | $ 499.99 | 5,195 | $ 0.10 |
| 10143 - Death Star II | $ 298.99 | 3,441 | $ 0.09 |
I selected the top 4 largest UCS sets (not counting 10188, if you consider it a UCS) to compare with the 10179 Millenium Falcon, and even if none of them really gets closer than $100 when it comes to MSRP, I think the comparison is very interesting.
Taking a look at the table above you will notice the Millenium Falcon is actually pretty well price relative to some of the other larger sets of the Series. The most expensive of the 4 is actually the newer SSD, but the rest of them are actually pretty close when considering the Price Per Piece ratio. One thing that the MF has than neither 10030 nor 10143 have is the inclusion of minifigs, and that really adds a lot of value for a set that easily compensates any difference the set may have in PPP, especially with the DS II. Having 5 very popular minifigs to me has more weight than having a bunch of bricks for a slightly lower price and helps the buyer feel better for spending such a large amount of money for just one set. In retrospective, we can safely say that the price per piece was even more justified just for the fact of having so many hard to find and expensive pieces, but at the time of its release and during all of its production cycle there was really no way to determine how rare those same parts would become. Now it seems like a great deal, but at the moment it was just unknown.
Now that we have evaluated PPP, let's see about Price Per Gram
| | |
| --- | --- |
| Model | Price Per Gram (Retail) |
| 10221 - Super Star Destroyer | $ 0.057 |
| 10179 - Millenium Falcon | $ 0.049 |
| 10143 - Death Star II | $ 0.044 |
| 10030 - Imperial Star Destroyer | $ 0.033 |
Once again the SSD ends up being substantially more expensive than the rest of the sets, while the ISD is one of the greatest values. As for the Millenium Falcon, the set places in second place from high to low, but really close to the Death Star II. I would say that both sets, 10143 and 10179, are priced at about average for these kind of sets, while each of the star destroyers are either overpriced, 10221, or an extremely good value, 10030. Putting PPP along with PPG allows us to conclude that the Millenium Falcon was a pretty good value for the money while it was still available.
One thing that we need to consider when examining these numbers is the popularity of the ships. I think it is pretty obvious that more people would be willing to pay 5 cents per piece when purchasing the Millenium Falcon rather that getting the Death Star II, even if the latter is somewhat cheaper. The iconic nature of the set really gives it an edge over the rest of the sets in the Series, meaning that people are probably getting a better value just for the fact that they are also paying for the Millenium Falcon "brand" and design, just as it happens in some other aspects in life. When you consider all of these factors together, I think you can see why this set gets a 10 in value for the money. What's more, for people who paid $1,000 or so for their copies the set ended up still being a great value considering on where its current market value is.
Parting out this set at this point makes completely no sense whatsoever.
THEME POPULARITY |
Score: 10
The UCS line of the Star Wars theme is a completely different type of performer than the average SW set. Even though the numbers are included in the theme overall CAGR of around 9 %, this is one line that has seen great returns on every single set that has been released under it, with the exception of Obi Wan's starfighter that still sells pretty much for retail on eBay.
The Ultimate Collector's Series is the single most amazing collection of sets LEGO has ever released. I would say that every single set since its original introduction has been way above the average and of an outstanding level of detail and overall value. This is one line that would make for an excellent choice if you could only collect one type of LEGO to display in your home. So, having said that it should not come as a surprise that the target audience for this line of sets is more than any other the AFOL and the hard core Star Wars fan and collector. Given the high price point of most of the sets included in the series, you will be hard pressed to find kids able to afford even one of these sets.
We often see in the forums stories about how a particular set of this line brought some of the members out of their dark ages back into LEGO or at least made them take a look at the world of LEGO investing. The overall returns but in percentage terms and in actual dollar amounts is just something that can not be ignored, this is probably the most popular type of sets in LEGO's portfolio, and as such we are constantly seeing news sets almost on a yearly basis.
Just to give you some perspective about how good and popular these sets are in the secondary market, the average % change over retail of all of the retired sets is currently over 300%. I think it would be really hard to find a single theme that gets even close to that number.
Finally, with the new Star Wars movies coming out in the next couple of years, LEGO will not be short of content to continue the production of UCS sets. Even now with the first 6 movies having been released for a relatively long while LEGO has probably hundreds of ship and location designs that have never been produced, and in the case of the most popular ships like the X-Wing, they have even gone back and re-released a similar model, so that is also a card they may be willing to keep playing in the future.
This set was a LEGO exclusive and it was only available through LEGO and some of the online shops of large retailers. The set is also part of the Ultimate Collector's Series, a fact that in and on itself makes it more exclusive than the average LEGO set. As far as production run and length of availability, the set was on the shelves for a little over two years according to Brickset information, so above the average for most sets.
One thing I need to mention in this section that usually I do not include is the price of the set. This model had a retail price of $ 500 when it was readily available, a price point that I think kept a lot of people who would otherwise want it from actually purchasing it. Not everyone has half a grand to spend on what most see as a "toy", and this expensive price tag meant that the set, even if a great seller, did not reach as many homes as it would have if it had been cheaper. All of those people that at that point had not enough money to spend on the set but that really liked it and wanted to have it may now come back and get one in the secondary market.
Lastly, even if LEGO decides to do a remake of this set like they did with the X-Wing this same year, I am almost certain that it won't be anywhere near as impressive.
As you can imagine, the box for this set is pretty large. The design of the package itself is not the old UCS type, but rather the more colorful and newer version., that unlike some of the newer sets does explicitly state that the model is actually part of the UCS. Other than that, I am not sure if it is because I know how great the model is or what, but the box of the 10179 MF has always seemed impressive to me for some odd reason. The graphics are pretty much like those of every other Star Wars set, so I guess it is just how greatly detailed the model looks even in the big picture in the box.
There are actually two versions of the package, but they mostly differ in that the first ones had a small "badge" down and to the left of the box that identified the First Edition of these sets, while obviously the later models did not have this denomination.
GROWTH POTENTIAL |
Score: 10
Let's now take a look at the historical performance of the set since its retirement: Data from Brickpicker
| | | | | | |
| --- | --- | --- | --- | --- | --- |
| Model | Release Date | MSRP | CAGR | Market Value (New) | HPR* |
| 10179 - Millenium Falcon | 2007 | $ 499.99 | 31.19% | $ 2,622.00 | 424.41% |
| 10030 - Imperial Star Destroyer | 2002 | $ 298.99 | 12.40 % | $ 1,102.47 | 268.73 % |
| 10143 - Death Star II | 2005 | $ 298.99 | 14.95 % | $ 1089.19 | 264.29 % |
*HPR: Holding Period Return, assuming the set was purchased at retail on the day of released and sold today.
I selected the same sets from the value for the money section for comparison. What we have to evaluate in the table above is not so much the CAGR of the sets, since they have been retired for very different time periods, but rather the Holding Period Return (equivalent to % Change Over Retail). In this category, the UCS MF completely crushes any of the other two large sets by more than 100% in each case, a number that is very impressive when you consider the other two have had more time to grow AND had retail prices $100 less than the MF, so they would need to sell for not even close to what the MF is selling now to reach the same HPR. Also as said above, the average HPR for UCS sets is around 300%, so once again the MF is above average by a wide margin.
It is really not that much of a surprise to see that this set has outperformed most others, if not all the sets in the UCS. This is by far the most popular ship of the entire Star Wars universe, and that popularity translates to A LOT of people willing and able to make this set a part of their collection. You can be sure that any hard core Star Wars fan will need to get one of these to be able to say that the collection is complete, there is really no way around it. Another strength the set has going for it is how hard, expensive and time consuming it is to recreate 100%, as we examined on a previous section. Some parts are just extremely expensive, hard to find in the desired quantities, and the add-ons like the box, stickers and the instructions already cost more than most currently available UCS sets.
Now, I want to show you a graph that shows the % increases of each set above over the past two years to compare where the sets have been going in the relatively short term: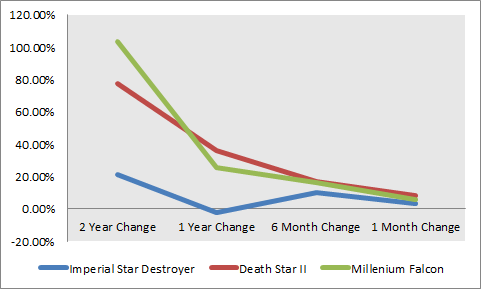 You can see in the graph above that the three sets have been experiencing similar trends when it comes to % changes. Logically, the farther back we go in history the larger the % change increase or decrease should be. If we go to where the MF was around 2011 we will see that of the three sets this was the one that grew the most in that period (2011-2013) with a % change of over 100% that, considering it was selling for around $1,000 by that time, is extremely impressive. It seems that over the past year the MF has increased more than the ISD (that has more years retired) but less than the DSII, that it's doing pretty well itself. Again, we have to remember that a 1% increase in the Millenium Falcon is almost double the amount of the same % increase in the other two sets.
With that out of the way, let's see where the Millenium Falcon has been going over the course of the past two years, as well as its sales trends over the past 12 months to figure out if it still is a worthy investment even at current market prices.
Very interesting graph. You see that the Millenium Falcon was selling at around $ 1,300 back in 2011 and in that short period of around 2 years the set has already doubled in value yet again. Those investors that had the foresight to invest in the set even when it seemed to be extremely expensive are now rewarded with a very nice ROI that at the same time is equivalent to a pretty substantial dollar amount. You can also see that the trend of this set continues to move up even in the short term, with it going up almost 6% relative to the past month alone. Of course, there are some fluctuations and periods of time in which the set has taken a dip in value as well, but overall the trend is upward and not the other way around.
Let's add this graph up with the one about sales numbers over the past 12 months: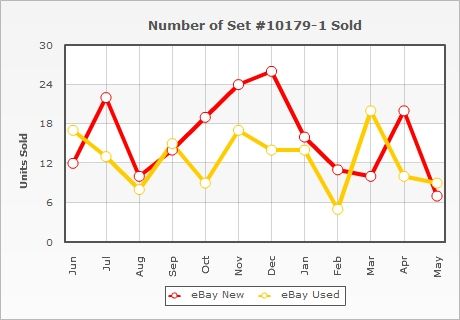 In the graph above you will be able to see that even at this very expensive price the set continues to sell a very respectable amount of both new and used copies every single month. The lower we have seen over the past 12 months was in the past month of May, with "only" 6 new sets sold and around 7 used ones. For a set with such a high price tag I think that the eBay activity is another indicator of its huge popularity. What's more, as the holidays approach we will start seeing this number rise up again in the same way it did in 2012 (you can see the growth in sales in the graph starting in September and peaking in December). One thing I do want to mention is that as mentioned in one of my recent Blog Articles this type of sets is vulnerable to what I called the December Effect. Let's see the value changes over the past 12 months so you can see what I mean:
Take a look at the December values and you will clearly see that the set dropped to its lowest point in the last 12 month period. In fact, the set lost over 12% of its value between the month of November 2012 and December 2012. This seems to be a constant trend with this very large and expensive sets, as I explained in my article, probably as a result of the collector and AFOL spending most of the money in holiday purchases and gifts as well as a larger supply of sets in the market that occurs in part for the belief that December usually is the best time to sell. If you are interested in more detail you can go ahead and read the blog, but for now I just wanted you to see that for a seller of a UCS MF, December may very well be the worst time while for the buyer it may very well be the best.
Taking all the above information and putting it together leads me to believe that this set's future growth prospects continue to be outstanding. With the release of the new Star Wars movies and possibly other movies dedicated exclusively to the Millenium Falcon storyline the ship is probably going to be in the big screen yet again in the following years, increasing its popularity and therefore market demand even more. Another thing I wanted to mention is that even if LEGO goes ahead and decides to do a re-make of the MF as they did with the currently released X-Wing, I see very unlikely that they will produce a model that is even close in piece count, size, detail and price as the 10179. Even if the model is a $400 set with around 4,000 pieces (something that in and on itself I see unlikely if we take a look a TLG past releases over the last few years), the new model will still be short by more than 1,000 pieces and will more than likely be smaller in size and detail as well.
Furthermore, this set will continue to be the Top Choice for the hard core collector and AFOL, that I think is for sure the audience purchasing it now at over $2,000. Most of those people willing to pay that much for a LEGO set will continue to exist in the future and demand for this set will continue as a result. What's more, every single month we know that AT LEAST six news sets are sold and I would say that at least half of them gets opened and built, in turn reducing the future supply of sealed 10179s.
I really see this set continuing is fast growth for many years to come, and someone willing to take a risk with the expectation of a very big reward should consider putting some money into this set now before it gets even more expensive. What's the limit with this thing, you say? Of course, no one knows for sure, but history has proven that those who though $ 1,500 for a LEGO set was the highest it would go were very very wrong. $ 4,000, why not?
This set is a perfect 10 in growth potential, both for its past performance and its future prospects.
DISPLAY QUALITY |
Score: 10
As said over and over in previous sections, this is probably the best LEGO display set you can get for your money. The size of the thing is completely unbelievable and will dwarf sets even as big as the Imperial and Super Star Destroyers, plus it is built to minifigure scale, something we don't get to see much and that makes the sets look even more real when placed along with the characters. Once you get over its size, if you ever do, you will start noticing just how greatly detailed the ship really is, with almost everything you can remember from the movies in its proper place.
There is really not much more I can say to describe just how cool this set is when completed, you have to see it for yourself.
CONCLUSION & FINAL ANALYSIS |
Score: 10
What else there it is to say about this set? I really feel I have expressed pretty much everything I can about this model in the above sections. But for those of you who only read the conclusion, let me summarize some of the most important aspects:
HUGE set. In fact, this is the largest set when it comes to dimensions LEGO has ever released.
Amazing level of detail. It looks just like the real thing.
Minifigure scale
Includes 5 of the most important characters
IMPRESSIVE display value
Good value for the money, even at current prices.
Very long build. More hours of fun.
Investment potential and past performance unmatched by any other set ever released.
Collector's dream
I will leave you with this:
The 10179 UCS Millenium Falcon is the only set I would ever consider giving a perfect 10. And it has earned it.