MEMBER OWNS SET:
YES

MEMBER HAS BUILT SET:

YES




FIRST IMPRESSION |

Score: 9

Darth Maul's Sith Infiltrator is the 3rd Infiltrator to be released by TLG. It was designed by Darth Tenebrous and produced by Sienar Fleet Systems. The Infiltrator was an extensively modified version of a prototype for an advanced Star Courier. It contained a cloaking device and three DRK-1 Dark Eye probe droids togetther with the speeder bike Bloodfin,The ship is the predecessor to the Tie-Fighter series. The ship was christened Scimitar by Darth Maul when he got the vessel from his master Darth Sidious. The scene depicted on the box is when Darth Maul is sent to track down the missing Queen Amidala of Naboo, along with her entourage and her pair of Jedi guardians Qui-Gon and Obi-Wan. Their ship broke down and they were stranded on the remote desert planet of Tatooine. It was to this locale that Darth Maul finally tracked Master Qui-Gon, who only narrowly escaped.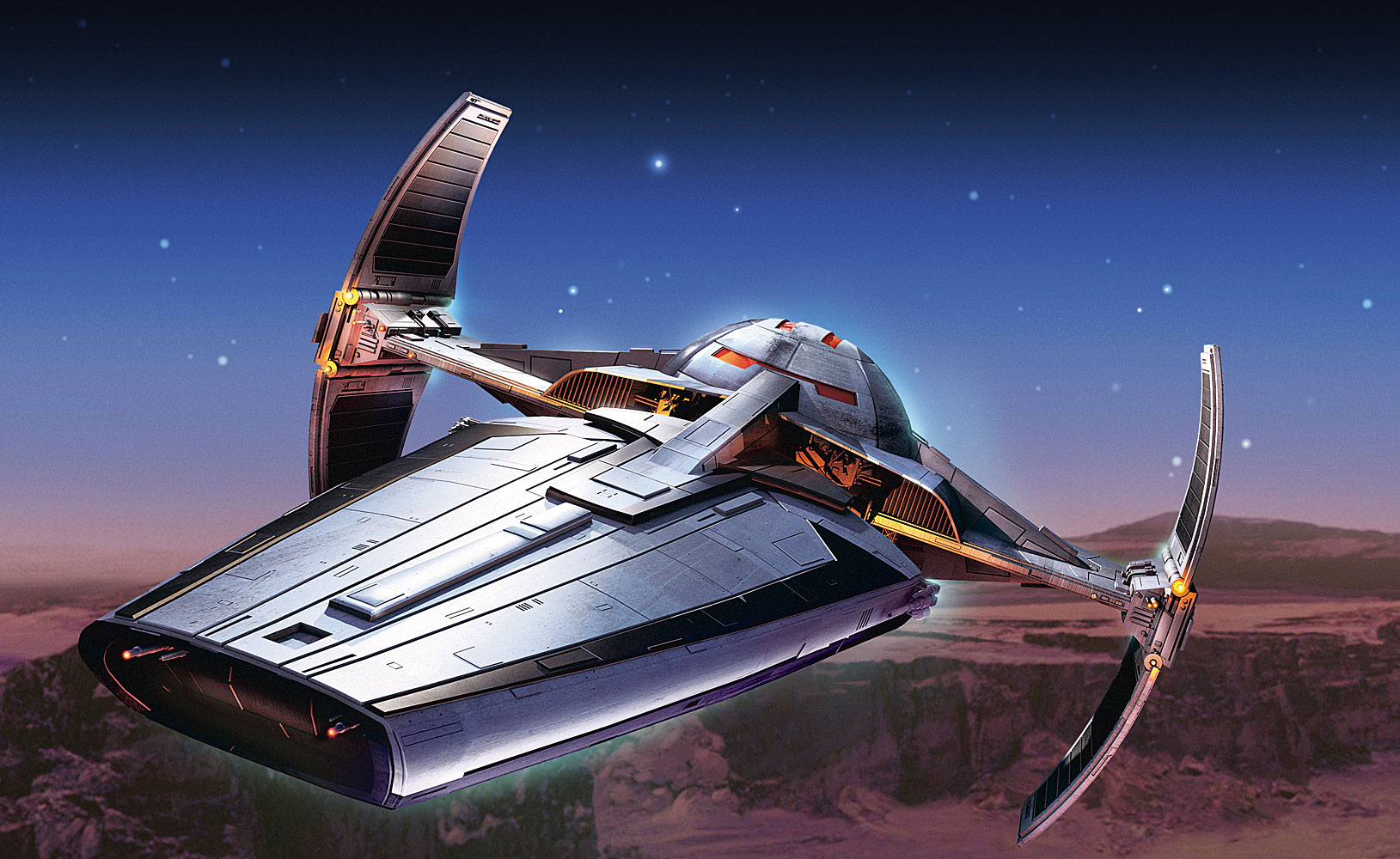 "There exists no other ship like it." - Darth Sidious
This set is based on the first movie of the Prequel Episode 1 - The Phantom Menace. It has 479 pieces and 4 minifigures.
This is my second review of a Star Wars set and the first new box I open. The first Emperor's Palpatine Shuttle was somewhat of a letdown so I am hoping for this set to make it up. It has the key ingredients for me. It has Darth Maul in it, it looks cool on the box and it is a relatively small set which is good as my display space is extremely limited at this moment.
Minifigs:
Captain Panaka: Nicely designed figure. Torso has great detail. Love the gold color on it. The back is printed too. The hat is nicely designed. Overall the colors match very well. The pants is generic but not that common color. The figure is unique to this set.
Padmé Naberrie: Not bad. It is dual faced, one serious and a happy one. Always nice to have. The torso is rather plain. It has few details and the colors don't do it for me. The back is printed tho. Pants are generic black. The hair is nicely designed and fits her well. That's the largest plus for this minifig. Unique to this set. The least favorite one this set.
Qui-gon Jinn: Always have difficulties with this name. Perhaps it seems a bit boring, but closer inspection leans me that it is actually quite nice. The face is quite detailed. The torso is very standard but quite detailed and a nice golden buckle and back-printing. The pants is generic brown with no printing. Qui-gon also carries his brow cape. The hair is pretty neat and detailed too. It is unisex. Unique to this set.
Darth Maul: Probably the reason why I bought this set in the first place. I didn't have a Darth Maul and the Darth Maul in set Mandalorian Speeder was simply not the same. Other legs, other torso, no cape, no double lightsaber. I also wanted to display the Scimitar for a while so this one worked out better for me. It has a very detailed head that comes with the special horn piece (you get an extra one in spare parts btw). Looks pretty neat! You can of course also add the hood instead of the horns. The torso is pretty boring and it has no back printing. The pants are generic black. It has a double light saber! And that alone makes this figure the favourite one of the set.
Unique parts:
I don't think there are many unique parts in this set.
Rebrickable notes there are a total of 461 parts, with 143 unique parts/colors.
The quarter sphere seems pretty unique in that color.
2 printed parts: a dish and control panel.
Good amount of dark red birck and curved pieces.
The stickers. There are 15 of them and that is limit for me. They are pretty good but the less stickers, the better.
PLAYABILITY/BUILD EXPERIENCE |
Score: 9
The build experience was not bad, good even. It felt quite sturdy when building the vessel. The cockpit is pretty nicely done and heavy. There are plenty of curved pieces that have the effect that it's not a blocky piece of spacecraft. The opening of the cockpit with the little steps down and the glove compartment for the light saber is probably my favourite part of the thing. It's nice Darth Mauls nice cloak doesn't get wrinkled because he has to sit down.
What I did not really like was the landing gear. When I was done building, I though I must have forgot something. It's not bad, but it could have been done better. Perhaps add another part on the back. I don't know how to improve it. It will still display fine I guess.
The general design of the ship is something I really like and TLG translated it well in making it a sleek, sexy spacecraft. The adding of the 2 is also nice and especially to let them come out of the ship. It really works well. The entire front can be lifted and inside, you'll find the DRK-1 Dark Eye probe droids and the speeder bike Bloodfin. Both are a good addition to the set. The front isn't lockable so when you 'fly' with it, it might fall open by itself. This might have been approved also.
I wasn't bored at any moment during the build. There was no real repetitive work and it didn't break while building so I have to give it credits for that. The nice round shapes and arches that go in arches was definately nice. Also the red touches in the gray interior are a great move. It seems very gray from the outside, but inside it has plenty of red accents. A great set imo for build experience.
As for play experience it's not bad. You have Darth Maul vs Qui-Gon, there is the little speeder and the Dark Eyes which can be launched via a lauching (or actually dropping) mechanism. The vessel has Just with this set by itself, I'm sure you can have a good time already. I guess the bad part of this set is, that there is no Nubian Cruiser released by Lego so that is a bit sad that you can't put those two against one and other. Nonetheless, I am sure this set is very good at being a playset as long as you keep its nose closed in flight.
VALUE FOR MONEY |
Score: 5
So here lays the problem with this set.
It has 479 pieces for 69.99€ and that comes to 14,61 c/brick! If you see that number, you would deem for it to be bad value for money. But let's thing about this, the set has alot of large parts so I am sure when you go on a price per weight ratio, it would look alot better.
And of course you get the minifigure of minifigures, Darth Maul. I love Darth Vader, but I adore Darth Maul. Of course I can't look in the future, but this might as well be the last prequel Darth Maul we will see. The Maul from the Mandalorian speeder is of the clone wars and simply not the same (although it does look nice next to his brother Savage Opress.
So in short, is it worh to pay this much for the set?
No.
It's a very nice ship and it has nice minifigs but thinking parents would cough up 69,99 for it was very optimistic pricing. Idealy it would have been 49,99 (that is the price I paid atm for it).
THEME POPULARITY |
Score: 10
STAR WARS is an immensely popular theme but there are certain subdivisions in it.
The first movie, Star Wars, was released in 1977 and episode 5 and 6 were released with a 3-year interval. Those movies are known as the OT nowadays. The first 2 movies were more popular than the last one. The people that appreciated the movies back then when they came out should be around their 50's now.
The first movie of the prequel was launched in 1999 and the 2 following films were released again with a 3-year interval. The reception of these movies were far less than the first but nonetheless, people could still enjoy it. The 3rd movie was the most popular one. People that enjoyed those movies are around there 30's now and in the prime of their collecting.
There are also the CLONE WARS. A 2008 animated movie released in august (while the rest of the movies were released in may). Critics didn't like it one bit, but it still managed to be a moderate succes in the box office.
Remember how people talked about the Star Wars prequels like they were the worst movies ever made, when really, come on, they weren't THAT bad? The Clone Wars actually IS that bad.
— Film critic, Eric D. Snide
In 2015, we can expect and episode 7 of these movies. Knowing Disney (and the 4 BILLION$ they paid) it will be a very large effort to continue keep this theme alive and popular.
This set comes from the 1st movie of the prequels but of course what has it going for it, is that it is probably the most popular minifig of them all in it.
The Sith Infiltrator never sold en masse and that makes it a bit more exclusive. It was however available about everywhere in B&M's and webbshops and discounted quite heavily sometimes (to the price it should have been in the first place)
Front of the box is rather nicely done. It shows a battle scene between Qui-Gon Jinn and Darth Maul. Cpatain Panaka and Padmé come to the rescue. The infiltrator is landed on Tatooine. The brown of the dirt and the blue match nicely. It has the minifigs displayed on the bottom right corner and the clone indicating the series in the top right. A very clean and inviting set-up.
The back of the box consists of the craft landed in the same position as on the front, but with the front and back part opened. It shows the movement of the wings and gear. To the left, a bit of a minus for me is the referring to the other ships from that series. The color purple used for the background blends magnificently in with the dark blue and dark gray. A very nicely designed box to say at least.
GROWTH POTENTIAL |
Score: 7
I'm rather positive for this set.
It has some things going for it and that being mainly the Darth Maul minifigure but also the ship itself. Of course the ship has been released before 2 times
7151-1 Sith Infiltrator: Released in 1999. No MSRP available on brickpicker but I assume the price new now is still under the MSRP. It is not so surprising if you look at 2 things. It has 244 pieces so for a ship like the Infiltrator, it's just too little... and for second, it was ugly. Darth Maul can boost a set but even with him, Vader, Yoda and Chewbacca in it, this set couldn't be helped. (actually it could, but I guess you get the point)
7663-1 Sith Infiltrator: Released in 2007. No MSRP available but I estimate it was around 39.99. It is hard of course to actually say this was a good deal withoutuknowing MSRP for sure. It has 310 pieces and 1 minifigure being Darth Maul. It was more desirable as a set, the ship looked already alot better and more streamlined but it was not particular a such technically well designed ship.
Honestly. As a set, 7961 is far superior than its predecessors. It has double the pieces almost of 7151, builds further on the design of 7663 and has 4 minifigures togetther with a Darth Maul with horns. 7961 is the first set that featured this add-on for the head.
There are more Darth Mauls around to get. There was a polybag available, an x-mas edition and the one from the Mandalorian and so on.
It is the best looking and most (dis)playable Sith Infiltrator that Lego released.
The set has been released in 2011 and it is yet recently (6 months) that supplies have disapeared from the shops here. Brickpicker CAGR is -2,34 at this moment. So for a set of 2011 it's not that good. Its current new value is 65,19€. But there is change coming along. A noticeable gentle upgoing graph is forming. It's hard to predict the future of this one, but if you bough them with any of the reductions, it's a medium to good investment.
DISPLAY QUALITY |
Score: 8
It's a nice ship. It earns it's right to display for a couple of months. A good sized scaled ship with some nice curves and a well designed minifig pilot.
CONCLUSION & FINAL ANALYSIS |
Score: 8
I like this Sith Infiltrator set. It's a nice size ship with 4 good to very good minifigs. Too many stickers. Good parts and nice colors. Very sturdy thing too. Has some design flaws but will probably be the last of its kind.
EOL at moment of writing
The MSRP was bonkers
Investment wise is a big question mark