MEMBER OWNS SET:
YES

MEMBER HAS BUILT SET:

YES




FIRST IMPRESSION |

Score: 10

The LEGO Store Employee was a pleasant surprise to find in your LEGO S@H order in the Fall of 2013. These exclusive minifigures were distributed via LEGO's online store to thank their customers for shopping at LEGO, and to celebrate the launch of the mobile version of LEGO's website, a development that probably should have happened years ago. These minifigures came in a paper envelope as seen below: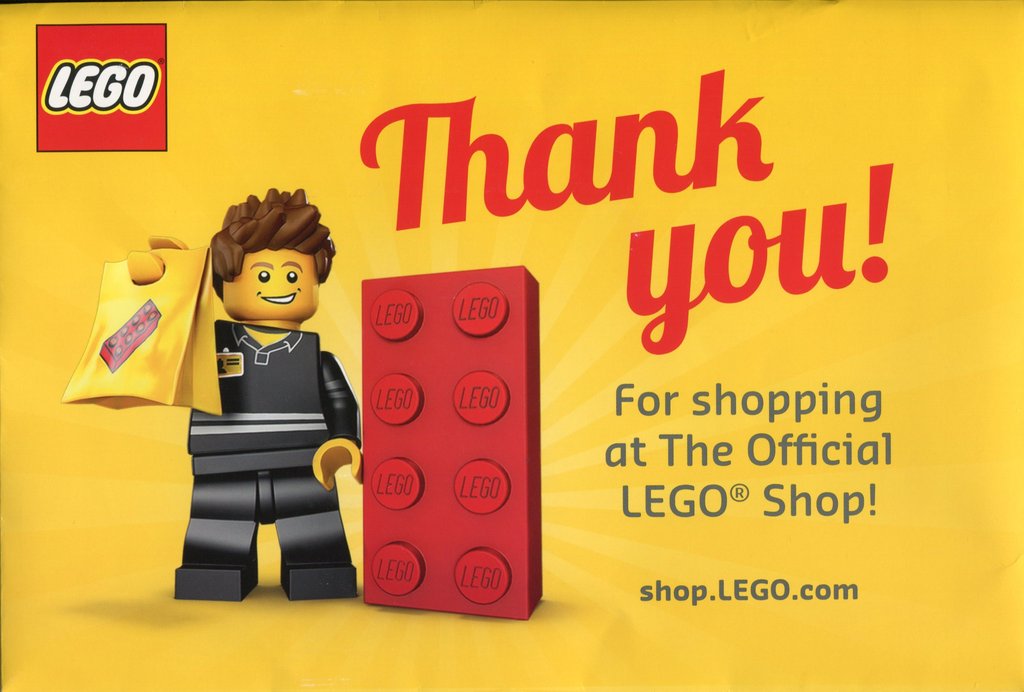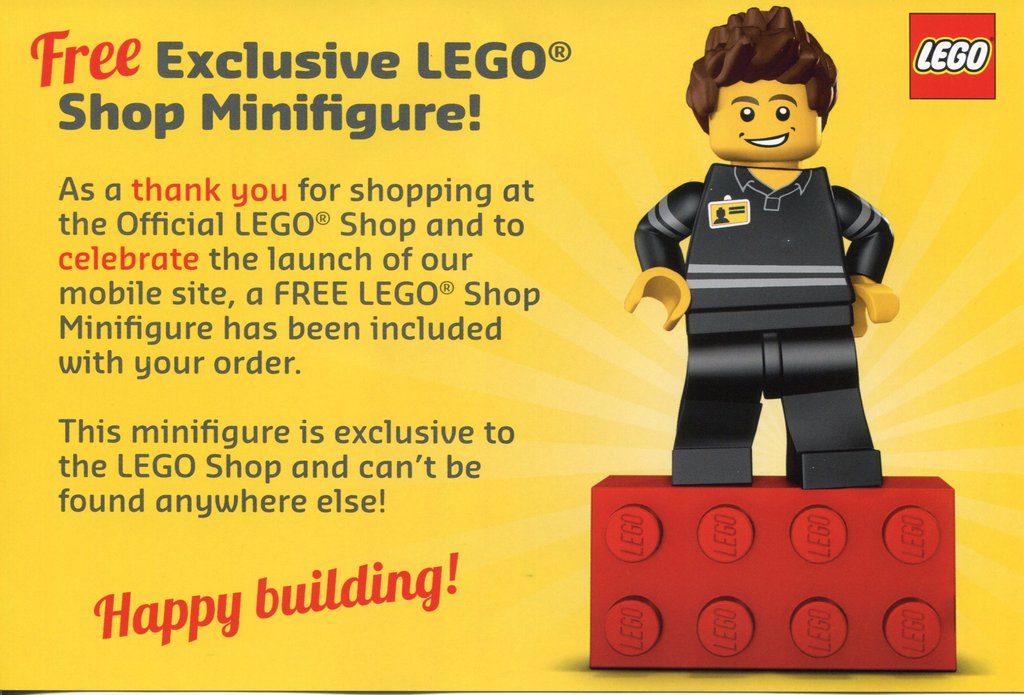 When you get a look at the actual polybag, it is exactly what it appears to be in the picture. A male LEGO Employee dressed in the UK garb, and a standard red 2x4 brick. Overall, I'd give this polybag a 10/10, because the polybag was distributed completely by surprise on ALL ORDERS. In fact, you could buy a $10 set, plus the Employee polybag, and then sell the polybag off to get it essentially free.
There are a few common pieces in this polybag, but the torso, head, and hair are really unique. I think the torso could eventually be in high demand because for any LEGO Store MOC's (My Own Creation's), you will likely need the torso. The other pieces aren't really essential to any set or type of MOC, but the hair and head could probably be used in a surfing/beach MOC. Overall, a 7/10 in terms of rare minifigures/pieces.
PLAYABILITY/BUILD EXPERIENCE |
Score: 8
For the fun of it, I decided to build this set inside the bag, without actually opening it, which I thought was fun. Really the building process should only take less than 10 seconds, because there are only 5 pieces. I think that this minifigure does have a "fun factor" to it, because it can be used in many different types of situations. LEGO Store MOC's, store robbery, etc.
The only minus for me is that I think LEGO could have been a little more creative with the pieces (other than the minifigure) that they gave us. Maybe a mini cash register, as seen on the main LEGO VIP Program page (image below).
If LEGO had chosen to include the above build rather than a lone 2x4 brick, the value of this polybag would have been significantly higher, probably $15, and it would overall be a more appealing and interesting build. Still, this polybag receives an 8/10 in terms of playability and build experience.
VALUE FOR MONEY |
Score: 10
As a promotional polybag, and therefore free polybag, I think this is the best value for money that you can get. There really isn't a way to lose on this unless you bought it off eBay for reselling purposes. I personally don't think that this polybag would work well in terms of parting out, because I can't imagine 5 fairly generic pieces fetching a higher price than the approximately $12+ it goes for on eBay right now.
THEME POPULARITY |
Score: 1
Not really in a theme, so I can't say much here.
This set is a pretty exclusive set, since it was only available in Fall of 2013, and was never advertised anywhere. This set came free with all orders starting in mid-September and continued to late October 2013. This set was sent to all orders that were shipped or placed within that timeframe, which is still a fairly large amount. During this time, there were also 2 other promotional giveaways happening, so many LEGO fans were able to get all three with orders above $75. The other polybags were the Volkswagen Camper polybag and Star Wars Clone Lieutenant.
Only mediocre packaging, and overall not extremely pleasing to the eyes, mainly because it is a fairly generic scene with little going on in the background or on the actual image. The envelope that the polybag arrived in was a pretty nice effort on the LEGO Company's part, but really wasn't too eyecatching if someone were to browse through a series of images of LEGO polybags over the years. There are definitely more appealing ones from the past, including the very recent LEGO Super Heroes Martian Manhunter polybag, which goes for $3-4 more even though distribution only stopped less than a month ago. The Martian Manhunter would definitely be a better investment because it has more fans, quite obvious by the fact that it "sold out", leaving some without the polybag.
The other two polybags that this polybag could have come free with are the Volkswagen Camper mini-build, and the Star Wars Clone Lieutenant. Both could be sold for more, the Volkswagen Camper because it goes well with the larger, full-sized set, the 10220 Volkswagen T1 Camper Van. The Clone Lieutenant would do better because Star Wars has a very large following.
GROWTH POTENTIAL |
Score: 5
I don't really think that this set can move very much and won't be a good investment if you try to buy one off the secondary market. It will likely maintain its value, and won't decrease because there isn't very high demand for the polybag. To compare, the LEGO Employee sold about 40 copies last month on eBay, while the 40079-1: Mini VW T1 Camper Van sold over 100 copies.
DISPLAY QUALITY |
Score: 4
I think this minifigure is a decent display as long as it is displayed with something else, like a LEGO Store or other minifigures. As a standalone set, this polybag doesn't really stand out or stand out compared to other minifigures or sets.
CONCLUSION & FINAL ANALYSIS |
Score: 7
Overall, I think this is only a mediocre polybag, but the production exclusivity is the redeeming factor. I came to a 7/10 in this category because of the following reasons.
Pros:
Exclusive
Unique
Free, so can't lose when you resell it
Cons:
Little room for growth
Doesn't stand out when built, compared with other LEGO sets
Doesn't stand out in general, when compared with outer LEGO sets