Review from: comicblast
Reviewed on: Apr 20, 2014

Join Date: 12/28/2012
# of Reviews: 67
---
DIRECT LINK TO REVIEW:
View Review
MEMBER OWNS SET:
YES

MEMBER HAS BUILT SET:

NO




FIRST IMPRESSION |

Score: 9

LEGO S@H PRODUCT DESCRIPTION:

Launch an ambush attack on the Sauron Army from the Pirate Ship!

On the shores of Minas Tirith, Sauron's Mordor Orcs prepare to greet their allies aboard the Pirate Ship – but all is not as it seems. Pull up alongside them, drop the anchors and lead a surprise attack with Aragorn, Gimli, Legolas Greenleaf and the Army of the Dead. This majestic Corsair ship features 3 large sails, removable rear section with dungeon and Pirate of Umbar prisoner, firing crossbow and loads of armor and weapons! Capture the Orc catapult and lead the glow-in-the-dark King of the Dead and his soldiers into battle at the War of the Ring! Includes 9 minifigures with weapons and accessories: Aragorn, Legolas Greenleaf, Gimli, 2 Mordor Orcs, the King of the Dead, 2 Soldiers of the Dead and a Pirate of Umbar.

• Includes 9 minifigures with weapons and accessories: AragornTM, Legolas GreenleafTM, GimliTM, 2 MordorTM Orcs, the King of the Dead, 2 Soldiers of the Dead and a Pirate of Umbar

•Features 3 large sails, removable rear section with dungeon and Pirate of Umbar prisoner, firing crossbows and lots of great Middle-earth Corsair detailing

• Also features firing Orc catapult with wheels

• Weapons include 3 swords, 3 crossbows, 3 spears, axe, long axe, bow with quiver and a longbow

• Accessories include 10 plain shields, 14 decorated shields, shackles, 2 torches, 2 keys, rat, bread, diamond, coins, maps, goblets and a chain

• Lock up the Pirate of Umbar so he doesn't escape!

• Fend off the Orcs with the crossbow!

• Turn off the lights to see The Army of the Dead glow in the dark

• Drop the anchors and lead the charge against the Orc forces

• Measures over 13" (35cm) high, 23" (60cm) long and 5" (14cm) wide

• Catapult measures over 1" (5cm) high, 3" (8cm) long and 2" (6cm) wide

The Lord of the Rings Pirate Ambush set is a huge set (third largest in the Lord of the Rings theme, not including Hobbit sets), is probably more memorable and iconic than many of the other larger sets in the theme. I'd argue that it is a better set than the Mines of Moria (9473).
Upon first impression, I was fairly impressed by the set. With 756 pieces, and a design that is reminiscent of old Viking ships, this set definitely has a lot to offer. It is massive in size, and there are quite a few collectable minifigures included in the set. There are nine minifigures, five of them exclusive, including the King of the Dead, and two Soldiers of the Dead.
MINIFIGURES:
This set comes with 9 minifigures, 5 of them exclusive to this set! This makes a lot of the minifigures highly desireable, and hense, the set as a whole, more impressive.
GIMLI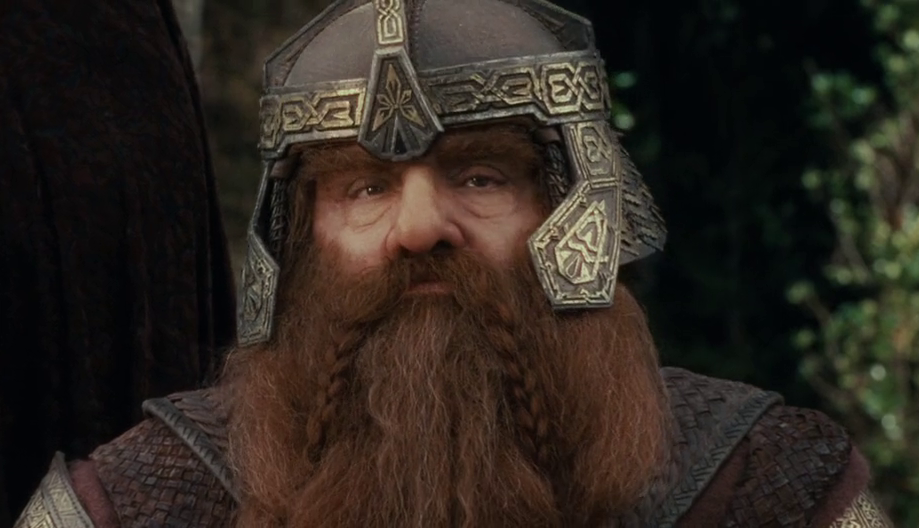 Gimli is found in a total of 4 other sets, and this is the only version of Gimli currently available in full-size (micro-figure exhists). As Gimli is a dwarf, he has short, unbendable legs, like that of Yoda and other smaller characters. As seen above in picture 2, Gimli wears a dark red tunic with chainmail underneith. This is usually obscured with the luscious locks of beard hair.
Contrary to many helmets of other knights or warriors, this helmet has been adjusted to be much shorter than others, in order to fit on top of his beard piece. Thus, normal helmets will not fit on his head. Gimli's helmet is remarkably movie accurate, as seen in picture 3. Gimli's face is double-printed, so of what little we can see over the beard, one side has a more battle-ready expression than the other. Since we can't really see the facial features of Gimli when his helmet is worn, I don't really understand the point of having a double-printed face, but I still like that the LEGO Company put it into consideration. Overall, I really like this minifigure for its accuracy.
LEGOLAS
Legolas is possibly one of the most iconic characters in the Lord of the Rings movies, which creates really high expectations for the minifigure version. The printing on the torso and legs is done really well, and I think it works great to emphasize the Elfish-ness of Legolas and also shows the simplicity Legolas also seems to carry with him. My favorite piece in this minifigure is the hairpiece, because of the ears. It was very cleverly done, attaching it directly to the hair-piece, and matches well with the flesh-coloring we see in his face and hands. Legolas has a double-printed headpiece like most of the other minifigures in this set, but unlike Gimli, the face is a larger difference. This minifigure has a furious face on the opposite side, not shown above, and a grimaced mouth, which I prefer over this one, since it seems to encompass his ability to fight more than it would with passive features. Once again, this minifigure is done really well, especially the new printing and hairpiece.
ARAGORN
Aragorn, one of the most heroic characters in the story is done well, with a certain ruggedness about him, with earthy colors suggesting his status as "Ranger". Of the minifigures reviewed so far, I like Aragorn the least, because the torso and legs don't match in color, which is odd, and overally a turndown of the set. In addition, the torso and head don't match, because the small triangle on his chest is tanner than his face, which is another turndown. The face and hair are pretty accurate, which is relieving. Once again, this minifigure has a double-printed head, with a calmer expression on the opposite side. Overall, I'd give this minifigure a 5/10, since it is a poorly designed and printed minifigure, and overall not very appealing in comparison with other exclusive minifigures in the set.
MORDOR ORC
Next on the minifigure list is the Mordor Orc minifigure. Two of these figures are included in this set, but the figures themselves are identical (one is given a breastplate and sword while the other is given an ax). Overall, nothing out of the ordinary compared with other Orcs. It has a double-printed head, but instead of a face on both sides, hair is printed, which looks dreadful. I think the LEGO Company should have given this minifigure a helmet, and a more Orc-ish sword, like those in the Black Gate set and the Uruk-Hai in the Uruk-Hai Army set, because they look pretty boring in their brown outfit, and not very fearsome or threatening, where as the Orcs found in other sets are more authoritative and pose more a threat. Overall, this minifigure receives a 7/10.
PIRATE OF UMBAR

This minifigure is called the Pirate of Umbar, by the LEGO Company, and basically is one of the original sailors of the Pirate Ship, before it was taken by the Soldiers of the Dead. In this set, he is chained to the main mast, and has a two-faced head, one side fierce and ready to fight, while the other is fearful and panicky. Overall, a pretty nicely put-together minifigure, I like the torso printing with the belts and bands running across his chest, and his hair, which helps reinforce his pirate status. Since this is a generalization of the pirates, I think LEGO was especially good at summarizing the overall look of the pirates. The only think I feel is missing from this set is another pirate to accompany him, as it is pretty boring having only one pirate defend this ship while it is high-jacked by Legolas, Aragorn, Gimli, and the Soldiers of the Dead. Finally, the facial printing matches the rest of the minifigure, so I gave this figure a 9/10.
SOLDIER OF THE DEAD 1 & 2 & KING OF THE DEAD
Finally, we come to the Soldiers of the Dead, and their leader, the King of the Dead. I think TLG did a fabulous job on these minifigures, and am especially happy that they did not make the minifigures skeletons, and instead stuck to a traditional minifigure. There are only a few differences between the two soldiers, the torso and hand colors. Not much to say about that, though! Even though it seems that they have different heads, they are identical, it is just that the head is double-faced, so you can change their expressions...and YES, their heads are glow in the dark! The rest of the minifigure is not, unfortunately, even though the ribs and arms do look like they might glow. All three minifigures have identical leg pieces, which are printed nicely, and surprisingly fit well with each individual outfit. For the King of the Dead, he is mainly set apart with his crown and red cape, which are normally molded, but the face is different (glow in the dark), with more sinister and sly features. I don't like the torso as much as I do the Soldiers of the Deads' because you can see the through the rib cage and see the chainmail that he wears on his back. It just isn't very movie accurate, but other than that, the green tunic that he has printed on goes well between the torso and leg pieces.
OVERALL, the LEGO Group did really well with these minifigures, espeicially with the exclusive ones, and overall, the print and design was done well and meets my expectations, so this set's minifigures get a 9/10.
PIECES:
This set doesn't really come with any new or revolutionary pieces, the rarest being a gray wing piece that is found right behind the first sail, but on the bow of the ship. A nice touch by LEGO is a brick seperator, so if you don't have one already, it can be a very helpful instrument to work with, when disassembling your LEGO set. Overall, not very many new/exclusive/unique pieces, so I gave this set's pieces a 7/10, bringing the overall average for this part of the review to an 8/10.
PLAYABILITY/BUILD EXPERIENCE |
Score: 9
This set is a really nice set to own, really because it is from one of the greatest battles in the whole Lord of the Rings movies trilogy, possibly second only to the Battle for Helm's Deep in terms of epicness, though the Battle of Pellanor Field is greater in size and diversity in battle. In the movie, there are dozens of Umbarian Pirate Ships coming as Sauron's reinforcements, so it is possible to own more than one of this set, whereas for some other sets like the Death Star, Battle of Helm's Deep, or Tower of Orthanc, you can only have one. I'll get into more detail later on in the review. I have taken a look at the instructions manual, though I haven't personally built the set, and it is overall a fairly simple build for an AFOL, and it isn't extremely dense with new building technique.
WIth 9 minifigures, there is huge playability with this set, especially because there are parties of many sides in this set (3 in total!). They are as follows:
Pirate of Umbar (against Legolas, Aragorn, Gimli, Soldiers/King of the Dead)
Mordor Orcs (against Legolas, Aragorn, Gimli, Soldiers/King of the Dead)
Legolas, Aragorn, Gimli, Soldiers/King of the Dead (against everyone else)
Overall, 9/10 as this is a really solid set, with a lot to offer as a build and for play experience.
VALUE FOR MONEY |
Score: 7
Price Per Brick: $0.13 USD Retail
This LEGO Set has a higher price per piece ratio than some other sets, but I think this is highly justifyable, because of the high number of large pieces in this set. As you might guess, large pieces cost more to make because they require larger molds, use more plastic, and are used less often than smaller pieces, ie. 2x4 standard brick. This also goes for rare pieces. Since they are used less frequently, the mold is used less, and the money spent on molds is wasted. The picture below shows the outstandingly large pieces included in this set, not including the sails:
I personally think that this is a great set to part out. (The reason why I have my own pictures of pieces, but haven't built it yet is because I'm currently parting it out). The pirate ship itself can go for around $50, the Soldiers of the Dead for $23+, and the rest of the minifigures for another $40-ish, so in all, you can make fairly good money, especially since Amazon has had this set at below $80 time, and time again. You can probably make about $45-$60, depending on how long you are willing to let it sit on eBay, and what your initial pricing is. I picked mine up via Target clearance, where I was lucky enought to get it for $50, but I wouldn't look for more deals like that, since 50% off on a large set is hard to find, especially on a set as popular as the Lord of the Rings Pirate Ship Ambush set. Same reason why you never expect to find a Star Wars UCS R2-D2 on clearance for 50% off. Currently, I have mine up for fairly competitive prices, using Buy It Now or Best Offer, to hopefully draw people in. When you receive offers, don't be afraid to counter offer. A lot of the time, if you offer a good explanation of your pricing, the buyer will get a bit close to your target price, or even take it. Just don't offer so high that it drives the buyer completely away.
This is how I created my listings:
Pirate Ship + other non-minifigure elements ($48.17)
2x Mordor Orcs ($8.40)
2x Soldiers of the Dead ($18.56)
King of the Dead
Pirate of Umbar
Legolas
Aragorn
Gimli
At the time of this article, only the first 3 lots have sold. Next to them I have the price they sold at in bold after fees and shipping costs. That brings the total to $75.13. I will probably get an additional $30 from the additional minifigures after fees. Some advice, list the minifigures with free shipping! That is a big draw and might help a buyer choose you over another seller. I also have my listings on duration of 5 days, rather than Good Til' Cancelledbecause it gets more views from buyers who sort by "Ending Soonest" and "Newly Listed". It adds a little more visibility and possibly put some pressure on the buyer to act fast! Just make sure to keep your prices competitive, or else the timeframe your listing is ending at won't matter!
Overall, this is a pretty good set to part out because it is easy to get for $70-$80 right now, though there are definitely some sets that can be parted out at better margins.
THEME POPULARITY |
Score: 9
Lord of the Rings is one of the more popular themes of LEGO products, and a lot of that has to do with the overwhelming response to the trilogy of movies that have just recently been released. LoTR (acronym for Lord of the Rings) has many similarities to the Star Wars franchise. A series of 6 or so movies, that shows the epic journey of two different individuals that are related by blood (Luke Skywalker & Anakin Skywalker/Darth Vader, and Frodo Baggins & Bilbo Baggins).
Unfortunately, I don't think that LoTR will last as a LEGO theme as long as Star Wars, primarily because LoTR is based on books, and so since there isn't any new material to write about after the Hobbit is completed, then it is likely that its popularity will go downhill from there. Star Wars on the other hand was created specifically as a movie, and has much more freedom to expand upon, partially because it isn't restricted to a book's storyline and plot, but also because there are many more heroes to tell stories about than the LoTR theme. Not saying that such things won't happen, since I definitely won't rule out the possibility that LEGO would do something similar to the Expanded Universe portion of LEGO Star Wars with characters and plots adopted from video games and fan's ideas.
I'd say that the theme will die out within 4 years of the last Hobbit movie, but for the next 5 years, I think the Lord of the Rings theme will be a strong competitor in the realm of LEGO investment and popularity. There will likely still be a large following though and a positive secondary market because of the sheer number of followers of the Lord of the Rings and the Hobbit.
This set isn't exclusive to any country or store, and is commonly available for 25+% off, so nothing outstandingly special in terms of production.
I really like the box art of this set, because it does a great job of showing the size of this set, though the sails seem to take up a bit too much of the picture. The picture doesn't hide anything, and shows all the cahracters in full armor fighting, which does a great job of drawing in customers. It was also a nice touch by the LEGO Company to include a picture of a ship in the background possibly suggesting the customer buy more than one to create a fleet.
Like most LEGO sets, on the top it shows a picture of a piece or minifigure to show the actual size, and I think LEGO did a great job choosing which one to put, because they placed one of the most expensive figurines on the top flap, the King of the Dead.
On the back, we get normal action shots of the catapult in motion, flick-fire missiles, etc. A subtle addition by LEGO is a map of Middle Earth, with places labelled like the Shire.
I'm not sure how common this is, but this box has flaps on the side that you can punch out to reclose, a lot like the ones on cereal boxes, which is helpful if you are going to display the set and flatten the box, then after a while, put it back into the box. These flaps are strong enough to open and close easily and more than once.
The only downside for this packaging to me is that the sails take up too much room on the front, which kind of blocks out the more interesting pieces of the set.
GROWTH POTENTIAL |
Score: 8
Finally we can compare this set to similar ones in the same theme that have already retired. I'll compare this set to 9474-1: The Battle of Helm's Deep, 79010-1: The Goblin King Battle, and 9473-1: The Mines of Moria.
| | | | | | |
| --- | --- | --- | --- | --- | --- |
| Set Name & Number | # of Minifigures ~~ # of Pieces | MSRP (USD) | Current Price (for February 2014) | Compound Annual Growth Rate (CAGR) | Change in 6 Months |
| 9474-1: The Battle of Helm's Deep | 8 minifigures ~~ 1368 pieces | $129.99 | $149.48 | 7.24% | +47.31% |
| 79010-1: The Goblin King Battle | 8 minifigures ~~ 841 pieces | $99.99 | $68.94 | -16.97% | +15.15% |
| 9473-1: The Mines of Moria | 7 minifigures ~~ 776 pieces | $79.99 | $78.16 | -1.15% | +35.22% |
| 79008-1: Pirate Ship Ambush | 9 minifigures ~~ 756 pieces | $99.99 | $72.33 | -27.66% | -4.78% |
Based on these values, the future growth for the Pirate Ship Ambush is not looking good. All three sets have been retired for about 5 months, yet only one has a positive CAGR. This is primarily due to the fact that both the 79010 and 9473 sets were widely available at large discounts, over 50% off in some cases. So, as expected, it takes some time to rebound to a more normal secondary market value. Looking at their change in value over the last 6 months, however, we see much more promising numbers, with huge gains over the last few months, which shows some optimism for the 79008-1: Pirate Ship Ambush.
I'd expect this set to hit $150 no problem after retirement, probably within a year of its retirement, and hit $200 within two years, which isn't terrible for a long term investment. Though this may seem lower than many of other sets, it is due to the fact that this set is widely available for under MSRP, and because the eBay/secondary market is very saturated with LEGO sellers, making prices more competitive and as a result, making it much harder for prices to rise.
Since the Pirate Ship doesn't play a huge role in the film or books, I'm not sure how popular it will be when compared to other LEGO LoTR sets like Tower of Orthanc, but it does appeal to Boat/Ship LEGO fans, which could help boost it in value with great details in the ship.
DISPLAY QUALITY |
Score: 7
I think this is a decentdisplay set, since it takes up a lot of room, but not as much as some of the other ships, i.e. Imperial Flagship or the Black Pearl, but still a large and attractive ship. Alot of the important and stylish details that we get from this set are small and sometimes hard to see, which is somewhat of a negative of the display value, but we do get really nice recognizability for this set.
CONCLUSION & FINAL ANALYSIS |
Score: 9
Overall, I gave this set a 9/10 because of the following pros and cons.
Pros:
Attractive and detailed set
Good number of minifigures
Exclusive minifigures
High playability
Cons:
Relatively high price per piece in comparison with other Lord of the Rings sets
Only mediocre displayabiliy
For a more visual review of the set, please feel free to view the Brick Show's review on this set, as well as their hundreds of other reviews! Review can be viewed at at: https://www.youtube.com/watch?v=ylTmglJ4pxw