MEMBER OWNS SET:
YES

MEMBER HAS BUILT SET:

YES




FIRST IMPRESSION |

Score: 10
Retail Price:

USA: $ 129.99
GBR: £ 99.99
AUS: $ 199.99
CAD: $ 169.99
DEU: € 139.99
ITA: € 139.99
DNK: € 1299.00
ESP: € 154.99
FRA: € 149.99
NLD: € 139.99
NZL: $ 249.99
POL: z? 639.99
Repel the Uruk-hai army at Helm's Deep!
The walled fortress at Helm's Deep is under attack by the mighty Uruk-hai army. The forces of men, elves, and a dwarf must do everything they can to stop them from breaching the fortress walls. Can they prevent the Berserker Uruk-hai planting the bomb and blowing up the wall? Will they stop the enemy climbing up the siege ladders? The people of Rohan have never faced such a deadly threat! Includes 8 minifigures: Aragorn, Gimli, Haldir, King Théoden, Berserker Uruk-hai and 3 Uruk-hai.
Includes 8 minifigures: Aragorn, Gimli, Haldir, King Théoden, Berserker Uruk-hai and 3 Uruk-hai
Weapons include swords, double-bladed axe, single-bladed axe, bow, shield, sword and Uruk-hai weapons
Helm's Deep fortress features outer ring, tower with horn, opening main gate, exploding wall, side door attack function, catapult
Also includes siege ladder, bomb, and horse
Launch a surprise attack from the hidden door!
Repel the enemy with the catapult!
Climb the tower and blow The Horn of Helm Hammerhand!
Explode the wall!
Combine with 9471 Uruk-hai™ Army and build up your army for even greater battles!
Fortress measures 6" (14cm) high and 20" (52cm) wide
Tower measures 9" (22cm) high and 3" (9cm) wide
When rumours first started floating around the internet about a potential Lord of the Rings theme, there seemed to be a collective excitement at the potential it could offer. With the Hobbit series being filmed, renewed interest was being pumped into the Middle Earth franchise as fans began to speculate. Once images became available it really was difficult not to be excited. Looking over this set, there was so much to like; a large, expansive and excellently designed set that is iconic, a bunch of minifigures (and some exclusives) and a lot of playability functions. The fact that the 9471 Uruk-Hai Army set could be added on was only icing to the cake. Lego could easily have added it all in and increased the price with no complaints, however this would give consumers a cheaper alternative to acquiring Uruk-Hai for an epic battle scene. Castle, Kingdoms and Lord of the Rings fans alike all sought this awesome set.
Let us look at the minifigures:
First of all we have three, dual faced Uruk-Hai. The standard Uruks all have the same designs, though variation can be created by alternating which face, armour and weapons are used per minifigure.
The standard Uruk-hai are available in 3 other sets; 9471 Uruk-Hai Army, 9476 The Orc Forge and 10237 Tower of Orthanc. There is also a polybag (30211) which contains a standard Uruk-Hai with armour and ballista.
Next we have one Uruk-Hai Berserker minifigure. It is unique to this set. I thought the face print was a touch disappointing, and the Berserker was significantly larger in the movie than other Uruk-Hai. It would have been nice Lego came up with a larger design; similar to the Azog minifigure given away at Comic Con, but it is also being picky.
Onto our heroes and the first minifigure we look at is Gimli the dwarf. This minifigure is also available in 3 other sets; 9473 The Mines of Moria, 79006 The Council of Elrond and 79008 Pirate Ship Ambush.
The second "hero" minifigure we look at is Aragorn. This minifigure is also available in 2 other sets; 9472 Attack on Weathertop and 79008 Pirate Ship Ambush.
Next we shift onto two more exclusive minifigures:
This Haldir minifigure is only available in this set. It comes with a cape and a very nicely detailed front print, all ready to go to war.
Finally we have this King Theoden minifigure that is also only available in this set. The print on his armour, helm and legs are fantastic and really well done.
Theoden also has this generic horse model which can be found in other sets.
So for our money, we receive only 3 exclusive minifigures which is a bit disappointing. The minifigures we do get though are incredibly detailed with excellent designs.
As we look further into the parts, it would be remiss of me to not mention the stickers, or more importantly; the lack of. The set contains 6 stickers in total, with 4 being applied to the outer wall of the Hornburg. Outside of that, we have one banner and one sticker for a detailed throne. It actually would have been nice for Lego to include at least another banner for custom improvements as there are plenty being used throughout the scene as opposed to having one hang in the hall. The design is simply excellent.
I also would like to point out the disappointment in the Uruk-Hai armour not having the hand print designs. I understand Lego's marketing behind it, but it is disappointing that the hand prints were limited to the Orc Forge and Orthanc sets, especially considering how large and expensive this set is.
Being a castle style design, many of the pieces in this set are easy to obtain. In fact, minifigures aside, there are only 2 pieces unique to this set:
Banner W. 3.18 Stick 3X8 - Earth Green
Plate 4X12 - Sand Yellow
Other rare pieces that can only be found in a couple of sets include:
Elephant Tail/Trunk - Black
Shield "No.2" - New Dark Red
Right Door W/Knob Hinge 1X3X4 - Reddish Brown
Roof Tile 1X2 Inv. - Sand Green
Plate 4X8 - Sand Yellow
Blade W. Technic Hole 1 - Silver Metallic
PLAYABILITY/BUILD EXPERIENCE |
Score: 9
First thing we get when we open up our box is A LOT of bags.
The build is split into 9 stages spread over the four instruction booklets.
The build can be challenging at times, specifically due to the temporary flimsy nature of the walls until they are secured with plates. On a few occasions there was some cursing as I applied too much pressure only for my build to crumble before my eyes. The interior walls and Hornburg both decided to blow up unexpectedly during my build. It will require a bit of patience, which is why it is aimed at older Lego enthusiasts.
This set is absolutely packed out with playability features for everyone and little nods to Lords of the Rings fans.
The curved ramp leading to the front gate has a hidden skull. This can also be used to display the final desperate charge by King Theoden and his Rohirrim to buy their women and children time to escape. The front gate opens, as well as the wooden planks above it move to allow attacks onto the Uruk-Hai below. There is a small catapult next to it, though it is an additional Lego feature as it wasn't used in the movie.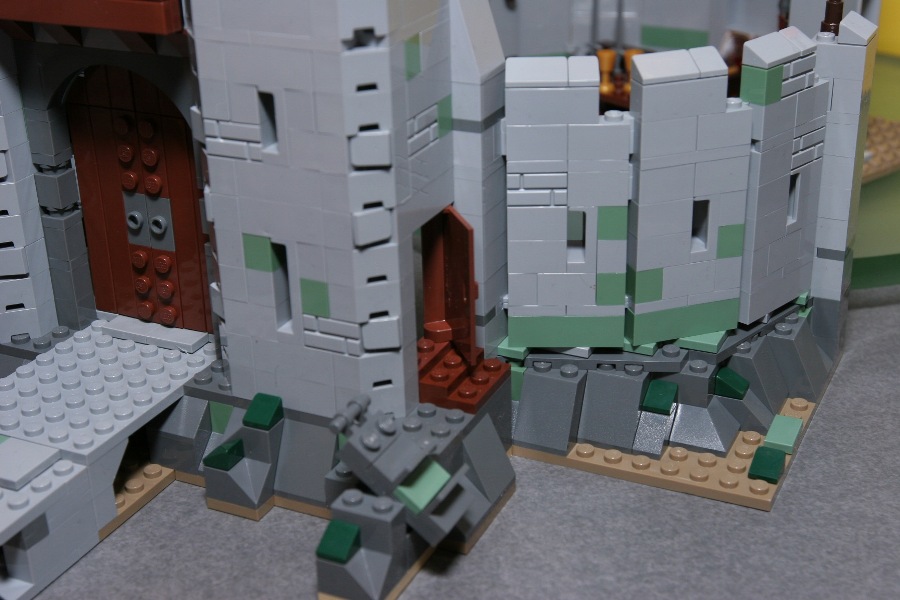 "I cannot jump the distance you'll have to toss me! Don't tell the elf" - Gimli
Lego have built in this side door, where Aragorn and Gimli sneak out to blindside the Uruk-Hai attacking the front gate. Next to it we have this small setup which enables us to fling Gimli across onto the marauding pack!
The Deeping Wall has a culvert where our Berserker lights up a bomb with his torch. Just like the scene in the movie, the wall here can "explode" sending rubble everywhere! This is a very neat feature built into our wall.
If we look at the interior now, it can look a bit sparse. There is a narrow platform surrounding the walls top for our heroes to stand and attack their enemy. The Hornburg has a great design but little function as it pretty much hides Gimli if you are recreating that scene (though Legolas would find the humour in Lego including a box for him to stand on!)
The throne room has a nice interior though the wall panelling needed improvement, large pieces for the windows take away from the design and make it seem more plainer, compared to the interesting exterior wall design. The room is fleshed out with an interesting throne and other features, plus the awesome Rohirrim banner previously mentioned.
As we can see, the Battle for Helm's Deep set contains many features that will continue to ensure this set will highly sought after.
VALUE FOR MONEY |
Score: 9
First thing, let us have a look at the minifigures and average prices over the past 6 months on Bricklink:
| | | |
| --- | --- | --- |
| Name | Past 6 Months Avg (SOLD) | Currently Selling (AVG) |
| Berserker | $5.68 | $7.27 |
| Uruk-hai - Helmet | $2.90 | $4.05 |
| Uruk-hai - Helmet and Armor | $3.51 | $4.74 |
| Uruk-hai - Helmet and Armor | $3.51 | $4.74 |
| Aragorn | $5.17 | $6.03 |
| Haldir | $11.28 | $14.47 |
| Gimli | $4.72 | $5.74 |
| King Theoden | $11.49 | $14.67 |
Going by the sold listings, the eight minifigures total $48.26, with the current asking prices totalling $61.71. When we consider our full retail price of $129.99 and that we are left with over 1300 pieces, it is a fantastic return. Let us not forget the majority of investors will be acquiring this set at discounted rates, increasing its value for money even further.
Now let us compare it other flagship and castle style sets from other themes:
| | | | | | | |
| --- | --- | --- | --- | --- | --- | --- |
| Set Number | Set Name | Year | Retail Price | Number of Pieces | Number of Minifigures | Price Per Piece |
| 9474 | Battle for Helm's Deep | 2012 | $129.99 | 1368 | 8 | 9.50c |
| 10217 | Diagon Alley | 2011 | $149.99 | 2025 | 12 | 7.41c |
| 4842 | Hogwarts Castle | 2010 | $129.99 | 1290 | 11 | 10.08c |
| 7946 | King's Castle | 2010 | $99.99 | 933 | 8 | 10.72c |
| 7094 | King's Castle Siege | 2007 | $99.99 | 973 | 10 | 10.28c |
| 4195 | Queen Anne's Revenge | 2011 | $119.99 | 1094 | 9 | 10.97c |
As we can see by the price per piece ratio, Helm's Deep is an actual improvement over the larger sets of other themes, but at a cost; a couple of extra minifigures. It would have been nice to include another couple of minifigures, particularly generic elf warriors to flesh out the battle scene. That being said, we do get a lot of value for our purchase and it certainly isn't a disappointment!
THEME POPULARITY |
Score: 9
The Lord of the Rings novel was released in three volumes from 29 July 1954 to 20 October 1955 and is the second highest selling novel in history with an estimated 150 million copies sold. The three movies combined for nearly $3 billion in box office receipts. Lego is not only still creating Lord of the Rings set, but basing sets on the series predecessor "The Hobbit" as well. This set is the flagship for the first wave, and one of the most iconic scenes throughout the trilogy.
The Lord of the Rings theme currently has a 4.93% CAGR. Considering it is a brand new theme with few retired sets and a raft of discounts now available, that is actually a decent return. One only has to take a glance at not only castle style sets such as Kingdoms and Castle, but popular fantasy themes such as Harry Potter, to see that this set has a very bright future.
This set was released in May 2011 and is still currently available. It was available in many stores and easily accessible to consumers though being a high price ranged set can price it out of many Lego fans' budgets. It currently is scheduled to be discontinued by the end of the year.
Front Cover:
Back Cover:
As we can see, the front box art is very clear, showing off the display in all its glory. The minifigures feature prominently without taking anything away from the design. The back of the box details the interior of the design, as well as all the playability features on offer.
The larger boxes do stand out, though typically in my local stores they are displayed on the bottom shelves. The cardboard used for the box is not thick, and like most Lego sets will be susceptible to creasing and shelfwear over time. It would be nice if Lego used the sturdier designed boxes such as the 4207 City Garage more regularly. Still, from Lego's perspective, most of these sets are made to be opened immediately and not stashed away.
GROWTH POTENTIAL |
Score: 9
Let us first of all look at the current CAGR:
As we can see, the set isn't off to a great start but it still is available..... for now. It is not unreasonable to expect this set to drop further as stores offload their remaining stock on clearance. Considering that the CAGR of the theme overall is still at 4.93% it is a healthy start. Investors should be looking at these sets during this period in the lead up to its discontinuation, as they will sorely regret it later on. Why? Let us compare it to the other sets mentioned previously:
| | | | | | | |
| --- | --- | --- | --- | --- | --- | --- |
| Set Number | Set Name | Year | Retail Price | Price Now | CAGR | Overall Change |
| 9474 | Battle for Helm's Deep | 2012 | $129.99 | $102.43 | -21.20% | -21.20% |
| 10217 | Diagon Alley | 2011 | $149.99 | $227.26 | 23.09% | 51.52% |
| 4842 | Hogwarts Castle | 2010 | $129.99 | $261.33 | 26.21% | 101.04% |
| 7946 | King's Castle | 2010 | $99.99 | $165.59 | 18.31% | 65.61% |
| 7094 | King's Castle Siege | 2007 | $99.99 | $285.81 | 19.13% | 185.84% |
| 4195 | Queen Anne's Revenge | 2011 | $119.99 | $213.84 | 33.40% | 77.96% |
As we can see, sets based on Castles as well as flagship sets for popular themes have a great history. Considering this (and the current price reductions for this set) it would be pertinent to acquire this set for investment portfolios. This set is iconic and features one of the most well-known scenes in the Lord of the Rings trilogy. Considering the quality of the next wave emerging, it is saying something that this set still continues to be one of the greatest in the theme. It is not unrealistic to expect great returns on this set as it ticks many boxes towards success once it has gone EOL; iconic, exclusive minifigures, great theme and large set. For mine, this one is a no-brainer.
DISPLAY QUALITY |
Score: 9
This set is certainly eye catching, and on display will promote conversation from anyone walking into a room. There is enough detail, through the curved walls, battle scene environment to the Hornburg and the culvert in the Deeping Wall. Even the most casual Lord of the Rings fan will not fail to automatically recognise this design. My only real complaint is that I would have preferred it be two or three bricks taller, as it does seem a touch short (especially when the Uruk-Hai could probably stand on each other's shoulders to get over!).
If we add on the 9471 Uruk-Hai army set, we get just a bit more icing to an already delicious cake. It is a fantastic display with many features automatically recognisable from the massive battle in The Two Towers.
CONCLUSION & FINAL ANALYSIS |
Score: 9
Lego have produced an excellent portrayal of the Battle for Helm's Deep, creating an iconic design with great detail. The set has many features automatically recognisable and enthrals Lego and Lord of the Rings fans alike, bringing in fans outside the Lego demographic. With plenty of pieces it makes the set profitable to part out as well as captivating those building the sets for themselves.
The set contains 8 minifigures, a horse and an impressive fortress. The set could definitely have used another minifigure or two, as well as a touch more height with the walls but that is nit-picking as we have been given an amazing set.
If investors cast their eye back to the 4842 Hogwarts Castle, 10217 Diagon Alley, 4195 Queen Anne's Revenge or 4184 Black Pearl, they will remember how these sets were discounted towards the end of their run and next minute they were gone; culminating in a soaring price ever since. I believe this set will do the same and that those people who do not have it in their portfolio will regret it sooner than they might imagine. Buy one, buy ten but no matter what do not miss out!