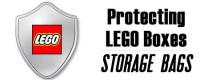 Hi. I'm a new investor/collector/AFOL. One issue I have encountered with my new hobby was how to protect the fragile LEGO set boxes from shelf wear and the interior home elements, such as moisture from possible water leaks, dampness from high humidity areas like basements, dust and smoke. Several years ago, I discovered various brands of storage bags and thought these would be an excellent answer to these issues. These bags are large, very durable, and reusable. They would wear out with constant use, but for items that will sit awhile, like LEGO sets, they are worth looking into. They are also transparent, which would enable the LEGO collector and investor to view what is in the bag while the sets are stacked on shelves or similar storage areas.
I'll first describe the features and advantages of using them to store your LEGO investment. Then I'll list brands, sizes, prices, and sources.
Provides protection
Accurately described as "with their pleated bottom and secure zip seal, they are perfect for storing even your bulkiest items while helping to protect them from moisture, dust and pests." They also help prevent cigarette smoke from damaging boxes.
Makes it easy to move or transport your boxes Most brands have a handle
Reusable After selling the LEGO set that was stored in the bag, the reusable bag can be unzipped and used on the next LEGO investment.
Transparent Enables the LEGO collector and investor to view what is in the bag, without actually opening the bag up.
Inexpensive In the worst case, you're looking at $1.50 per LARGE Lego box, a small price to pay for extra protection. And remember, they're reusable.
Group similar sets together Put similar or same sets in the same bag.
Takes up no extra space in your storage. Unlike some paper products(cardboard), these bags take up little space.
There are 3 brands that I have come across. In each case, consider only the XL and XXL sizes.
1. StorIt
These are the cheapest and can be found at dollar stores. However, their largest bag will not fit the large Lego sets like the Haunted House.
For $1, you can get one XXL size 24" x 20" (60.9 cm x 50.8 cm) or two XL bags size 20.5" x 17" (52.1 cm x 43.2 cm)
They are priced much higher online ($4 at Amazon). Look for them in dollar stores. If you can't find them, you can order then from Dollar Tree but the minimum purchase is 36 at $36.
Dollar Tree: http://www.dollartree.com/cleaning-storage-hardware/storage/EZ-Stor-Plastic-Storage-Bags-with-Handles-XX-Large/212c261c261p299576/index.pro
2. Zip N' Go
These are part of the Space Bag series, those bags that let you suck the air out of them with a vacuum to save space. However, no worries. These bags are normal and don't suck. I have seen them at Linens N Things but cannot find them anywhere online.
For around $13, you can get two XL size 22" x 22" (55 cm x 55 cm) AND two XXL size 28" x 28" (71 cm x 71 cm). The XXL bag will hold the large Lego sets like the Haunted House. In fact, you can store two large sets comfortably in one bag, making the extra cost just over $1.50 per set.
3. Ziploc Big Bags
For $12, you get three XXL size 24" x 32" (60 cm x 82 cm). These would be the most expensive at $4/bag but are the strongest with a double zipper.
Amazon: http://www.amazon.com/Johnson-Ziploc3pk-Bigbag-Closet-Storage/dp/B000V9N1WO (Note: At the time of this writing, I saw them on Diapers.com for $7 with free shipping for orders over $49)
Here are some actual photos of the storage bags being utilized with LEGO sets:
All in all, these large transparent storage bags are a LEGO investor and collector's best friend. The storage bags help protect from the dust and moisture that can be found in every house, yet will also protect from major water damage from possible pipe leaks and smoke damage from fires or cigarettes. Also, the prevention of shelf wear, which can reduce the value of any Mint In Sealed Box LEGO set, is another big positive. While not structural in any way like cardboard boxes are, these bags don't take up any valuable space like paper products do. So do yourself a favor and pick up a couple of boxes and start protecting your LEGO sets. In the long run, you won't be disappointed.